Swift WordPress Theme, one of the powerful Free and well SEO optimized wordpress theme recently made to premium version with more extra ordinary features added. There are very few HTML 5 + CSS 3 coded wordpress themes available and here we have one such great theme for your wordpress blog. DailyTUT was powered by Swift Theme and recently swiftched to Genesis Framework. Swift has excellent SEO features and Customizing options that lets you make your wordpress powered blog look great.
You will find complete theme customization options in Swift Theme Settings page. Free version of Swift theme got many interesting features that your new wordpress blog enjoy with. Here we will see the features loaded with Free Basic version of Swift Theme and little comparison with Premium version of Swift Theme to help you choose the one you need.
Swift Theme Free
Free or Basic version of Swift WordPress Theme has pretty enough features for a new wordpress blog. It is one of the fastest wordpress theme that has no images used in the theme to load the template pretty fast. Now it got HTML 5 with CSS 3 that has proper use of Semantics to drive excellent SEO benefits. If you have less number of plugins used and let the theme work independent, then no doubt you will get 90+ in Google Page Speed test.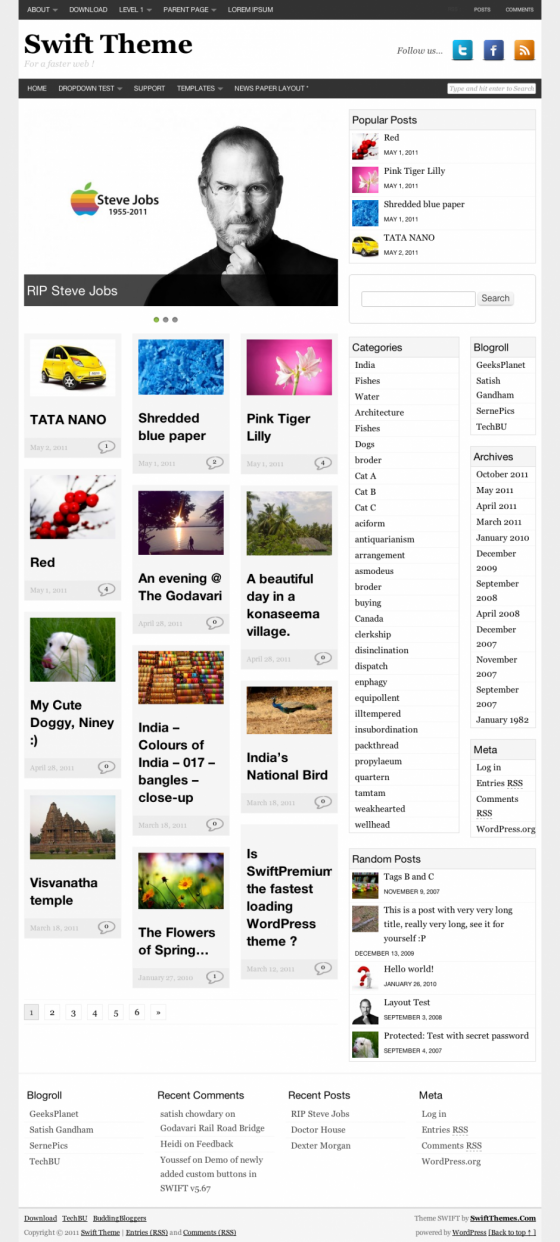 You have the Full Control over the Design. Customize it as best as you can.
Proper use of HTML 5 Semantics gives best SEO benefits.
Got "A" Grade in Yahoo YSlow Metrics
Swift loads your content intelligently that reduces bounce rate by loading gravatars and other social share buttons after your content loads. This gives what user wants and further, your visitor will love to stay at your website for more time and more navigation happens 🙂
Swift comes with inbuilt Dynamic Thumbnail Generation. Hence you dont have to depend on any third party script and get some security troubles like the recent "Tiny Thumb Security Vulnerability" exploited thousands of blogs.
Free version also has "Magazine Layout" apart from "Blog Layout".
Customizable meta info around post titles with easy drag and drop interface.
Swift Theme Premium
Lets see what are the features that makes the Swift Premium different from Swift Free version. The very first thing i spotted is "Support from the Developer". Similar to any other premium Frameworks or Themes you buy, you will be getting support directly from the developer to fix up any issues you face during the tweak you do with your blog after installing it as your wordpress theme.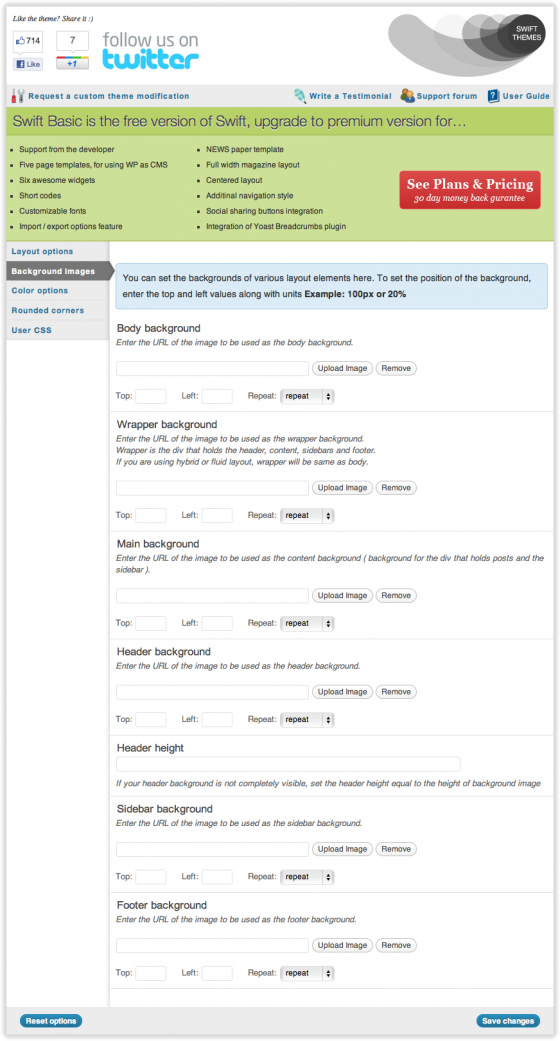 Get "News Paper Template" which lets you transform your site as a well designed Newspaper type of website.
**New** Five page Templates to transform your WordPress blog as full fledge CMS
Six awesome Widgets to use with the Sidebar
Now you can use Shortcodes very well
Customize your Fonts as you want with the Premium version
Import and Export the complete settings to use it later or share it with others
More Additional Navigation Styles
Social Sharing Integration lets you spread the word about your site with Facebook, Twitter, Delicious, Google+ and so on
Also, with Yoast Breadcrumbs plugin
Totally, this theme is one features power packed wordpress theme that will take care of many of your requirements like SEO, Design and so on. You will never be disappointed and if you do within 30 days, you can request for your Money Back as it gives 100% Money Back Guarantee for 30 days from the date of your purchase. This must really sound promising and risk free to try out this amazing fastest wordpress theme.
100% Money Back Guarantee