Update: Get Latest Joomlashack Discount Coupon Codes updated and working.
Update: Joomlashack Discount Coupon update for the month of March 2015 is here. Use Coupon Code "STOREWIDE40" to save 40% OFF store wide. Click on the link below and use the coupon code.
Joomlashack team has released their brand new theme Enterprise which has an excellent brand powering appearance. These days, your online 'brand' is everything, whether that brand is you, your blog or your business. First impressions last, and so you only have a few seconds to win over a new visitor that comes to your site.
Now, a great-looking website is just 1 part of brand-building (rich history, good deeds, great products, awesome customer service, unique colors, cool logo/typography, etc also play a part in brand-building), but if your website is cluttered and unprofessional, your company's good reputation, engaging content, and awesome products won't matter much to new visitors as they'll never stick around long enough to learn more about you and your brand.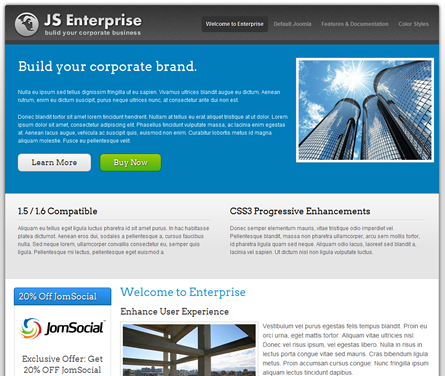 JS Enterprise comes loaded with over 16 custom parameters you can easily edit in the JS Enterprise backend (including logo size, Number of columns, font choices, colors, etc),  11 collapsible module positions, 4 colorful built-in themes, CSS3 progressive enhancements (rounded corners, text shadows, etc), stylish typography and so much more.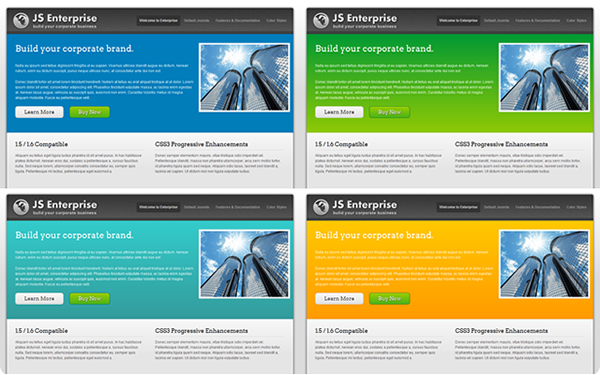 Eager to check out the Demo of Enterprise Theme ?
You can have a look at the Demo of Joomlashack Enterprise or Download Joomlashack Enterprise (Buy Now).