We are happy to release our first free Responsive Joomla Template "Resort" for download. This is our first step in free joomla templates and lot more to come. Simplicity, Elegance and Clean Design to give more importance to your Photos and Content to your website visitors. Resort is a Responsive Joomla Template that loads super fast and gives a slick design to deliver high performance and very less load time. This beautiful joomla template will fit well for your Resort, Hotels, Hostel, Motels and Lodge websites. Give a good display of your infrastructure view, rooms view and other facilities at the homepage in a featured slideshow.
We recently released a Free Responsive Multipurpose Joomla Template "Vector" to our Readers. You may want to take a look at this powerful, flexible and feature rich joomla template.
Simple Navigation options to let your visitors find what they want right at the home page. Allow and accept registrations, room bookings, display seasonal offers, promotional details and any discounts easily.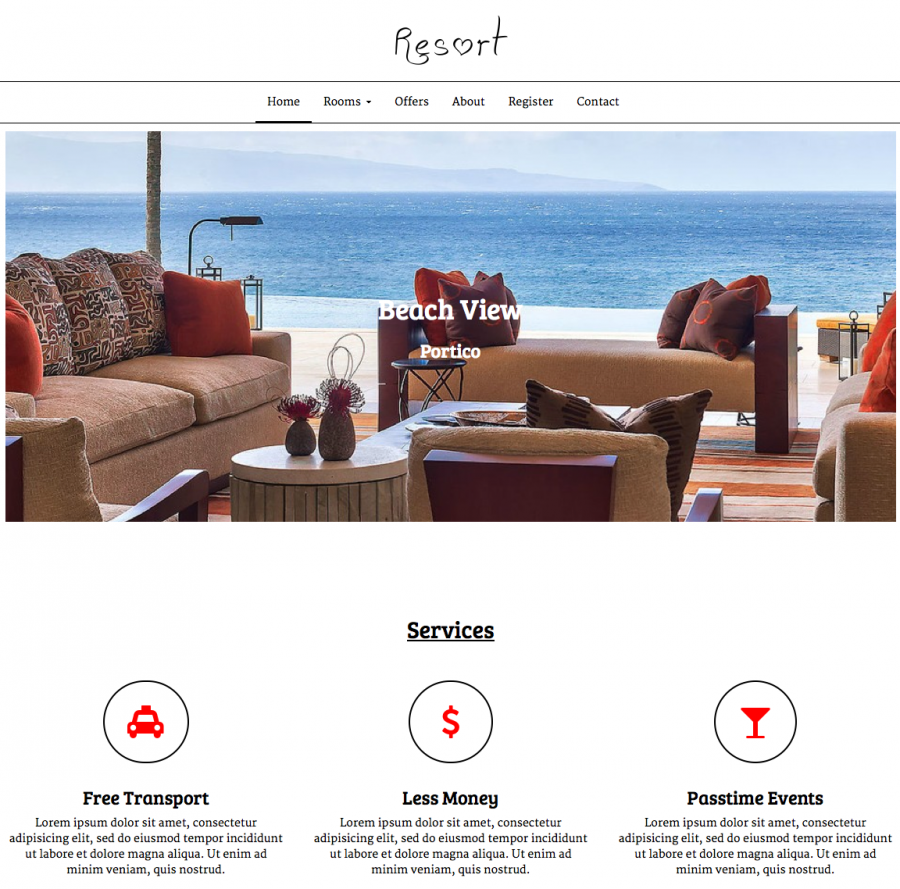 We are launching this new Joomla Resort Template for Free to Download and it will be compatible with Joomla 3.x versions. Impress your visitors instantly and turn them as your customers with our Resort Joomla Template. Your website is about to look more simple and elegant with our stunning joomla template. This is fully responsive and looks excellent on your iPad, iPhone, Android Tablets, Windows Tablets and any device web browsers.
How to Install a Joomla Template ?
Resort is built using T3 Framework, which is a popular framework of Joomla. Developers and Designers love T3 Framework because of its easy to use, very flexible, stable and offers excellent customization options. We dont just made the template look simple, we also made the installation simple and easy. Anyone with some basic webscript installation knowledge can install it in minutes. There are two packages available for download, and one contains all the files including Joomla software. Another one is just a template package, where you can use install it on existing joomla installation.
Quickstart Installation
Installing Resort Joomla Template in less than 2 minutes. Quickstart package contains Joomla Software + Template Files + T3 Framework. We also loaded it with sample data to help you with the customization process. If you are beginner with Joomla software, then this is the perfect package for you to install and complete website setup in minutes.
Joomla Template Manual Installation
If you are a website developer then you can download the template file for manual joomla template installation. You can install this template on your existing joomla software on your website. See the Live Demo of the Template and Download.
If you have any queries, feel free to ask them in the comments below. We are currently working on another responsive joomla template and will be releasing it in a month. Subscribe to our Social Media feed to get updates. Thanks for reading and you may now share this post in Twitter, Facebook and Google+. It will be a good motivation for us to come up with more free joomla templates. Have a wonderful day!