Our second Free Responsive Joomla Template is here. We recently released a Free Responsive Joomla Template "Resort" that fit well for creating a Resort, Hotel, Hostel and Motels website with tons of features. Today, we have "Vector" a Free Responsive multipurpose joomla 3.x template for you to download. You will see the premium template feel across Vector, and we also made it free to download to use it on your website without any limits.
We built this template in a mindset of a Simple, Beautiful and a Joomla Template that fits for most of the categories. Corporates, Hospitals, Schools, Colleges, and more type of joomla based websites can use Vector. T3 is a very popular Joomla Framework and we used maximum potential of its benefits to create Vector more powerful.
Vector Joomla Template
Registration Page, Login Page, Users Profile, Newsfeed, Custom Web Links and a Blog to write latest announcements in your company to Clients and Visitors. You can checkout the detailed demo of Vector Joomla Template below and explore all its features. We have added three colors to Vector and you can choose any one to match your Company Theme. Pumpkin, Green and Blue color choices to give a unique colorful feel across the website. Select the color choice from the administrator panel.
Social Media Integration
We have enabled popular social media websites like Facebook, Twitter, Pinterest, Google+ and some more in the footer to share a word about your website and its contents quickly and easily.
Blog Layout
Joomla websites are very popular content management system used by millions of websites worldwide. Blog is a powerful tool that allows companies to update detailed news, internal announcements and more to its readers and visitors. We understood the importance of a blog and added this feature with some design choice. You can enable the blog with sidebar and display advertisements or put banners to link to other pages or articles in the same website. New product announcements can be mentioned in a blog post and with social integration it can be shared with more people in a single click right from the article page.
Forum
It is important to solve your customer, clients queries and doubts. Forums are the best place to do that and we added forum functionality with Vector Joomla Template. You can assign moderators, technical experts and solve your customers questions easily. All these will be indexed in Search Engines like Google, Bing, Yahoo and more. Kunena Joomla Forum plugin integrated with Vector Responsive Multipurpose Joomla Template gives Branding and easy to use interface to visitors.
Search Engine Optimization (SEO)
Joomla by default is very good at SEO and we allow all of its capabilities to drive more traffic across the website. Dont forget to configure the SEO Settings inside Joomla and configure the necessary features to optimize the website very well for search engines. You may refer the moz article,
to optimize and get best search engine optimization result for your website. Alright, lets talk about installing Vector Template in your Joomla Website.
Quick Installation
Installing Vector Joomla Template takes less than 2 minutes. Quickstart package contains Joomla Software + Template Files + T3 Framework. We also loaded it with sample data to help you with the customization process. If you are beginner with Joomla software, then this is the perfect package for you to install and complete website setup in minutes.
Manual Installation (without sample data)
If you are a website developer then you can download the template file for manual joomla template installation. You can install this template on your existing joomla software on your website. See the Live Demo of the Template and Download.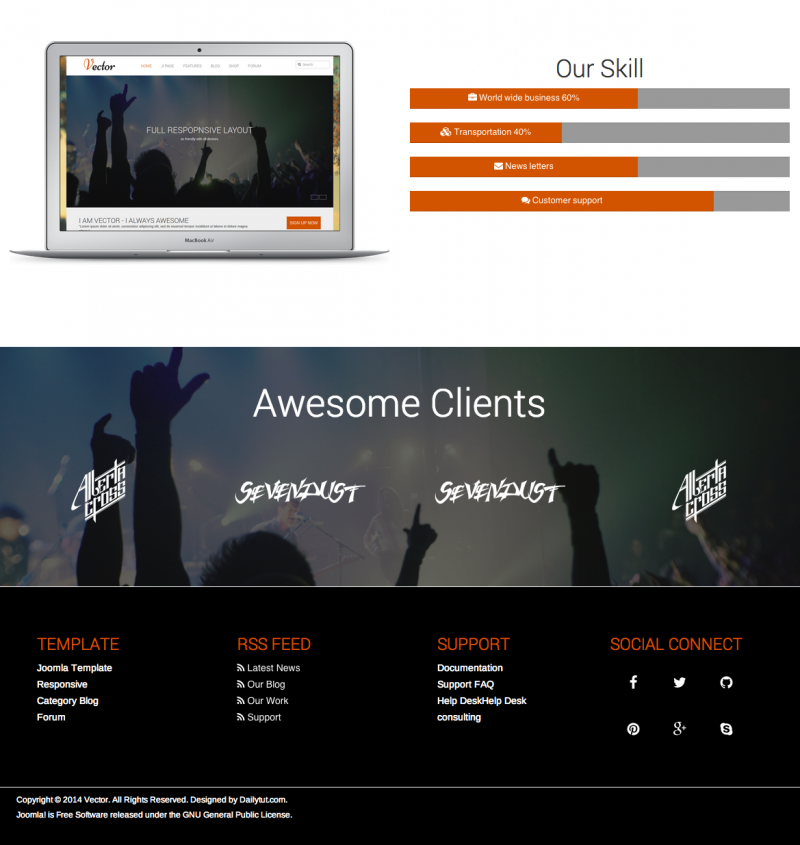 Here we have some rendering images to see how Vector Joomla Template will look on iPad, Macbook Pro and iPhone. This is to show how responsive this template is on Smartphones and Tablets.
Vector Joomla Template on iPad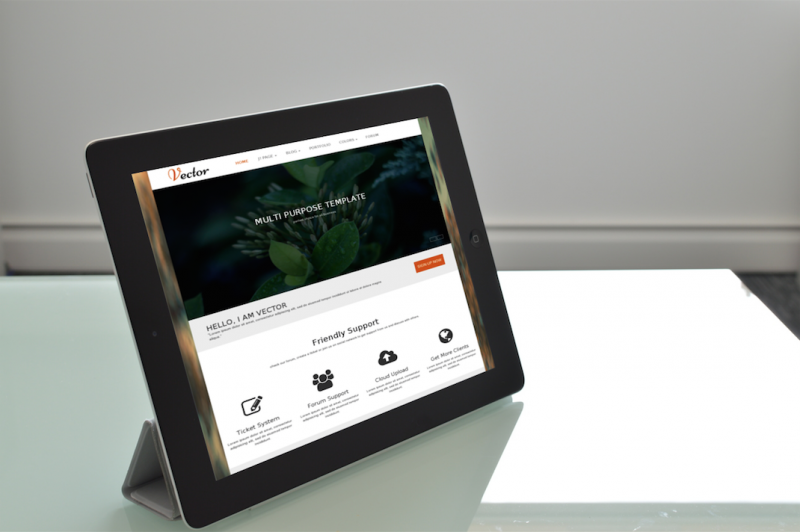 Vector Joomla Template on Macbook Pro
Vector Joomla Template on iPhone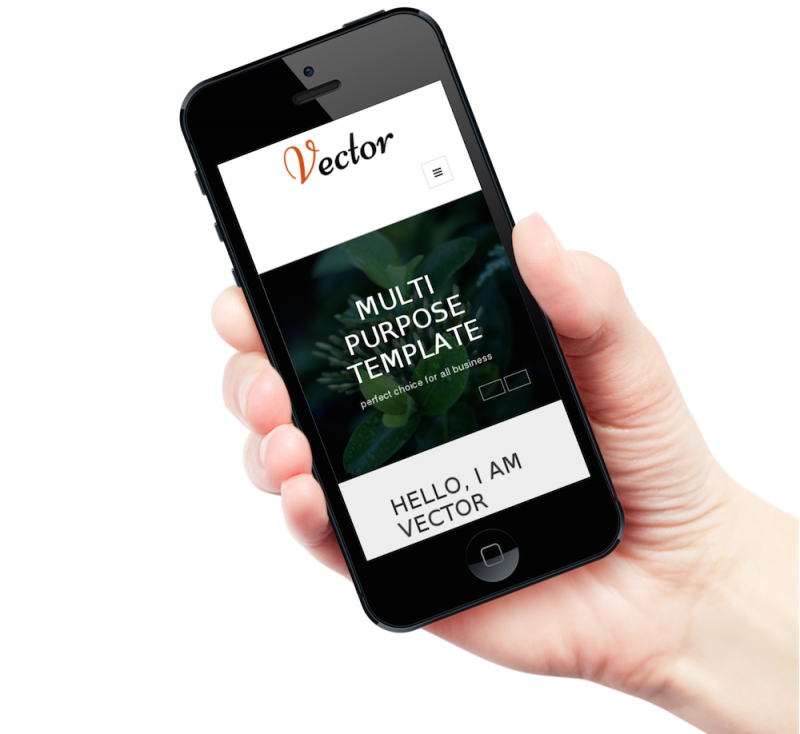 If you have any queries, feel free to ask them in the comments below. Subscribe to our Social Media feed to get updates. Thanks for reading and you may now share this post in Twitter, Facebook and Google+. It will be a good motivation for us to come up with more free responsive joomla templates. Have a wonderful day!