PHP is the Rockstar in the world of Internet. Millions of websites powered with this opensource scripting language. If you like to create a website using PHP then here we have a Book recommendation that will help you to start learning PHP and get familiar with it. Understanding is very important to use the full potential of any product. So trying some Instant website creation tool to create a website is not a tough task, still learning about it and going through a proper channel will help you to do better.
Getting Good with PHP by Andrew Burgess is a perfect guide for beginners who is looking for a better understanding about fundamentals of PHP. This book is not a complete guide for PHP or one book that will help you explore all about PHP. Such books most of the times wont be helpful in understanding the fundamentals and basics of PHP. In this book, author has given full focus to help beginners understand and give a good start with PHP.
Andrew Burgess with his book, will take you to a point where you'll be comfortable writing PHP scripts for your own websites and ready to digest PHP in depth with advanced topics.
Getting Good with PHP by Andrew Burgess
Before starting to give some more introduction about the book, i like to highlight something about the Author. Andrew Burgess is into web development for eight years and teaching about it to students for three and a half years. He is also authored two more books at Rockablepress and they are,
Getting Good with Git
Getting Google with Javascript
He also writes at Nettuts+ and Tuts+ Premium.
Lets talk about Getting Good with PHP book. PHP is the most widely used server side language in the world. So many popular websites powered with PHP and one such example is Facebook. Just like any other languages, PHP do have some inconsistencies. Author of this book came up with a controversial approach to tackle the complexity in explaining PHP fundamentals to help beginners understand it better and to make them as advanced beginner.
Learning is fun, if you are looking for some more interesting courses to make some money online by starting your own business or to add some more kilobytes to your resume under skill set and improve the chances of getting hired you may consider "Learn iOS Programming Course Online" or "Decoding HTML5 by Jeffrey Way". iOS App development, Android App development and learning PHP, HTML5, CSS3 has a good future. You can start your own small business, work from home or join in some corporate with any of these skills and certifications. It makes getting a job easier and saves you a lot of money as well.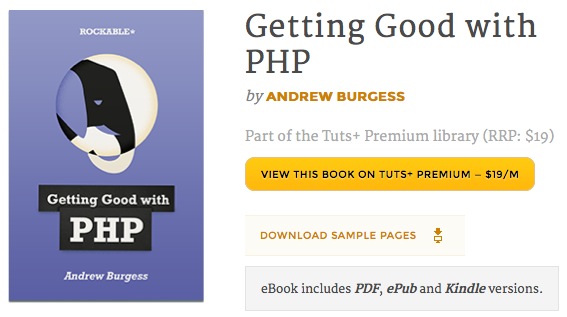 Price: $19
Download: Getting Good with PHP
Thanks for reading and have a wonderful day. If you find this post useful, then dont forget to share this with your friends and followers across Social networking websites like Facebook, Twitter and Google+.