This is the era of Smartphone and Tablets. Most of us have smartphones with us due to its high availability and cheaper pricing than it was couple of years ago. Top Brands like Samsung, HTC are leading in producing cheap smartphones to attract more people buy and use them. Smartphones today have features that can make your life easier with your every day work. Note taking, Capturing important moments, Enjoying online contents like News, Blog Posts, Updates, Music, Movies are done quickly and easily when we have a smartphone in our pocket. Smartphones are ultimate devices that brings small computers in your hand that you can use anywhere and anytime.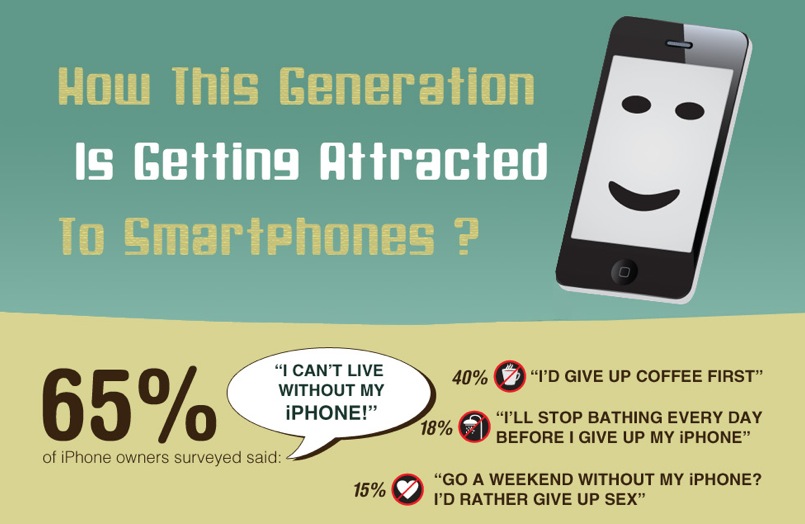 In a survey, when many smartphone users asked "What will you give up for your smartphone ?" researchers found some funny answers that also help us to understand how much people care about their smartphone. Specially iPhone users gave some interesting replies 🙂
"I'd Give up Coffee First"
"I'll Stop bathing every day before i give up my iPhone"
"Go a weekend without my iPhone ? I'd Rather Give up Sex"
There are lot more interesting information that we like to share with you here and check out the following infographic to know more. I use my iPhone every day to text my friends and family members, facebook, emails, i take notes, capture some moments that i feel worth storing it in my phone, games and some more apps. Never been in a situation or thought about giving up my iPhone. Right now i am thinking to try staying away from my iPhone for a week and see how i feel and in what type i fit in.
Have you ever thought about giving up your smartphone ? Share your views in the comment box below.
We believe that the above infographic about smartphone is an interesting piece and you may want to read more in coming days. You may consider sharing this post with your friends and followers across Facebook, Twitter and Google Plus. Also, you may like our fan pages to get more tech updates and interesting info on your newsfeed. Have a wonderful day !