This is a simple and easy to follow tutorial to update Google Nexus 7 to Android 4.1.2 Jelly Bean latest release. Nexus 7 is the first tablet from Google and the best one running Android. Yes, definitely. Coming at a really cheap price tag of $199 and $249, Nexus 7 is the best Android tablet device that the world has ever seen. Running a Nvidia Tegra 3 quad core processor, this tablet has been designed just for the gaming lovers. The device proves to be really good when it comes to gaming and is good even for all other tasks. While Google launched this initially, this device was running Android 4.1 and the Android 4.1.2 update is being rolled out to every Nexus 7 user now. If you haven't got your update yet, you can get that easily with this guide.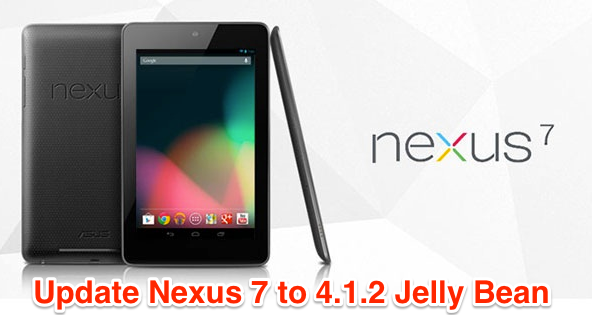 To get Android 4.1.2 on your Nexus 7, your device requires no rooting. You can get this update immediately no matter you are using stock or custom recovery. To get this update right now just follow these instructions and you'll be running Android 4.1.2 on your Nexus 7 immediately.
Note : Your Nexus 7 must be running Android 4.1.1 – build JRO03D
Also Read, mSpy Review and 15% mSpy Coupon Code Discount, Best Spy App for Android and iPhone.
For updating to Android 4.1.2, you should have the latest SDK files to connect your Nexus 7 to your computer with any hassle. You can get the latest SDK files at Android SDK. Make sure to download that and install first.
For Custom Recovery Users
If you have custom recovery and want to get Android 4.1.2, just download the update package from Google, copy it to your device, reboot to recovery and flash it to get Android 4.1.2. The same update package is for the stock recovery users too. Download this package and have safely in a directory on your PC or Mac or Linux. The download package is sized at 31.3 MB.
For Stock Recovery Users
If you have stock recovery and want to get Android 4.1.2 on your Nexus 7, you should follow these instructions.
Step 1: Reboot your device and press the Volume Down button while it's rebooting.
Step 2: Once you see fastboot menu and the word Start, press Volume Up button few times till you see the recovery option. Now click Power button to enter recovery.
Step 3: You will now see an Android with red exclamation mark. Press the Volume Up and Power button together. Now you'll see a menu.
Step 4: Click the second option in the menu named apply update from adb.
Step 5: Connect your Nexus 7 to your computer.
Step 6: Navigate to the folder where you downloaded the update package and open a command prompt in the same directory. Once the command prompt opens up, type in the following command : adb sideload 03a4eaf95f73.signed-nakasi-JZO54K-from-JRO03D.03a4eaf9.zip
Step 7: The process begins and you should see sending: 'sideload' 100% at the end. Once it is over, you can reboot your Nexus 7.
That's it. You now have Android 4.1.2 on your Nexus 7. It's time to experience some good bug fixes and also enjoy the landscape mode on your Nexus 7, thanks to the Android 4.1.2 version. Here is a video showing a nexus 7 tablet running android 4.1.2 os.
[youtube]http://www.youtube.com/watch?v=5YjHDkwfS4k[/youtube]
If you loved this update, make sure to share this guide with all your friends who own a Nexus 7. They too would love to have the fun, right ? And also, don't forget to drop in a comment in the comments section below.