Happy News for Nokia users with a Mac OS X, as the Nokia Software Updater is now available for Mac OS X too. This is a Mac application that can be used to get latest software updates for your Nokia device. Earlier Nokia software updater application for Mac OS made its debut as a beta release, but now its available full and with more features added.
Still there are some bugs to be fixed and this version supports only device software upgrades. Support for application updates will be available soon. You can download this application from the Nokia official website and follow the on screen steps to perform the update.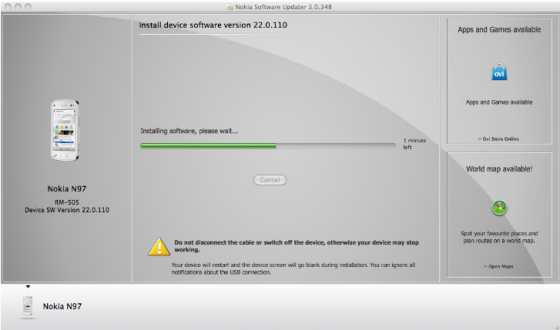 Nokia iSync for Mac OS X
Keep on top of your calendar easily by synchronising meetings and appointments between your Nokia device and iCal, Apple's handy desktop calendar, using iSync.
You can also use iSync to synchronise contact information between your Nokia device and your Mac's Address Book, including:
phone numbers
addresses
email addresses
web addresses
photos
Nokia Multimedia Transfer for Mac OS X
With Nokia Multimedia Transfer you can copy photos, music and videos between your Nokia device and your Mac – so you can manage them with iPhoto and iTunes. You can even copy files and synchronise web bookmarks.
Nokia Device as a Modem for Mac OS X
You can connect your Nokia device to your Mac using Bluetooth or USB cable. If you plan on transferring media files, we recommend a USB cable for faster transfer. You can use your Nokia device as a modem to go online when your Mac doesn't have an internet connection.