Facebook allows you to view and delete search history from Activity Log section. Facebook Search History contains every single search you performed using the Search box or Graph search (if enabled) in your account. So for privacy reasons, you may need to delete this from your activity logs at times. You should also know, that deleting any updates, photos or logs from facebook is a temporary action performed at your end but not a permanent action. Facebook stores any data you enter permanently or for long time. I have spotted this when i entered and remove my credit card from facebook account. You can find this article here "Facebook never removes credit card permanently".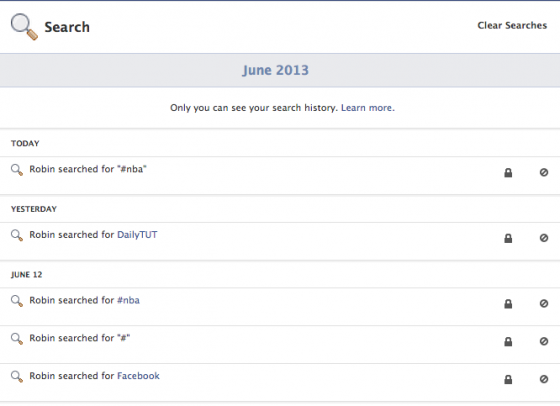 Many have got Facebook Graph Search enabled to their account and some users yet to get a graph search. If you have not joined facebook graph search waiting list, then visit the official page here and join in the waiting list.
Delete Facebook Search History
Lets see how to delete facebook search history quickly from your facebook account.
Step 1: Go to your Facebook Timeline or Profile Page (http://facebook.com/yourusername).
Step 2: Click on "Acitivity Log" at the top right corner.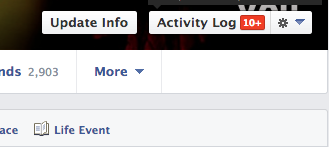 Step 3: At the left side of activity log screen click on "More" and locate "Search" option in the last.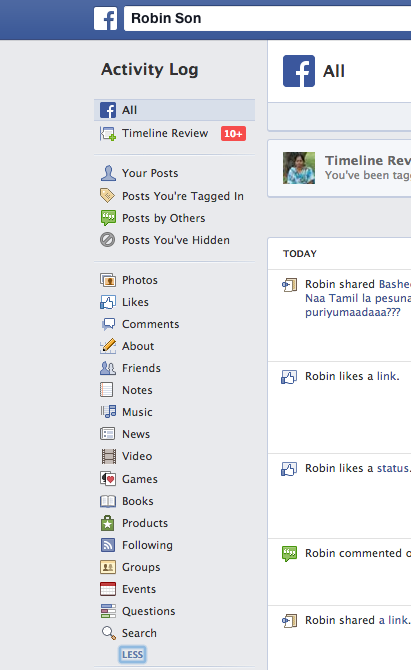 Step 4: There in the search page, you must be seeing all the recent and old searches you have performed since you have created your facebook account. In the top right corner, you will find a link or a button that says "Clear Searches". Click on that to clear all the search history stored in your account.
Congratulations, now you have cleared all the search logs that are stored in your facebook account. But remember, this is a temporary one and facebook stores every single bit of information that you update in your account. So make sure what you search and what you enter in your facebook account or on any social networking website.
With all these NSA access to your data on social networking sites and other commercial applications (operating systems) news, you must have known how much privacy you can have when your computer is connected to the internet.
We do have some more interesting tutorials for you, and use our search feature at the top right corner of this page. Thanks for reading and you may now share this post with your friends and followers across social networking sites. Have a wonderful day !