Facebook has brought new feature to millions of users to simplify the process of following famous people, celebrities and whoever you like to follow. Facebook adds subscribe button next to "Add Friend" button at the top right corner of the year. Allowing subscribers is a simple way to broaden your conversation on Facebook, while reserving personal updates for people you know well.
In simple words, facebook subscribe allows you to hear from people you're interested in, even if you're not friends.
How to Activate Facebook Subscribe ?
Activating and using Facebook subscribe is so simple. You have to visit Facebook Subscribe page once you logged in to your facebook account. Select "Allow Subscribers".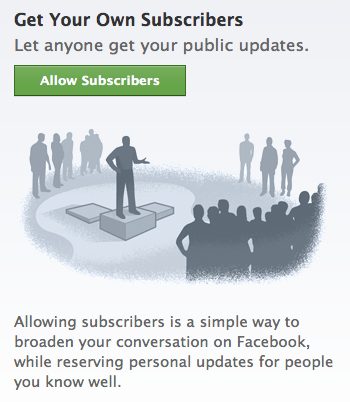 From that point your Facebook profile page visitors will see another button next to your Facebook "Add Friend" Button. This allows anyone to subscribe to your News Feed updates without connecting to you as friends. In this way you can manage your facebook wall privacy updates in much better way. Sharing really becomes much secured with Subscribe feature enabled.
Benefits of Facebook Subscribe
You've always been subscribed to friends. Now you can hear from journalists, celebrities, political figures and other people too. Click the Subscribe button on someone's profile to get their public updates in your News Feed.
Use the Subscribe button to choose what you see from friends and others in News Feed. For each person, you could hide all game stories, see just photos, limit updates to life events and more.
How to Deactivate Facebook Subscribe ?
In order to deactivate facebook subscribe feature you have to visit Facebook Subscribers Tab located next to Facebook Profile Picture.
Now Select "
Edit Settings
" in the top Right corner of Subscribers page and "Turn Off" Facebook Subscribe feature. You may also configure the comments and notification settings in this pop up.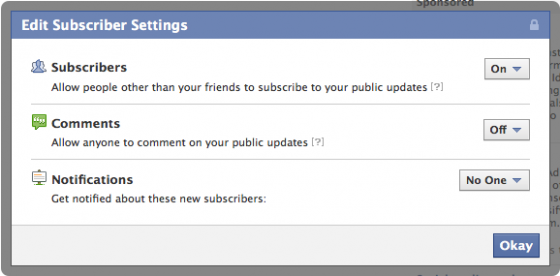 Thanks for reading and please do share this article with your friends and followers in
Facebook
,
Twitter
and
Google+
if you find this article interesting.