Facebook Report feature is very popular as we all have to use it at some point while surfing through our Facebook newsfeed. Contents shared by people in our friends list are not always friendly and many times they may share Spam or Scam messages, Nudity contents and Images, Videos that shouldn't be on Facebook. It is not possible by facebook to automatically remove such contents and that is the reason they allow users to report videos, images and posts that are threatening somebody or contains any of the above mentioned illegal contents.
We cannot expect quick action every time, but in my experience, facebook really scored well when it comes to taking action against reported contents. I will give 4/5 and that missing 1 point definitely left me in frustration sometimes.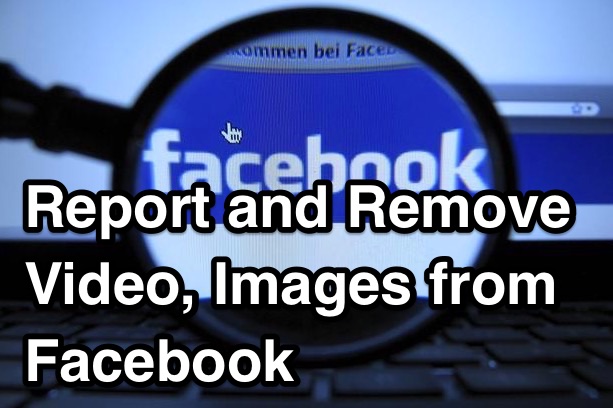 Some reported contents are automatically moderated by bots and some are manually moderated by facebook staffs. If you are seeing any Illegal, 18+, Nudity or Terrorism related videos on facebook, then you should probably use the Report feature to take down such contents and limit the audience reach as soon as you viewed them.
Commenting or clicking on Like button also shares the illegal video, image or post to all your friends saying that you have commented or liked that particular content. So using the Report feature is always a recommended step.
How to Report Illegal Content to Facebook?
Facebook reporting system is very friendly and any one with Facebook account can quickly access the Help section from the top right corner. Facebook Privacy Settings have recently got a design makeover which puts all the essential privacy elements in front and you can turn off and turn on easily. If you don't want your friends or friends of friends or public people to see your Profile About section data, then quickly take control via Privacy Tab.
Read more about Facebook Search and How to Protect your Privacy on Facebook?
Lets see how to report videos, images or posts to Facebook moderation team that is related to you or your friend.
Step 1: Each Facebook post contains a down arrow button at the top right corner of that particular Facebook post. Click on it to expand the menu options.
Step 2: Now select "Report Post" located at the second section of expanded menu. Now this will open another pop up window that looks like the following picture. Select "I Think it shouldn't be on Facebook".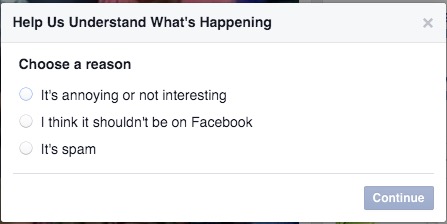 Step 3: Now you will see another pop up window just like below image. Select appropriate option to report the content to Facebook moderation team. If the content is nudity related then proceed with second option "It's Sexually Explicit" and this will help the moderator to analyze the post, image or video and take down the particular content immediately.
As a last step click on continue after selecting the suitable option and you will see a confirmation message saying that facebook has received your report and a moderator will respond to you very soon. You may select the checkbox at this step to notify the account owner about your report or report it anonymously when you leave it unchecked.
There is no approximate time, when the content take down will happen. But it is important to report to initiate the process. All your Facebook Reports can be accessed under "Settings – Support Inbox". If you have reported some content by mistake then you can cancel your report from Support Inbox area easily.
In my personal experience, i have seen contents being taken down in few minutes or even in couple of days. So follow the steps correctly and have a safe and secure facebook experience.
If some one created a fake facebook profile of yours and uploaded your images, videos and other contents to impersonate you, then goahead and follow the steps suggested in our article, How to Report Fake Facebook Profile or Facebook Account to moderation team.
Thanks for reading and i hope you found this facebook tutorial about How to Report and Remove a Video from Facebook useful. It's not just for videos, you can follow the same steps for Images, Posts shared by your friends and appears on your facebook newsfeed. Have a great day and enjoy the safe facebook experience.