If you are new to Google+ and started receiving notifications in your mailbox when your friend mentions you, shares a post directly, comment on your posts, adds you on their circles and you feel like bit annoyed with so many mail notifications then here is the solution. You may opt to stop receiving mails from Google + as notifications.
That surely helps you in saving your mail box filled with lots of Google+ notification mails.
Step 1: Go to Google+ Account Settings
Navigate to Account Settings by clicking on your Google+ profile name and that will bring you a pull down menu with some options. Select "Account Settings" in that tab.
Step 2: Select Google+
You will be taken to a new page that says "Google Accounts" where you can manage your Google+ account privacy settings, Google+ email notifications and so on. Now select "Google+".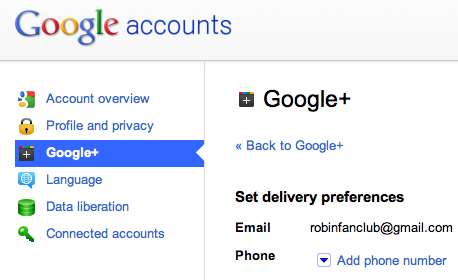 Step 3: Uncheck the Boxes
You will find list of options with check box marked. Here you have to select for which you like to receive mail notifications. You may select all or few as per your choice.
That is all to protect you from huge number of mails in the form of notification. I hope you enjoyed reading this How to. You may share this post to let others also know about this great feature.