Hi folks ! The Internet is a medium of communication and meant for sharing the data, in that downloading is an essential one. While downloading the data, it is more important in its consistency because while downloading your favorite movie if the download got failure and prompts you to download again,
then it makes anyone to feel bad. Not only the entertainment based it is also more important while downloading the confidential data where failure in download cannot be tolerated at all.
So in order to over come all these things the download managers are being introduced to make our downloading more secured and also resumable. I'm here to explain you the Top 5 download managers which gives you more comfort in downloading your softwares, movies, videos, mp3's, etc.,
1.Internet Download Manager
The Internet Download Manager is shortly called as IDMan which is one of my favorite download manager. It can increase the speed up to 2 times from which you can get from your normal browser. This will increase the resume capability of your downloads and also it is used in scheduling your downloads. It can easily recover the broken downloads and resume  it from last download. The IDM has a smart download logic which has the intelligent dynamic file segmentation and the safe multipart downloading technology is available to accelerate your downloads. When you install IDM in your system it will automatically add into your browser and make your downloads triggered instant. If you feel it as an annoying feature then you can disable it from your browser addon tab.
2.Flash Get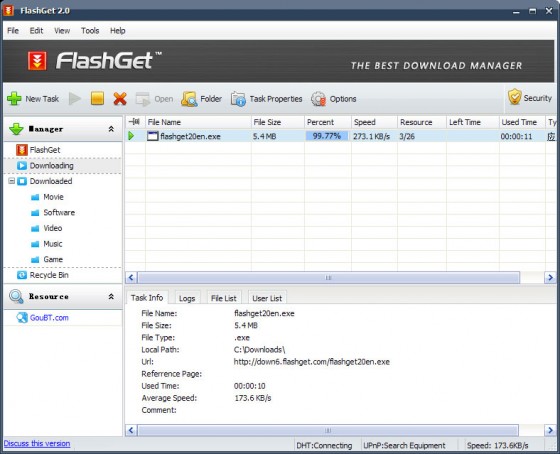 Flash Get is one of the best download manager which is available for free. It can the optimize the system resources automatically and also it calls for the system anti-virus while downloading the files. It is very clean and it does not contain any adwares or spywares included. It can increase the speed of your download for 5-6 times from your normal browser downloads. It supports for the multi-protocols like HTTP , FTP, BT, MMS, etc., It uses the Multi-server hyper-threading transportation technique and optimization arithmetic so it can split the files into sections and supports for the multi-point transfer of files in parallel. More over the Ultra Disk Cache technology used in this will make protect your hard disk. Flash Get also acts as a Torrent client to download your torrents.
3.Download Accelerator Plus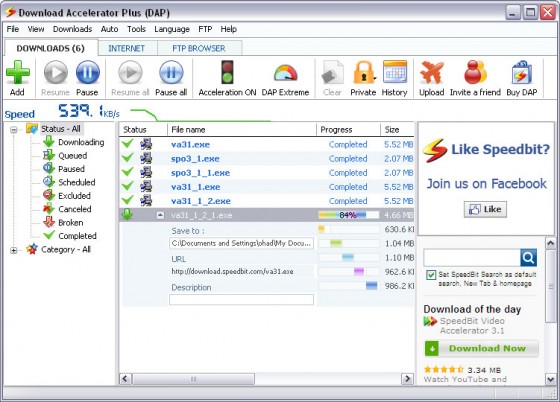 The Download Accelerator Plus is shortly called as DAP and it is available at premium and free versions. When you install the DAP in your system it got embed with your browsers and it is compatible with all the leading browsers. It provides the better browsing experience than you done with your normal browsers. DAP is powered by patented multi-channel technology and automated mirror-search. You can get the full fledged experience in its premium versions. DAP is available in 39 languages so user can chose their own language for their usage.
4.Free Download Manager
The Free Download Manager is absolutely free, it is now declared as a open source and distributed under GNU GPL. It supports for downloading by splitting the files into pieces and download it simultaneously. This increases the speed of downloading and also it makes the files to get resumed after power shut down or get broken in between. It is also used in downloading the whole websites from any web servers by HTTP, HTTPS, FTP,etc., It acts as the bit torrent client for downloading the files from the BitTorrent protocol. It provides a safer environment for downloading your files and also it is free from adwares and spywares.
5.Orbit Downloader
Orbit downloader is the freeware which gives a great browsing experience when it is being integrated with the browsers, especially while uploading and downloading your e-mail attachments. It supports for the maximum set of protocols and it is based on the peer to peer and multi-source downloading technology. More efficient mirror selection algorithm and faster download sources which allows you to download the files 5 times faster than your normal browser downloading.It is micro-sized and resource friendly for your system because it took only 3% of CPU's memory for its execution. It has the simple and clear interface and it is free from spywares and adwares.
If you have any best download manager software with you then you can give the name of it, in comment. Thanks for reading !