Have an Android Smartphone ? Looking for an application for your PC, Mac OS X or Linux to Send and Receive SMS using your Mobile Number ? MightyText is almost a platform independent solution for you to send and receive sms from your computer to any contacts in your mobile phone. It uses your Mobile number which you have on your Android phone. It is one of the best android sms app from pc without a doubt. Installation takes less than a minute and you will be able to start sending messages just like iMessage on Mac.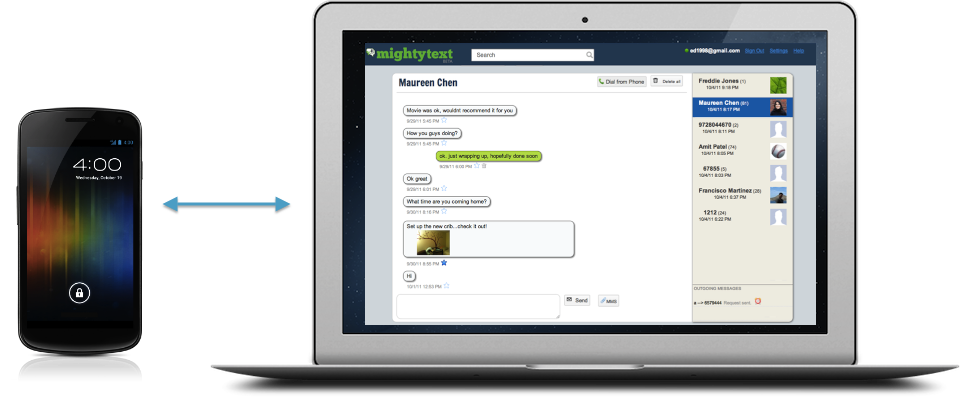 MightyText works with your Computer and Tablet without any compatibility issues. In 2 easy steps you will be ready to send and receive sms from your computer. MightyText is simple to easy and very easy to install.
Android SMS App from PC
Step 1: Install MightyText Android App on your Smartphone.
Step 2: Setup Mighty Text on your Computers Web Browser or in a Tablet.
Note: MightyText web browser extensions available for Google Chrome (Extension), Firefox, Safari (web app) and Internet Explorer (Installation Guide).
If you like to use MightyText from iPad or Android Tablet, then visit (https://mightytext.com/app) from your tablet web browser. It currently supports all the major web browsers except Opera (which is expected to arrive very soon).
MightyText App Features
Send and Receive SMS from your Computer (Linux, Windows or Mac) or Tablet.
Uses Your Current Android Phone number.
Instant Notifications on your PC or Mac.
See Who is Calling you on Computer Screen.
Forgot the Phone in your Car, Home or at Office ? No more worries.
MightyText is a perfect app for your Messaging needs and known as iMessage for Android.
That is it, you dont have to follow any complex steps or need to download any software to connect your Android mobile phone with your PC, Linux or Mac OS. This is really an easy way to keep your Messages organized and easy to access from your Desktop, Laptop or Tablet. Start using MightyText and enjoy the freedom of messaging even better.
You may share this post with your friends and followers across social networking websites to let them also get this interesting app and save time. Have a great day !