More PC vendors sign on to Windows 7 update plan.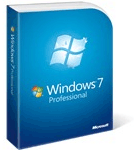 Lenovo has become the latest PC vendor to offer users a free upgrade to Windows 2007. The company said that all systems sold between 26 June and 31 January with the Home Premium, Business and Ultimate versions of Windows Vista would be eligible for the update. Lenovo said that the offer will be limited to home and small business system purchases. Customers who purchase more than 29 systems will be directed to use Microsoft's volume licensing programme instead.  The offer makes Lenovo the second major PC vendor to roll out a free upgrade programme in recent days. On Thursday HP said that it would be offering a similar deal to users who purchase new systems between now and the 22 October release of Windows 7.

Microsoft is also pressing users to plan an upgrade to the new version of Windows. The company said yesterday that it would offer discounted pricing to those who pre-ordered copies of Windows 7.
The company is also offering a deferred cost programme to encourage more PC vendors to offer free upgrades to Windows 7.
Both Microsoft and PC vendors are hoping that the free upgrade campaigns will serve as a way to keep users purchasing new systems throughout the summer rather than waiting until after the release of Windows 7 to purchase a new PC.
via V3.co.uk