The long awaited microsoft social networking website SO.CL is here. Microsoft have leaked the name SOCL few months ago, and here we got the website ready and you may request an socl invite to sign up. Currently SO.CL uses the Facebook Connect API to let people request for an SOCL Invitation and hope to see the official public launch very soon.
You may also like to Read:
[youtube width="600″ height="344″]http://www.youtube.com/watch?v=cpr64krmmFc[/youtube]
About Microsoft SOCL
SO.CL is a research project by Microsoft Fuse Labs which aims to focus on social search and learning. It is not just about Social Networking, where microsoft clearly mentions that this "SOCL combines social networking and search, to help people find, share interesting web pages in the way students do when they work together" It is mainly for Learning Communities and still there are no limits for public as well.
SOCL Video Parties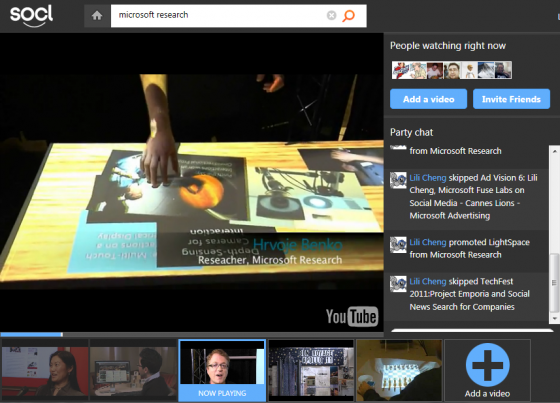 Here we got a video chat service similar to Facebook Video Calling, Google+ Hangout and we call this feature here as SOCL Video Party. This encourages interaction between communities and let people do things in more collaborative way. The Rich Media, Video sharing gives more possibilities of writing Rich contents on the web and share it with your SOCL Friends. We can be sure what unique features that its going to deliver only when we get access to the website. Read more about SOCL here.
Though its very late, i really wonder how microsoft going to come up with this project as a successful one, as we can clearly see people are not ready for another social network (may be). When many look for ways to get rid off the existing social networking sites, this new social networking project by Microsoft creates a little doubt to me, that how far it can succeed.
May be the integration that it will come up with can increase the number of users for sure. And we Bloggers are Ready to fill up the SOCL and to see its growth in millions for next few weeks as far as new signup is concern. Google+ had that, and now its the turn for SO.CL 🙂
SO.CL Invite
Currently you got to sign in using your Facebook login details and you will be notified soon once they are ready to take you in. Yes, the SOCL Invite is required to access this all new social network project by Microsoft.
Are you Ready for SO.CL ?
Answering this question is quite easy for many and very complicated for some 😉 Are you ready for another social network to meet the same friends over there and to give all your data to be harvested in microsoft servers ? as we did and doing that with Facebook and Google so far, microsoft may feel like checking out how far the data about our life looks interesting ;). Please do share your views in comments and thanks for reading this article. Dont forget to share this post with your Friends in Facebook, Twitter and Google+ (soon i got to add SOCL here 😉 ).