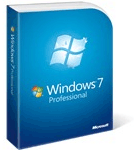 Microsoft VP has announced the pricing info for Windows 7 operating system. Many have tried windows 7 os and satisfied with the performance so far it offers. Many vista related issues fixed and windows 7 perfectly rocks. The announcement reaches Windows Team blog. As per the talk, Windows 7 will be made available in 14 languages (English, Spanish, Japanese, German, French, Italian, Dutch, Russian, Polish, Brazilian Portuguese, Korean, Simplified Chinese, Traditional Chinese and Chinese (Hong Kong) world wide. Later on octorber 31st, remaining 21 languages (Turkish, Czech, Portuguese, Hungarian, Swedish, Danish, Norwegian, Finnish, Greek, Ukrainian, Romanian, Arabic, Lithuanian, Bulgarian, Estonian, Slovenian, Hebrew, Thai, Croatian, Serbian Latin, and Latvian) will be released.
Windows 7 Upgrade program, also launched and as per the program whoever buys a new pc from June 26th, with OEM or retailer, Windows Vista Home Premium, Business edition, or Ultimate will be eligible to upgrade their vista pc to windows 7 pc for low cost or at no cost. Here comes the Price info.
* Windows 7 Home Premium (Upgrade): $119.99
* Windows 7 Professional (Upgrade): $199.99
* Windows 7 Ultimate (Upgrade): $219.99
The prices for full packages are as follows,
* Windows 7 Home Premium (Full): $199.99
* Windows 7 Professional (Full): $299.99
* Windows 7 Ultimate (Full): $319.99
For European Customers:
Brad says, we will not have a separate upgrade SKU for the packaged retail product versions of Windows 7 at GA. But we will be offering upgrade pricing on our full licenses to make sure that European customers who want to upgrade have the pricing options available in the rest of the world.
Source: Windows Team Blog
The current price offering by microsoft, doesn't satisfy many vista buyers. Let's wait whether microsoft consider the ms genuine users requests.