Is your Windows PC Loading too slow? Internet is very slow, even though you have high speed broadband connection? Frequent Hangs and Windows System Slow Down affecting your Work and Business? Well, don't be worried any more. Auslogics Boostspeed 7 comes to the rescue with power packed tweaks and system utilities to keep your Windows 7 and Windows 8 PCs performance top notch. Auslogics Boostspeed 7 has got lot of improvement over previous versions and compatible with Windows XP to Windows 8, 8.1 versions.
Update: We have updated the links to latest Auslogics Boostspeed 8 version. You can download it with 50% Auslogics Discount Coupon Code automatically applied at the end of this article.
Before downloading auslogics boostspeed 7 this review will definitely help you explore the core features and highlights of this powerful software. Windows PC by default is beautiful and the best operating system in the world without any doubt. The problem starts when you allow third party software installation.
Also, we have a surprise for you at the end of this Boostspeed 7 review where we have an exclusive 15% Auslogics Boostspeed 7 Coupon Code to get you some discount on purchase.
Each third party software works bit different and consumes, stores, data and memory in different ways. These softwares also stores plenty of data in your hard disk which also slow down your Windows PC performance. Unwanted, Unused data stored in your hard disk stays for long time which clogs the storage space that you can use for storing some important files. Keeping the hard disk clean will also do faster system boot and other essential softwares you installed to function faster and perfect.
Boostspeed 7 Review
Managing hard disk space is very essential and Auslogics Boostspeed 7 does just that with its powerful, intelligent algorithms and technology. I have used Boostspeed since they released version 4 and i recommended it to many of my clients and customers so far. Boostspeed is still their favorite and running it just once a week keeps the PC performance good and no issues, errors and complaints at all.
Alright, let me highlight the features before talking a lot about the software. You will see how effective this software will be for your Windows PC along with the feature highlights.
What makes my PC slow?
Well, the reason is not one and it is not possible by the user to spend several minutes or hours in tweaking and cleaning up the essential Windows areas manually. That is why we go for some automated software that automatically cleans, tweaks and fixes most common Windows errors and avoids them from happening again and again.
Some common problems that Auslogics Boostspeed 7 addresses are,
Fixes errors and issues behind slow loading Windows PC.
Defragmentation of your Hard disk drive helps to clean out junk files and Repair Windows Registry files.
Fixes Slow Internet Connection problems and Boosts your Web Browsers Internet Speed.
Built-in File Recovery Software helps you recover accidentally deleted files.
Auslogics Boostspeed 7 comes with 15+ more System maintenance tools and utilities.
Boostspeed 7 – Full System Diagnostics
As i mentioned earlier, the reason cant be single and not easy to predict when your Windows PC slow down or hangs frequently. Chances are many and it is not easy for users to identify and fix PC performance affecting problems. That is why we move to some intelligent software that automates and ensures best performance round the clock.
Auslogics Boostspeed 7 comes with Intelligent full system diagnostics scanner that identifies all types of issues that can affect your Windows PC Performance.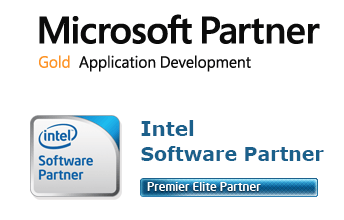 Auslogics Boostspeed 7 – System Cleanup
It is essential to manage your hard disk drive better to get a boost in speed and performance overall. You can easily clean up Windows Recycle Bin regularly. But each software you installed in your Windows PC stores several application data, system data, duplicate files, user data and other files that are required to function. Your web browser stores several data to your Temporary Internet Files folder and when you surf videos, images and other web contents, they consume more data in your local hard disk drive storage.
That is why we should run a system wide cleanup identifying temporary files, application data, user data and other files that clogs unwanted disk space. Auslogics Boostspeed 7 is an expert in that which cleanup and enhances your Windows boot up speed and performance as well.
Auslogics Boostspeed 7 – Internet Speed Fix
Who likes slow Internet Speeds? Windows is fine tuned by Microsoft to let its user experience faster Internet access with their softwares. But certain softwares and poor PC maintenance puts the Internet Speed and Performance affected. Auslogics Boostspeed 7 Internet Booster algorithm takes care and fixes any type of issues that is affecting your Internet Speed.
Most of the users have Broadband Connectivity at Home and Office, but unable to experience the full potential of it, mostly because of poor PC maintenance. Optimize Internet settings, improve system startup, web browser and other Internet Software/Application boot up to be more productive.
Auslogics Boostspeed 7 – Privacy Cleanup
It not just about Web Browser History anymore. There are intelligent softwares and file recovery softwares for windows available, that recovers any deleted browsing data, history, images, videos and files you watched and downloaded from Internet. To ensure better privacy, you need to get an intelligent software that handles your private data very well. Auslogics Boostspeed 7 comes with Privacy Cleanup feature which runs a system wide search and cleanup to ensure your private data are not stored anywhere in the Windows PC and guarantees you complete peace of mind.
Delete Everything, delete all Computer activity and Internet activity with one click using Boostspeed 7.
Auslogics Boostspeed 7 Awards
Auslogics is not a new brand or software manufacturer. They are in the market for very long time and rated as best windows pc utilities provider by millions of users world wide.
Auslogics Boostspeed awarded with 5 stars by Software Informer User Pick.
CNet Editors Rating has awarded 5 starts to Auslogics Boostspeed software.
PCMag selected it as the Best Free Software.
PCWorld Reviewed and rated it as the best PC maintenance software.
Tech Experts and System Administrators are using Auslogics every day to identify and fix windows pc problems in companies like Microsoft, Sony, HP and much more. It is one of the globally trusted software and found as the best PC maintenance software for windows.
Auslogics Boostspeed 7 Screenshots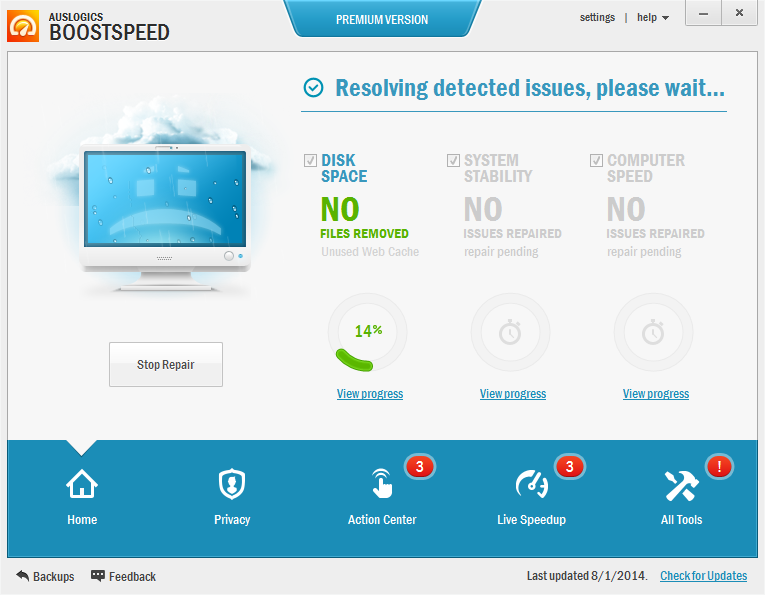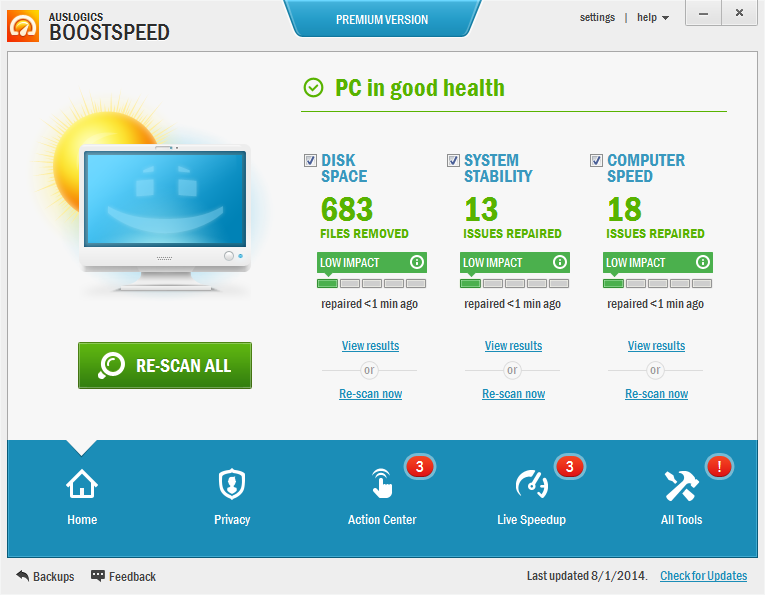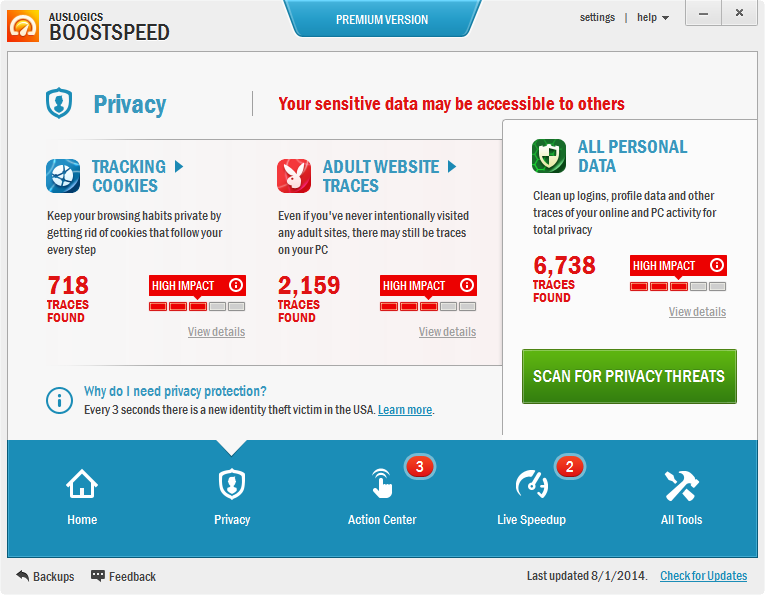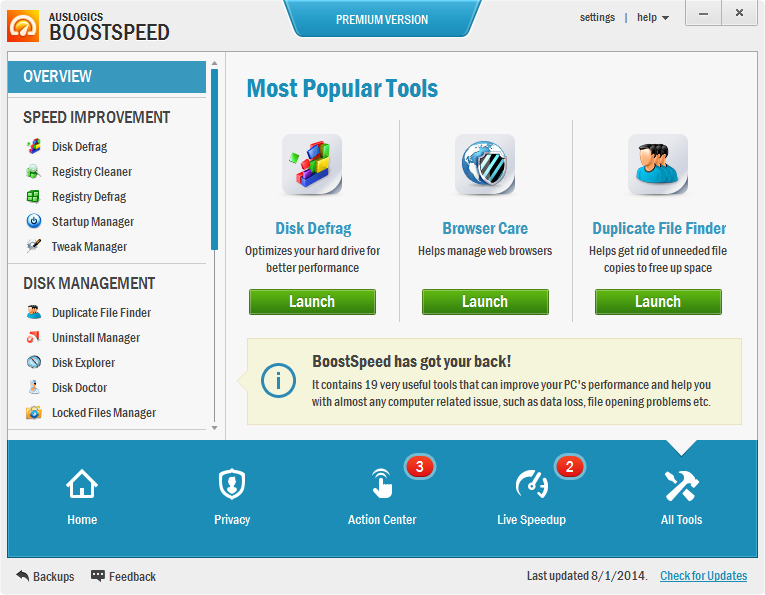 Auslogics 30 Days Money Back Guarantee
Finally, this brilliant and intelligent PC maintenance software comes with 30 days money back guarantee. So you don't have to worry that your money might be wasted or you are buying a false promised software. Simply give this a try and if you notice a difference in your Windows PC, keep it. Additionally, we have auslogics boostspeed coupon code for you to get discount on purchase.
[youtube]https://www.youtube.com/watch?v=2sua1kAZ-pE[/youtube]
Auslogics Coupon Code
Buy from the following link and get 15% Boostspeed Coupon Code which saves you some cash on purchase. We applied the discount for you so, simply click the red button, confirm the pricing and complete the purchase.
Boostspeed 8 Coupon Code
Original Price: $49.95
Discount Price: $42.46
We believe, you have found the Best PC Maintenance software for Windows that boosts your Productivity and makes you fall in love with your Windows computer again and again. No more slow loading PCs, slow loading Internet problems or a need to call technical support. Download Boostspeed 7 from Auslogics today and get the peace of mind.
Also, don't forget to use our Auslogics Boostspeed 7 Coupon Code to save some cash with your purchase. Thanks for reading and have a wonderful day.