Bitdefender Total Security Multi-Device 2018 brings complete protection to all your Computers (Windows PC, Mac OS X) and (Android) Smartphones. It is incredibly easy to use and brings One Click Security to protect your computer against Viruses, Malwares and Internet Attacks. Bitdefender Multi-Device protection allows you to use the Total Security License on 5 or 10 devices, based on the license you purchase.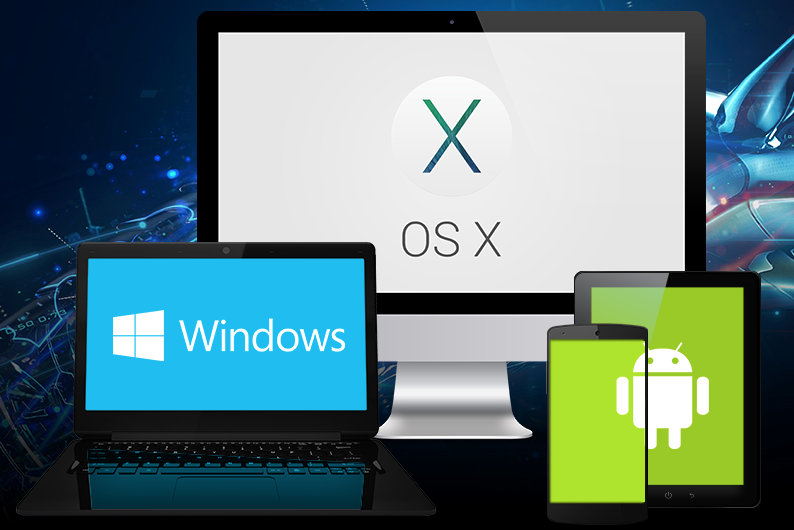 If you have an iMac at Home, Windows PC at Work and Android smartphone in your pocket, then multi device protection lets you install bitdefender total security 2015 software with single license code. You dont have to purchase the license individually for each devices, simply use the single license you bought for 5 or 10 devices to protect your PC, Mac, Android Mobile and Tablets.
Bitdefender Total Security Multi-Device 2018 Coupon Code
Apply Discount / Bitdefender Total Security Multi-Device 2018
Bitdefender Antivirus + Internet Security = Bitdefender Total Security
Bitdefender Total Security 2015 is a very advanced antivirus and internet security software combined with additional features such as Anti-Theft device tracking feature, Secure Online Storage using Bitdefender safebox and File Encryption to encrypt and protect your sensitive data. For other security softwares for your Windows PC from bitdefender read Bitdefender Antivirus Plus 2015 Review and Bitdefender Internet Security 2015 Review posts.
Bitdefender Total Security Multi-Device 2018 Review
Well, the concept of multi-device license is to allow users save money by purchasing a bitdefender license that can be used on multiple devices without the need for individual license purchase for the same validity. You can choose the license validity between 1, 2 and 3 years and the device count can be 5 or 10 maximum. Pricing details are given below, before that lets see the feature highlights of this ultimate security software for windows, mac and android mobiles and tablets.
Bitdefender Reflective Artificial Intelligence Networks
Bitdefender calls it as B.R.A.I.N, which is a very powerful and most advanced security architecture developed by several years of Research and complex machine learning algorithms by Bitdefender R&D Team. This main purpose of B.R.A.I.N is to learn constantly where, when and how are new threats born across Internet and in Users computers and find methods to neutralize the suspicious viruses, malwares from programs effectively.
B.R.A.I.N is an artificial intelligence system for Security that comes with every Bitdefender Total Security 2015 and other titles by bitdefender for fighting against all existing and new threats that your computer can be targeted for.
Bitdefender Total Security 2018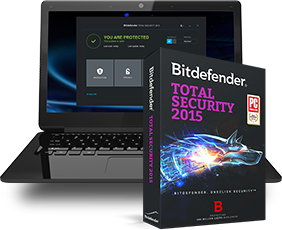 Bitdefender Total Security 2018 has all the advanced features and tools to protect Windows PC from Viruses, Malwares and Hackers. Lets quickly see the feature highlights,
Bitdefender Photon – The technology behind super fast system wide scanning. Bitdefender is popular for performing super fast virus scanning and removal, which is because of its built-in technology called Bitdefender Photon. It is unique to Bitdefender security softwares.
Secure Online Backup – Bitdefender Safebox feature provides safe and secure online cloud storage for all your sensitive data, documents and files. It is not just safe, the data is also encrypted with high grade military level encryption that allows only the owner to access and retrieve anytime.
Device Anti-Theft – This is one unique feature that comes with Bitdefender Total Security 2018 software. It is also one of the main reason that i recommend Bitdefender TS 2018 to anyone. If you worried about your laptop or android smartphone being stolen, then you should consider getting Bitdefender Total Security 2015 for your device. It comes with a very intelligent Anti-Theft mechanism that locates and sends data about your laptop, which only you can access.
Bitdefender Antivirus for Mac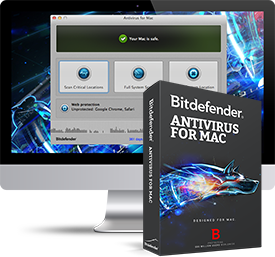 This is a specially designed antivirus software for Mac OS X running Apple computers. It don't just protect your mac, Bitdefender Antivirus for Mac also protects users running Windows inside mac computers, users who have Windows computers in their Network, USBs or Storage Drives shared with other Family, Friends Windows Computers stays protected as well.
Web Protection – Bitdefender Antivirus for Mac also fight against web based malwares, browser based exploits, worms and other suspicious programs.
It effectively stops windows viruses from being transmitted to other PCs by scanning every files that you bring in and take out via USB, Hard Disks, CD, DVDs. This security software for mac also protects your online identity from being stolen or recorded by websites and web applications. Remember the "Flashback malware"? Bitdefender aware about it and guards your computer against all types of known threats and vulnerabilities 24/7.
Bitdefender Mobile Security for Android
You own an Android mobile or tablet? Then this multi-device license will be happy to fit in and protect your android smartphone or tablet from all types of malwares, spywares and viruses 24/7. Android devices are vulnerable for tons of attacks via web and offline, and it is essential to have a premium antivirus on android device. Regular virus signature updates and stronger security measures will only protect the device and user data stored inside.
Bitdefender Mobile Security is so light on the devices battery, so you dont have to worry about battery being drained because of antivirus softwares. If you have tried some free antivirus and fed up of battery drain, then consider giving this a try, and you will love it. Bitdefender Mobile Security for Android also protects the device from being stolen or lost. Its Anti-Theft mechanism helps you locate, track the device using your computer.
It also monitors your web browsing activity and alerts you whenever you visit some suspicious, malware infected websites.
Lets talk about pricing and license details of Bitdefender Total Security Multi-Device 2018 license.
Store Price: $99.95
Discount Price: $29.98
Validity: 1 Year
No. Computers / Mobiles: 5
 Apply Discount / Bitdefender Total Security Multi-Device 2018
Bitdefender Total Security has been selected as the best security software for windows pc's continuously for 3 years by AV-Test and other Certifying Organizations. It has found to be the very effective security software than many other in terms of being light in weight and stronger in performance. Also, dont forget to read Bitdefender Total Security Review and get 50% Bitdefender Coupon Codes 2018 on all titles.
Thanks for reading and don't forget to share your views in the comment box below. Also, if you find it worth, do share this post in your Twitter, Facebook and Google+ feed. Have a wonderful productive day.