The fox has many tricks but the hedgehog has just one which is the best of all. No one would ever forget this saying right from our childhood. Its always a pleasure knowing tricks and tips before trying out on something new and that's what we are going to experience on Windows 8 which is launched targeting the tablet market. The fun in exploring Windows 8 is simply amazing as you are very much used to the operating system that taught u computing is loaded with full of applications and simple graphically advanced user interface.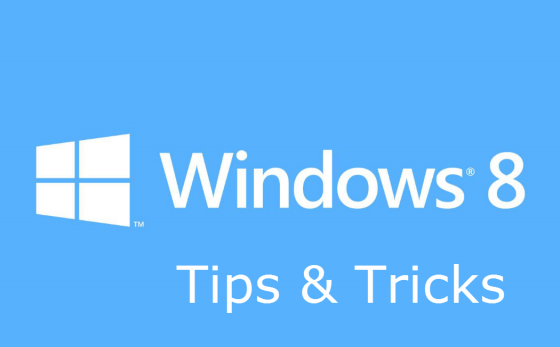 Windows 8 being a bigger leap for Microsoft in many terms the major occurrence is on the user interface of the operating system. The look and feel is very much enhanced and so the beginners will find it a little slow phase to catch up. User when logs in with credentials will first land on the home page where you will find a number of thumbnails which is nothing but the new Menus on Windows 8. Breaking away the Usual stereotypical look this column type Menu window is been introduced. Will see some of the easy tips and tricks you could use on your Windows 8 machine for menu access.
Quick Access to your Menu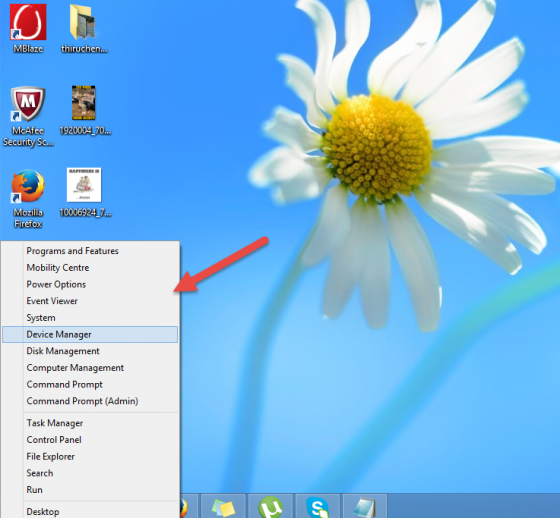 Everyone desire to have a quick access to their menu or at least some essential applets bar in order to make things done faster. To access your essential applet bar just move your cursor to the leftmost bottom corner of the window and do a right click else more the cursor to the same place and press Windows +X. A simple action which would be most helpful to you at times thereby utilizing the menu bar with device manager, disk management, control panel etc., in easier way like never before. You can also download Win+X Menu editor app and go ahead with further customization of the applet window.
Customizing groups on start menu
As we saw the landing place of the newly designed Start screen which is of apps like calendar, photos, messaging, mail etc., Now you can group the apps on the start screen as of your wish which helps you in many ways to proceed with your work in an organized way.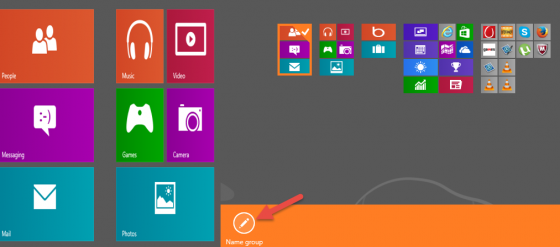 Go to the Start Screen and simply drag the apps of your wish to the left corner and you can see they were getting organized into separate groups. You can now name the groups by minimizing the start screen(Click on the minus bar on the right bottom corner) and click on the column to name the organized apps.
Setup the launch apps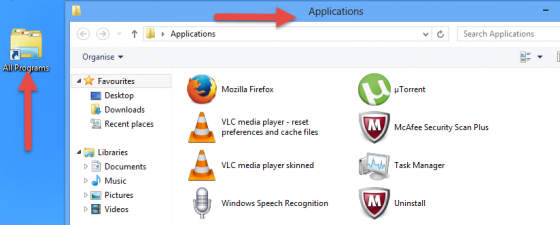 An easy trick to get the launcher for your application installed. Its quite simple and easily accessible through several steps. Right Click on your desktop select New > Shortcut. An dialog opens asking for the location for shortcut and you need to type "Explorer Shell:AppsFolder" there. Now give next and name the shortcut as "All Programs" and it gets created on your desktop. Now this shortcut acts as a launcher for you which gives the list of installed applications on your machine.
Customize your Navigation Menu
Almost the same operation as we observed on customizing the groups on the start screen. Navigation handling is another important action which helps in organizing the apps on the start screen by pin or unpin from the list and move by columns and getting them aligned.
Do right click on the particular app and perform unpin from start, uninstall and move to other list operations on a single action.
App bar – A replacement to menus
App bar is nothing but a shortcut to access the start, search, share, settings windows from the desktop. This is of major utility when you are a multi tasker as you need to manage a lot of stuffs on your machine side by side and should be of easy access to a cluster of applications. To access app bar goto right bottom corner of your window and scroll your finger towards top.
 We will bring more windows 8 tips and tricks in coming days. Thanks for reading and have a wonderful productive day.