Apple Macbook is one revolutionary product released by Apple in terms of Design and Technology. The Logic Board of Macbook shows what apple will do in coming years with other products Internals, and how they are going to make it more thinner and smaller, still deliver the processing power we need. Whenever there is a new product from Apple, we should also checkout some accessories on the other side to decorate it, protect it or to add some extra battery juice to the gadget.
Speaking about Battery Juice, give a read about Best External Battery Power Banks for iPhone and Android Mobiles, that we have recently compiled.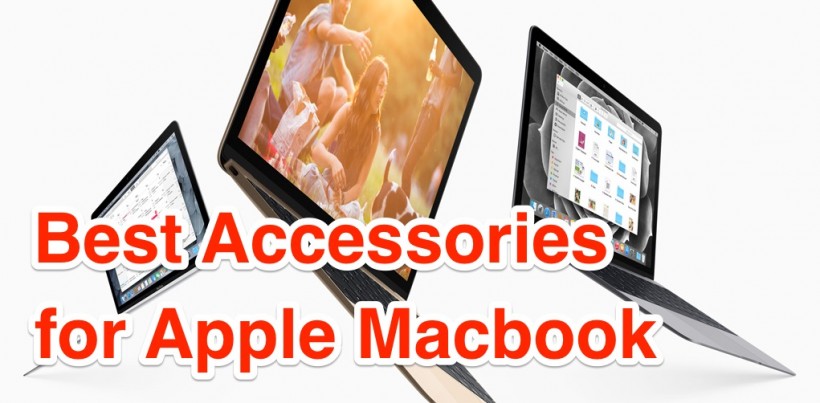 Apple Macbook comes with single USB Type C port which makes it essential to go for accessories if you want to use a regular USB 3.0 or 2.0 Pen Drives. Apple made the macbook super thin and primary Connectivity as Wireless. Apple Macbook is definitely made for the future and meant for users who use lot of Cloud storage and Internet services. Being a super thin macbook it has to sacrifice the hardware ports and make accessories mandatory for people who prefer USB Drives and 3G, 4G Dongles usage for Internet Connectivity. Apple is always good at selling accessories, and if you are an iPhone or iPad user, you know that very well.
Best Apple Macbook Accessories
The new macbook 2015 model is super thin and super light to hold in hand. The Macbook Design Introduction video was jaw dropping and it is not new for Apple Marketing Department to come up with such stunning video. Especially that butterfly keyboard part, is my favorite. Alright, lets explore some of the best accessories for macbook 2015 model that you can carry with your backpack easily without adding too much weight or wires to enjoy the Connectivity.
We handpicked few best accessories for apple macbook here to solve the shortage of USB problems and to charge multiple devices at once.
Also Read, Is the New Apple Macbook 2015 Model Worth Buying?
Apple USB-C to USB Adapter
This $19 USB-C to USB Adapter does one job, and that is allowing you to connect one USB 3.1 Gen 1 drive or USB 2.0 drive to your Macbook. As the USB-C port is different than the USB 3 or earlier versions port, which is widely available today, you may consider purchasing this accessory if you don't use more than 1 regular USB drive that we have today, and mostly you use Wireless services and Cloud Storage options for your data transfer purposes.
Price: $19
Buy Now: USB-C to USB Adapter from Apple Store
Apple USB-C Digital AV Multiport Adapter
USB-C is known for its double the speed of regular USB 3 we have today. Its faster when it comes to Data Transfer and allows more devices to be connected simultaneously which makes multi port adapters work smooth and well on your Macbook as well. This USB-C Digital AV Multiport Adapter from Apple has 1 x HDMI port, 1 x USB 3.1 Gen 1 port and 1 x USB-C port for all your hardware connectivity needs.
This is one essential and top selling macbook accessory recommend by Apple, which is also expensive on the other side. This multiport adapter costs $79 but offers satisfying solution for people who miss their favorite ports on their macbook.
Price: $79
Buy Now: USB-C Digital AV Multiport Adapter from Apple Store
IVSO USB Type C to USB 3.0 Hub
This 4 port hub adapter allows you to connect 4 USB 3.0 devices and transfer data or charge the devices easily. IVSO USB-C to USB 3.0 multiport Hub Adapter is a simple solution for connecting 4 USB 3.0 Pen Drives or 3G/4G USB Dongles and transfer data simultaneously.
It is very well compatible with the new Macbook 2015 model and other Windows Laptops, Chromebook models as well. Easily connect, swap and carry it in your backpack without adding too much wires and weight.
Price: $18.90
Buy Now: IVSO USB Type C to USB 3.0 Hub from Amazon
HydraDock for Macbook
The first USB-C Hub HydraDock is currently being funded by many enthusiasts around the world at Kickstarter. The platform which helps startup companies to raise fund and kick start their project. HydraDock has already achieved its goal of $35,000 and right now at $64,000 which is almost double the pledged goal.
HydraDock lets your Macbook sit comfortably on its top and brings all the essential hardware ports for connectivity to your Macbook 2015 model. This macbook accessory gives you 1 x 3.5mm Stereo headphone jack, 1 x Gigabit Ethernet port, 1 x SDXC Card slot, 1 x mini DisplayPort (that supports upto 2560 x 1440p resolution video output), 1 x HDMI (for 1920 x 1080p resolution video output), 4 x USB 3.0 ports and 2 USB Type C Ports (Data only and no video).
HydraDock accessory for macbook completes all the hardware port requirements that one required on the latest macbook. It is simply the perfect accessory that makes your Macbook and your hand comfortable.
You can fund or backup this project at its Kickstart Campaign page.
Project Page: HydraDock Kickstarter Campaign
Sentey Aluminium 10 Ports USB 3.0 Hub with Charging Ports
One of my favorite USB Adapter that is not specific to Macbook and it is like an Universal USB Hub for Windows Laptops, Desktops, Chromebooks, Windows Surface Tablets, iMac, Mac mini and any computers. It brings the USB feature right in front of the desk and allows you to connect 7 High speed USB 3.0 devices and 3 USB Charger Ports also there with 5V capacity for charging your iPhone, iPad and other gadgets.
Sentey Aluminium USB Hub is one of the top rated USB hub by its buyers at Amazon and you will definitely find it useful if you are looking for more than 2 or more USB connectivity available hub. With a single USB-C to USB 3.0 adapter that is listed first in this page, you will be able to connect this beast with Apple Macbook 2015 model as well.
Sentey also has 7 Ports, 4 Ports, 3 Ports and 2 Ports USB Hub adapters available and you can choose the one that suits your need by clicking on the following Buy Now link.
Price: $39.99
Buy Now: Sentey Aluminium 10 Ports USB Hub from Amazon
Twelve South PlugBug World
It is an All In One macbook global power adapter + 2.1 amp makes it as a charging station for your iPhone and iPad as well. Twelve South is popular brand for making apple accessories and their iPhone, iPad cases and covers are pretty popular. This PlugBug World Charger is a fully compatible accessory for Macbook 2015 model that adds USB Charging functionality to charge iPhone, iPad's simultaneously. PlugBug World Charging Adapter also works with Macbook Pro and older models as well.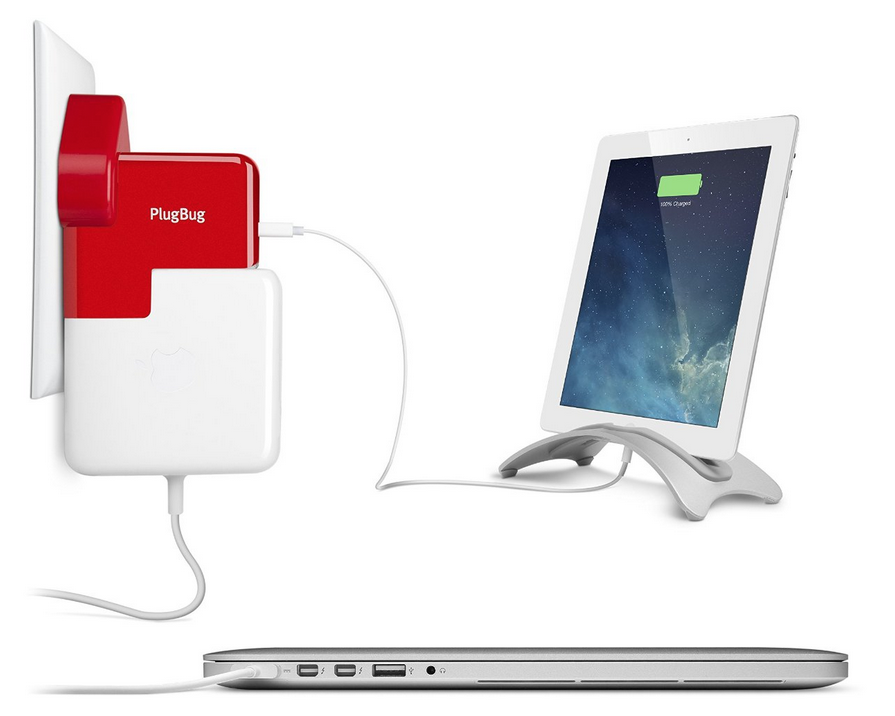 Simply connect the PlugBug charger to your Macbook's Power adapter and it is ready to charge iPhone, iPad, iPad mini simultaneously. It comes with 5 different snap-on international plugs for use in UK, Europe, Australia, North America, New Zealand and in more countries.
Price: $44.99
Buy Now: PlugBug World Charger from Amazon
Macbook Sleeves and Bags
There are several high quality bags and sleeves available for Macbook 2015 model right now at amazon. We can expect more bag manufacturers to flood with new innovative designs and accessories added to the bag without loosing slim form factor in coming days. Right now, you can check out these cool macbook sleeve and bags at amazon store for purchase immediately to protect your expensive laptop from dusts, hazards and drops.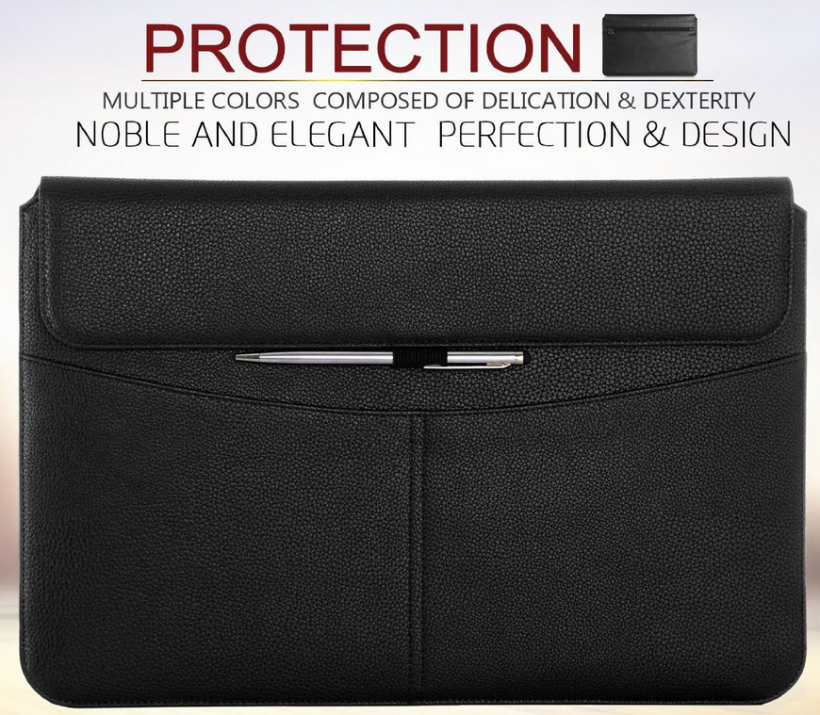 These sleeves and bags are not just for Macbook 2015 model, they also fit well for Windows Surface Tablets, Ultrabooks, Chromebooks and any tablet that is 12 inch or less size.
Checkout the collection by clicking on the following link.
Price: $15.99 onwards
Buy Now: Macbook Sleeves and Bags from Amazon Store
We hope you found these Macbook Accessories useful and interesting to buy. Feel free to share which accessory you are going to buy in the comment box below. Also, don't forget to share this post with your friends and followers at Twitter, Facebook and Google+. Thanks for reading and have a wonderful day.