Acer Iconia is a dual touchbook Tablet with 14-inch LED-backlit touchscreen displays made with Gorilla Glass. Acer's Ring Control which is an exclusive software of the Acer which offers features such as AppCards which is a set of Iconia touch-based applications including Virtual Keyboard and Gesture Editor. It automatically change the mode from Ring Control to Virtual keyboard when it detects both of a user's palms on the bottom display. It has Dolby Advanced Audio v3 technology and Its supports Adobe Flash Player 10.1.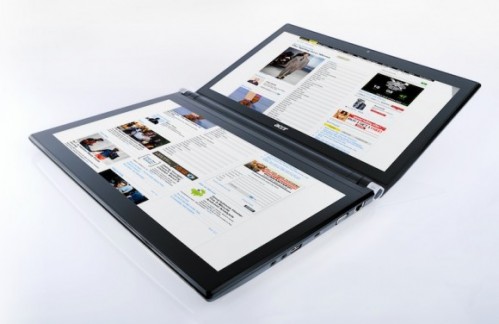 Acer Iconia stands as one of the best tablet that looks totally different in the tablet market. People started to go for Netbooks and Tablets than Laptops these days. Lets have a look at the Configuration and Features of Acer Iconia 6120.

Configuration & Feratures
OS – Windows 7 (64 bit)
Intel Core i5 Processor with Intel Turbo Boost Technology
4 GB of DDR3 RAM
640GB SATA hard drive
5400 RPM hard drive
Intel HD graphics
Gigabit Ethernet
802.11b/g/n Wi-Fi
1.3-megapixcel Webcam
HDMI output
USB 3.0 interface & Two USB 2.0 ports
Video Graphics Array(VGA)
Acer ICONIA 6120 has weight of 5.95 pounds and it is presently available for pre-orders on Amazon for a price of $1199.99.
[youtube width="550″ height="344″]http://www.youtube.com/watch?v=8H5Up61n-Sg[/youtube]
via : [techstic]