Android Apps can be developed and uploaded to Android market by any user. There is less verification and steps compared to Apple iOS Apps. People get the apps approved easily and that brings the possibility of getting some Weird Android Apps in Android market.
Android got its strength and consistency because of the world-wide developers and plenty of applications it has compare to its competing platform. Being an open source, it is flexible enough for programmers to implement their idea on android. Similar to App store from Apple we have Android Market to download apps for Android mobiles. Recent stats of applications in Apple App store is more than 65,000 but in Android market its more than 1 million applications. While reading above sentence you may feel android getting more stronger than iOS. But fact is most of the Android apps loosing their grip due to compatibility issues. some of them won't even work in some Android phones. But we can't see a single user saying an app from app store is not working in my iPhone, iPad or iPod Touch. Even people love Android because of these performance issues they hesitate to buy it. Let me explain you the problems and conflicts we face with android applications.
We all know every coin has two sides. Android has lot of advantages and is one of the cheapest smartphones available in market but when we comes to apps we have lot of contradictions to use that in android phones. Some applications needs a rooted android phone to use that and some of them need higher android versions to use that. Today except the latest phones most of the pre-released android phones does not support rooting or upgrading to higher versions. For instance, HTC Wildfire users getting freeze at a single point from where they cant upgrade their device or even root permanently.
This is because of different hardware manufacturers for android. Applications that are developed for android mostly got contradicted with physical device. This makes users to get disappointed who invested high budget on their android phones. So in order to make users away from those kind of applications, I came with a list of 20 premium weird apps from android market.
Justin.tv viewer
Justin.tv Viewer lets you watch 2500+ live channels from Justin.tv. You need a internet connection for this and you can chat with people who are all viewing live channels using this app. This application is released earlier this month and its worth around $4.5. Totally 31 members purchased this and most of them says it stopped working in the mid of loading and gives errors while streaming. People who bought this app recommend its not worth for your money so its useless to buy this. (Go to Justin.tv)

Bald kiosk
Bald kiosk is a visualization app which bring your photo without your hair. You can see how you will look in future by using this app. This app comes as a paid version and it costs $1. People gave review that it often crashes and its not working properly. Lot of android apps having more fun and crazy things are available for free. So it is quite weird when people get disappointed even after paying for it. (Go to Bald Kiosk)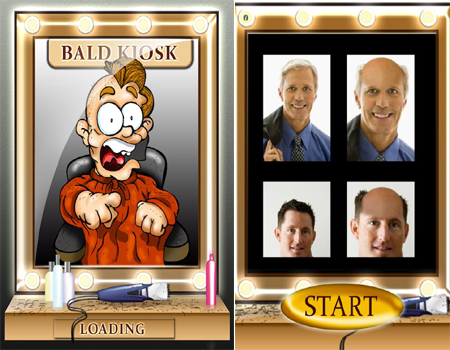 Gourmania
Gourmania is a cooking game for android which has totally 60 levels in it. This app is released by Alawar Entertainment Games in android market.  Cost of this app is $2 and nearly 20 people bought this app so far. Most people said that this app is not working properly and it freezes at most of the time. A premium application is freezing and not working properly is really disappointing (Go to Gourmania)
Go Launcher HD Crystal Black
Go launcher HD application has set of crystal black themes for your android phone. It will completely change the look of your menu, files and folders that you can see in the screenshot below. The actual problem is it will drain your phone's battery quickly and will reduce the performance of your android phone. Many people gave review that their phone are getting slower after installing the app.  (Go to Go Launcher)
Where's waldo
Waldo is a boy who is missed at a huge crowd and you need to find him with in a certain period of time. In the game description they mentioned that android game will contain 30 different levels. Cost of this game is $2 and it has very bad reviews from users. Most of them told its not working properly and it shows lots of bugs while playing the game. Also some of them told that 30 levels are not completely there in the game. (Go to Where's Waldo)

Infrared Emissivity Table for Android
Infrared Emissivity is an application for android which helps you in measuring the infrared temperature of an object. It will use your phone's camera to capture objects and it will tell the temperature based on the material in which that captured image is made of. Based on user reviews its not worth for $2 and its not giving proper values also not working properly. (Go to Infrared Emissivity)
Noise
It is a funny app for android which makes annoying sound from your phone to make others surprise. Cost of the app is $1 and it has some noise sounds by inbuilt also you can add your own sounds to the folder. Based on user reviews and rating this app is not working properly and get crashed at most of the times. (Go to Noise)
Secret File
Secret file is an app to password protect all your data in phone memory and SD Card. For instantance if you lost your mobile phone it will protect your files and contacts from third party access. This app costs around $1 and it got very less rating from user side. We have lot of free apps for android to do the same process in an efficient way but a premium app lacking these features and not working properly is really weird (Go to Secret File)

CNC Multi Calculator
CNC Multi Calculator app says that it will help you in a workshop for using some machinery tools. I don't feel people who works with machines, every time use this app to finish their works. This app has really a weird concept and from user reviews surely its not worth for $5. (Go to CNC Multi Calcualtor)

Rooftop
Rooftop brings all your high rise contacts, deals and tasks to your android phone. From user reviews and rating it seems to have lot of bugs in processing user request. Also many people told that the saved task did not exists longer in this application. This app costs around $5 and has lot of bugs to be patched also many of the users has most disappointed. (Go to Rooftop)

Phonebook Cleaner
 Phonebook cleaner is an app for android which clears all the duplicate contacts in your android phone and combines it into a single app. Even this app has a good concept, disappointing factor is we have free apps in android market which performs same function. Being a premium one it has not any unique features comparing to free apps for organizing phonebook. It has got some negative reviews from users who bought it. (Go to Phonebook Cleaner)

Private i-90 day
Private i-90 is an detective app for your android phone. It will find a friend's number who you may lost of forgot. It will search in network based on name, phone number and location. This app is available for $1 in android market but users who bought this app told that it was not finding any of the given numbers. ( Go to Private i-90 day)
Androffice
Androffice connects Google docs and a file explorer to your android phone but it will connect only the Google Docs Spread Sheet to Android phone. Many of the users who bought this app told this is a nice idea but the app has more bugs and is not working properly. It was not having the stuff for $8. (Go to Androffice)
Vtiger CRM Mobile
Vtiger CRM Mobile is an app for android which brings Vtiger CRM to your mobile phone. You can login and access your contact data, sales, projects and all types of CRM data. Many of the users told that the app is not working properly and is having problem in creating invoices and sales reports. This is one of the costliest app in android market and its not working properly is a quite disappointing one. (Go to Vtiger CRM Mobile)

VR Phone
VR Phone is a voice call recording application for android. It automatically record your phone calls as it arrives. Caption of the application says its a donation to VR but quality of the application is missing. Most of the users says that its not recording calls also when it starts recording calls phone started freezing. Even it is for donation the application must not lose its quality. More than 70 users told this application is not worth for money. (Go to VR Phone)

Pocket Breeze
Pocket breeze calendar is a home screen widget which helps in remembering your important activities. It acts an alarm in your home screen to remind things you stored. This app costs about $4 and most of the users gave review that its not working properly. Comparing to free apps doing the same function this application is really disappointing to those who purchased it. A free app working properly but a premium app fails do the same is really weird. (Go to Pocket Breeze)

MOTO Print for XOOM
Moto Print for XOOM is an application specifically for Motorola XOOM also it can be used only inside U.S. This application allows users to print from their tablet using WiFi. Only one person bought this app also we have few more free apps in android market to perform same function which can be used in both phones and tablets. This is very disappointing  that an application can used only in Motorola XOOM that too only inside U.S and not working properly. Based on user reviews problem with this app is it cannot print web pages. (Go to Moto Print)

Defy Photo
Motorola Defy is one of the best waterproof android phone. In order to use that feature completely, Defy Photo is an app to take photos under water. Defy Photo is a premium app which costs nearly $2 and got some bad reviews from users. Defy Photo Lite is a free app doing the same function also from the same developer but its working properly and it has good review from users. Developer mention that it has added features than free app but I don't know why they failed to give that ? Really its so disappointing for people those who investing their money. (Go to Defy Photo)
Thanks for reading. This article is mainly for users to get aware of what they purchasing and how they need to see user review and rating before buying an app. Also developers of these application must understand user problems and clear the bugs in their applications.
Please do share this article with your friends and followers in Facebook and Twitter.