There are lots of software and online tools available to download your favorite videos from youtube. You may download youtube videos to pc easily to watch at your convenient time. Everytime you can't download the videos to your PC and transfer it to your android phone. So here is the simple procedure to download your favorite videos from youtube directly to google android mobile.
Youtube contains plenty of tutorials, music videos, movies, funny videos and so much to keep you infotained. It is must to have some extra tools on your smartphone to get most out of your mobile experience.
Download Youtube Videos to Android Phone
1. You first need an Android App called TubeMate to download your favorite youtube videos. Trigger the download from android market now.
2. Then start searching your favorite videos on youtube using the TubeMate app installed in your phone.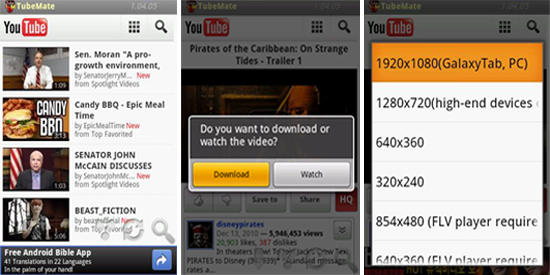 3. When you tap on your favorite video, TubeMate will prompt you two options. Either you can watch or download the video to your android mobile.
4. After you tap the download option you will be prompted with the available resolution choices.
5. You can either download the video as HD, normal resolution or even as a mp3 music.
6. After selecting your option the video will be downloaded to your android and you can enjoy your favorite music.
7. Also you can share your favorite videos using TubeMate.
TubeMate is a paid version and its worth for the money. It has good user reviews which you can find at the page you download in android market.  Thanks for reading. Please drop your comments and doubts about this article in the comment box.