Diaspora, the project started by team of students which is considered as Facebook alternative to sort of all the privacy related issues is almost here. The Diaspora Team has released their initial source code to let the world give a try to see how the facebook alternative will resemble. At present its in Pre-Alpha stage, hence there are plenty of limitations which you will see possibly.
DISCLAIMER: THIS IS PRE-ALPHA SOFTWARE AND SHOULD BE TREATED ACCORDINGLY. PLEASE, DO NOT RUN IN PRODUCTION. IT IS FUN TO GET RUNNING, BUT EXPECT THINGS TO BE BROKEN

Also, we really want to continue to focus on features and improving the code base. When we think it is ready for general use, we will post more detailed instructions.

These instructions are for machines running Ubuntu, Fedora or Mac OS X. We are developing Diaspora for the latest and greatest browsers, so please update your Firefox, Chrome or Safari to the latest and greatest.
This developer release is pretty great for users who expecting and funded diaspora project. As per the promise they have made in their blog update, the open source alternative facebook source code is all here to download and begin testing by developers.
The current version of pre alpha release has all the following features,
Share status messages and photos privately and in near real time with your friends through "aspects".
Friend people across the Internet no matter where Diaspora seed is located.
Manage friends using "aspects"
Upload of photos and albums
All traffic is signed and encrypted (except photos, for now).
And the next version which will be released in October will have,
Facebook Integration
Internationalization
Data Portability
—————-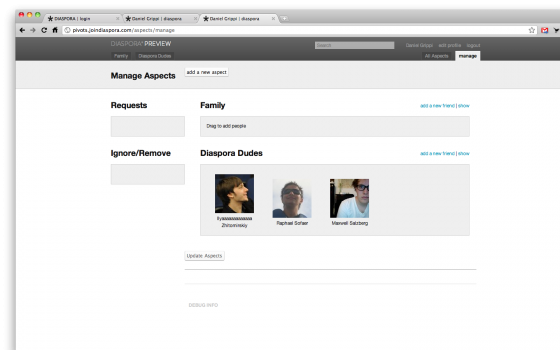 —————-
Wish them a luck by spreading this article across your friends community. Have fun !