Facebook has introduced Promote button on Pages that lets your fans to promote any specific status updates, links and images for money specified by the page owner. This is one interesting opportunity for Page owners who have good reach and audience in numbers who like and share the posts. Web Masters, Internet Marketers and Product sellers can now easily reach wide audience by promoting their products and articles in popular pages.
Make Money with Facebook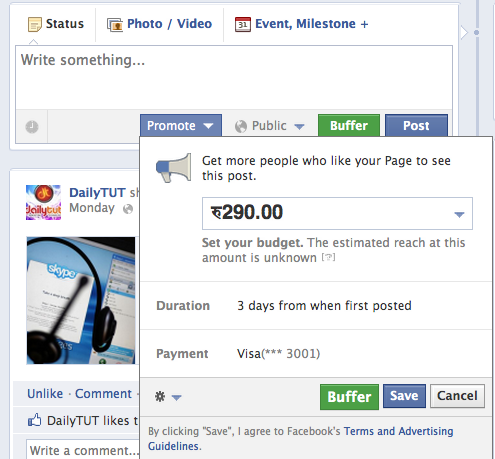 Get your status updates now more attention at low fee by promoting it to the right community of people.
Facebook Promote Button
Facebook suggests you the budget automatically based on the Reach and Fans volume still you can enter the budget from your side to let users pay and promote links on your page. The social media giant has made an interesting move through this, where page admins who have good volume of fans who like and share their posts now take this opportunity to make money using facebook.
Page Admins can also access the statistics which is approximate value of every post shared on the page.
If you dont see promote button your page then you may have to wait for some more time to let Facebook Enable that feature to your page.
We dont have to pay the money to some social promoter who claim to like and share the post or page for their 1 million + audience. You can avoid such scenarios by visiting your favorite page and checking for the promote feature and if its enabled, then verify the Reach and Likes it gets for the updates. So with complete statistics and reports you can now decide whether to promote your content or product on their page or not.
This ofcourse a big hit for people who like to give false promises and disappointments on our side as we get nothing as traffic or sale even after they like and shared it to millions of their Fans.
Start Making Money
Its time to spend more time on FB and people who have already spent more time building a great page that has trending contents and popularity with good reach, can start making money right away with this promote feature.
Thanks for reading and you may now share this post with your friends across Facebook, Twitter and Google+.