So many social networking sites are out there and its pretty tough to use all of them. Hootsuite allows you to use all your favorite social networks and micro blogging at one place. Its a web app built to give excellent set of features to experience all social networking benefits at one place. Its almost an All in One online software to simplify the way you share texts, links, images, and videos online with your friends and family. Lets have a look at little in-depth of Hootsuite usage and account setup instruction.
Hootsuite Tutorial
Even though there are various other social clients, this online social client offers plenty of special features.
Log on to > http://hootsuite.com/
Hootsuite Signup
At the top of the website you may notice Sign up button, click on that. It will offer you two plans, Pro and Basic. I have chosen Basic plan here whereas a special enterprise solution is also there apart from this !
Now enter the basic information required and create your account.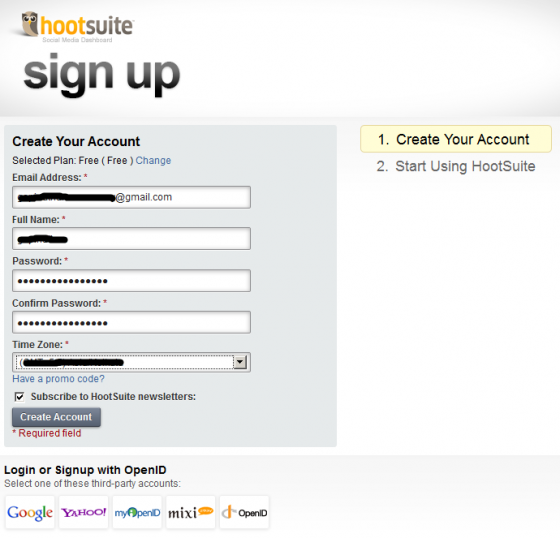 Now you are done with your account creation. The below image shows the navigation bar, which you will be using to navigate to different features.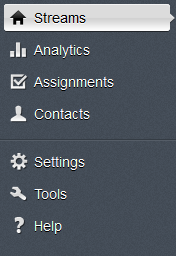 Hootsuite Streams
Streams are tabs and columns which classifies your feeds, posts, direct messages, and so on. Initially for new users, it will ask you to add your social networks. You can add as many as you want ! (Facebook, Twitter, Linked In, Myspace and Foursquare)
Twitter and Facebook Tab

Facebook tab

Twitter tab

Different Social networks are classified into simple tabs that can be switched on to.
Each column, is a stream of Direct Messages/Feed Posts. And there are two buttons provided here: One is for collaborating with your team members and two is for refreshing the stream.
The slider is provided to increase the number of streams visible in your tab, it can be increased and decreased.
Adding a stream
Adding a stream is an important feature here, it lets you add streams such as home feed, mentions, direct message, etc. This simplifies your task of monitoring everything separately and you can also set your refresh time in this client.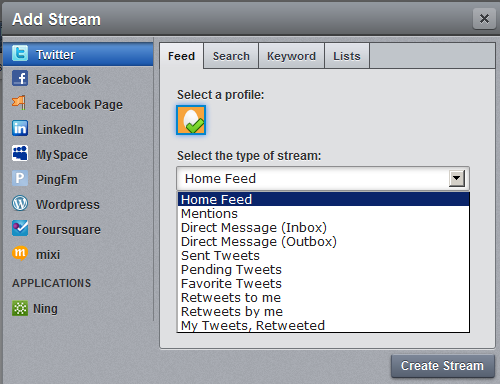 Hootsuite Analytics

This provides social analytics which consists of a variety of presets which can be used for report generation and it consists of provision to share this report a group of members you defined for hootsuite group messaging.
Report Builder
Initially, it will ask you to choose the type of template you need. It consists of almost 30 preset templates for the users.

The report is in a printable format of document, you can add the analytic modules such as Click statistics, Individual url statistics, Facebook insights, Google Analytics and also graphs, charts.
Assignments, Contacts, Settings, Help
Assignment feature can be used to fine tune the team's performance and to monitor the response and progress of the team.
Contacts, Settings and Help are some of the basic options like any of those social networks. You can manage your account settings and contacts using these options.
Hootsuite Tools
HootSuite University
The HootSuite University program is designed for professionals seeking to increase their HootSuite skills and learn other social media tools and tactics. The multi-faceted program is ideally suited for agencies, consultants, and in-house marketing teams looking for advanced techniques for managing social networks such as Twitter, Facebook, LinkedIn, etc.
You may use hootsuite multiple twitter accounts and hootsuite multiple facebook accounts without any limitations if you are a web master or a blogger.
Hootsuite Certified graduates are added to the directory of HootSuite Social Media Consultants and listed geographically for easy searching
Hootsuite Affiliate Program
The Affiliate Program is an opportunity for HootSuite users to earn commissions for recommending HootSuite premium plans to others. For every premium plan that signs up from your link or free account that upgrades within 60 days, you'll receive a portion of their first payment.
Hootsuite Mobile Apps
Hootsuite provides support for iPhone, Android, Blackberry, Keitai and iPad which almost scales up the number of different combination of devices that one can use this social client with.

Extensions and Downloads
The Extension base of this social client is up and increasing which is compatible with most of the browsers that are available today.
You may folllow DailyTUT on Twitter or like us at Facebook to get more Tech news and updates. Happy Social Networking 🙂