Amazon has introduced New Kindle eReader Tablets and Kindle Fire HD Tablets today. The hardware specifications are impressive compared to previous generation kindle devices. Kindle Fire series offers a full multimedia tablet features similar to iPad. Amazon create a Kindle Fire tablet for Kids and its called Kindle Fire HD Kids Edition. Also the HD and HDX editions have got a good hardware specification boost to stand well against leading android tablets and for people who search for iPad Alternatives.
 [youtube]https://www.youtube.com/watch?v=RKeQ1-36tug[/youtube]
Here, we will be exploring the three new HD Tablets that are announced by Amazon today and they will come to sale from mid October 2014. You can Pre-Order any of the following three HD tablets newly announced today. Check out the highlights, hardware specification, release date and pricing of the tablets.
Amazon Kindle Fire HD Kids Edition
This isnt a toy. A full decent hardware specification tablet built specially for kids. This tablet comes with Quad Core processor and a HD display with Front and Rear cameras. It also has Dolby Digital Audio on a Tablet that lets your kid to enjoy excellent audio quality while watching video lessons, movies and when making video calls. The case is the highlight here, which is durable, lightweight and strong against drops, bumps when your kid play with it. You dont have to worry about the damage, as it protects the tablet completely from all corners.
What else you get with Amazon Kindle Fire HD Kids Edition ?
Amazon packs this all new Kindle Fire HD Kids edition with Unlimited FreeTime so that kids can get unlimited access to 5,000 books, movies, TV Shows, Education Applications and finally Games. There is no additional cost that parent have to spend for these, and all of the best apps and contents come totally free with this tablet. Amazon Kindle Fire HD Kids Edition has best in class Parental Controls built-in that offers innovative way to encourage kids to learn before they play. You can create profiles just for kids and it is currently limited up to 4 kids. So that choosing the titles to read, watch from the huge collection will be so personalized.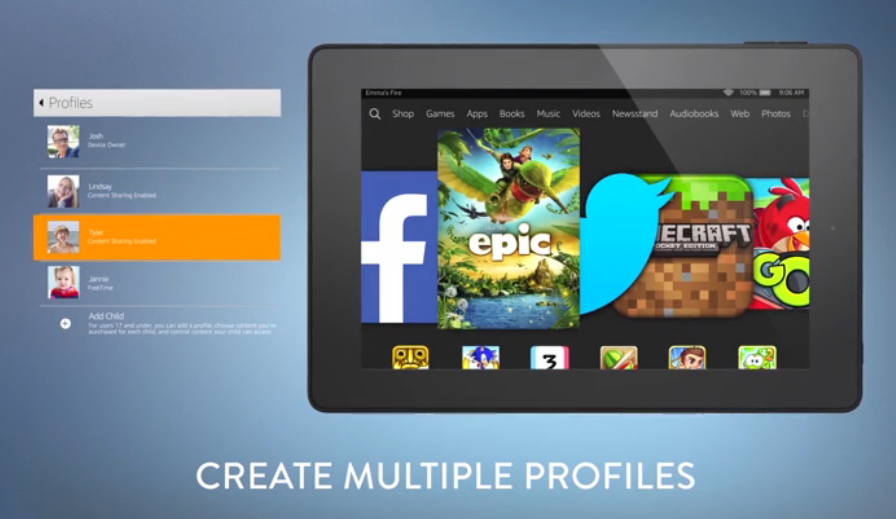 Amazon Kindle Fire HD Kids Edition comes in two different sizes, they are 6 Inch and 7 Inch Display sizes. Also in three different colors Blue, Green and Pink. Lets see the pricing info.
Release Date: October 21st, 2014
Price Details:
6 Inch Display – $149
7 Inch Display – $189
Pre-Order Now: Amazon Kindle Fire HD Kids Edition from Amazon.com
Amazon Kindle Fire HD 6
The number at the end of name means its screen size which is 6 inch HD Display. From the screen size and features it delivers, this may be a competitor for Apple iPad mini and Google Nexus Tablet. Samsung, HTC and many other android tablet developers also have similar screen size tabs in market. Amazon Kindle Fire HD 6 sports 1.5 GHz Quad Core Processor that is 2 times more processing speed and 3 times more GPU performance than its previous generation. There are improvements at many parts of the device to make it look updated in terms of hardware.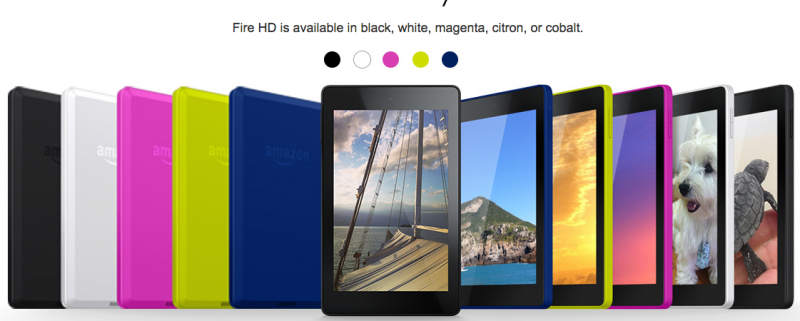 Display – Amazon Kindle Fire HD 6 has a 1280 x 800 resolution display with 252 ppi and more than a million pixels packed in it. The Display now looks more Crisp, Vivid and Perfect for Apps, Movies, TV Shows, Games and Photos.
Camera – You can take photos and capture a video in 1080p HD quality using the Rear Camera. Front camera now also takes HD resolution photos and videos, can be used for Skype Video calls. Amazon also offers unlimited free storage in Cloud Drive for Photos taken with Fire devices.
Storage Size – Amazon Kindle Fire HD 6 comes in two different storage sizes 8 GB and 16 GB. Both comes with and without special offers and advertisements which brings change in the pricing overall.
So Whats in the Package ? What will you get with Kindle Fire HD 6 ?
Well, amazon gives free digital contents with your kindle fire hd 6 tablet. You can enjoy over 33 million movies, TV Shows, Songs, Books, Android Apps, Games and much more. You can use all the parental controls feature and use this at home and share it with kids as well. Amazon FreeTime lets you manage all that. You can also choose from over 700,000 titles and thousands of audio books in 30 days free trial program. After, you may purchase the subscription for $9.99 a month.
Release Data: October 2nd 2014
Pricing:
8 GB – $99
16 GB – $119
Pre-Order Now: Amazon Kindle Fire HD 6 from Amazon.com
[youtube]https://www.youtube.com/watch?v=h6UnwplqWs4[/youtube]
Amazon Kindle Fire HDX 8.9
The powerful got more powerful with hardware upgrades. Amazon Kindle Fire HDX 8.9 inch tablet has got more powerful hardware and its a direct Apple iPad competitor. The Apps collection are big set back but Amazon is slowly grabbing the rope and getting good collection of apps filled in their store. Amazon Kindle Fire HDX 8.9 has Ultra Fast 2.5 GHz Quad Core processor that includes 70% faster graphics performance than the previous generation and 2GB of RAM and Adreno 420 GPU for quicker, smoother gaming and video experience. Lets talk about its display, camera and other features.
HDX Display – Amazon Kindle Fire HDX Display packed with 20% more pixels than Apple iPad Air's Retina Display. Also it contains 4 million pixels and 339 ppi for vivid, lifelike picture quality. Incredibly Lightweight and its now lighter than iPad Air.
Audio – Multi Dimensional audio feature enables distortion free crisp, clear sound and Amazon Kindle Fire HDX is twice as loud as iPad Air. Also this is the first tablet that is packed with Dolby Atmos for best Headphone experience.
Firefly and Mayday – Amazon Kindle Fire HDX brings the Fire Phone features that are FireFly and Mayday. These are unique to Amazon products that allows you to get free live video support with an Amazon Expert, 24×7, 365 days a year with Mayday.
Camera – 8 MegaPixel Rear camera with LED Flash allows you to capture high definition photos and videos in 1080p HD quality. Front facing camera in HDX lets you take 720p HD Video and make video calls in high definition as well. Just like Kindle Fire HD 6 you will be eligible for Cloud Drive to upload unlimited amount of photos taken using your HDX device.
Overall, Kindle Fire HDX 8.9 is a beast and the pricing is the best factor to recommend it as your next tablet. Just double check the features it offers with your requirements, What you want and then proceed with the purchase. Amazon Kindle Fire HDX 8.9 is currently available for Pre-Order and will be released in Mid October only. It starts from $379 for 16 GB and you have choices of 32 GB and 64 GB as well.
Release Date: October 21st, 2014
Pricing: (with ads support / without ads support)
16 GB – $379 / $394
32 GB – $429 / $444
64 GB – $479 / $494
Pre-Order Now: Amazon Kindle Fire HDX 8.9 from Amazon.com
Amazon Kindle Fire HD Tablets Comparison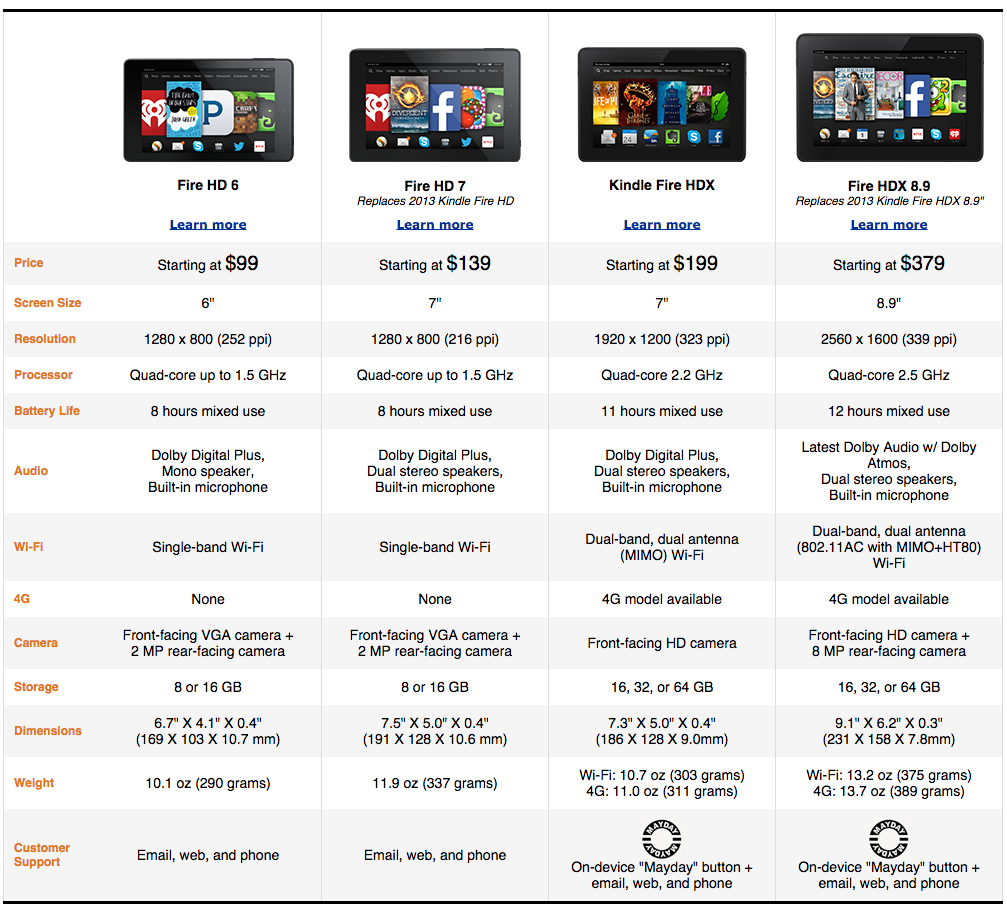 The Amazon Kindle Fire HD tablets comparison should help you compare and find the best tablet for you. Carefully choose the one that meets your requirement and budget. For a tablet with multimedia capability amazon promises 8 hours to 12 hours battery life. If you are just looking for an eReader then check out the all new Amazon Kindle eReader 2014 collection.
Thanks for reading and you may now share this post in Twitter, Facebook and Google+. Have a wonderful day.