Amazon announces new Kindle eReaders and Kindle Fire HD Tablets this wednesday. Also Amazon Fire OS 4.0 "Sangria" based on KitKat is now available to download. You can download amazon fire os sdk from its official page. Lets talk about Kindle eReaders. Amazon Kindle eReader has got a lot better and there is a new star in town, Kindle Voyage eReader. Kindle is designed for reading and its a dedicated device for reading purpose. If you want a tablet just for reading books, then go for Amazon Kindle mainly for its Battery backup and huge books collection.
[youtube]https://www.youtube.com/watch?v=Q9IG7J1LqzE[/youtube]
Amazon Kindle eReader Battery lasts weeks and not hours, the statement that convinces many eBook buyers easily. Now the all new kindle has got some good device hardware level upgrades and you will love to hear all about that. Check out the video above from PCMag which gives a quick introduction about the all new Amazon Kindle eReader and Kindle Voyage eReader.
New Amazon Kindle eReaders 2014
Lets see what each new kindle has to offer and which one is best for you to purchase. Lets start with the official Photo Ad of new amazon kindle eReaders and Fire Tablets.
Amazon Kindle 2014
The all time top seller, favorite eReader for millions of kindle ebook readers has got good hardware upgrades this September 2014. Amazon new Kindle has Touchscreen Display, Enhanced Software, Twice the On-Device Storage, 20% Faster Processor for smoother page turns, FreeTime, GoodReaders Integration, X-Ray, Word Wise and much more. Lets break each of them and see what it means, and why you should go for this cheap kindle tablet that costs just $79 (with special offers & ads) and $99 (without special offers & ads).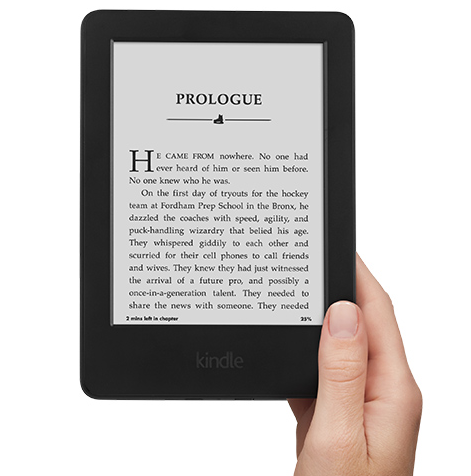 TouchScreen Display – Amazon Kindle eReader now goes full touch screen display that allows you to read books like a real paper. There will be no screen glare even in bright sun light. You can enjoy the same reading experience in your older kindle, and a little better with this all new full touchscreen display. Navigating across the books, dictionary lookup, highlighting will be much easier now.
Exclusive Kindle Features – The all new 2014 amazon kindle eReader comes with some exclusive features that are Good Reads Integration, Kindle FreeTime, Vocabulary Builder, Word Wide and many more features to enhance your reading experience and to change the way you interact with the ebooks a lot better.
Twice the On-Device Storage – You can now hold thousands of eBooks on your Kindle eReader 2014 model without any worries about storage limitation. You can carry them wherever you go and read at your convenience as the eReader now got double the storage.
Faster Processor – Well for a full touchscreen based Kindle eReader, faster processor is very necessary to handle tasks and let you experience smoother navigation everywhere. The processor is now 20% faster and page turns fly like a paper.
Battery – Amazon promises that the all new Kindle eReader 2014 model battery will lasts for weeks and not hours like other Tablets. This is a direct take on iPad and many other Android tablets that offer just hours of battery backup. Well, with iPad you can do more than reading and you should not consider Apple iPad if your purpose is just reading. Kindle eReader serves that purpose really best than any other tablet in the world.
Free Kindle Unlimited – Now you can choose from over 700,000 titles and thousands of audio books for just $9.99 per month. But with the new kindle ereader you are eligible for 30 days free trial to explore all the contents.
Conclusion: If your purpose of buying a tablet is just for reading and you liked the Amazon Kindle Store, then you should blindly go for this best eReader available today. Amazon will launch this by early October 2014.
Release date: October 2nd, 2014
Pre-Order Now: Amazon Kindle eReader with WiFi at Amazon.com
Amazon Kindle Voyage
New eReader from Amazon that has Next generation paper white display with highest screen resolution, highest contrast and much more new features. Amazon Kindle Voyage has some great hardware specification and it is superior than the Amazon Kindle eReader. Voyage has an impressive hardware specification and the pricing also decent for its features. Lets take a look at the details of Amazon Kindle Voyage.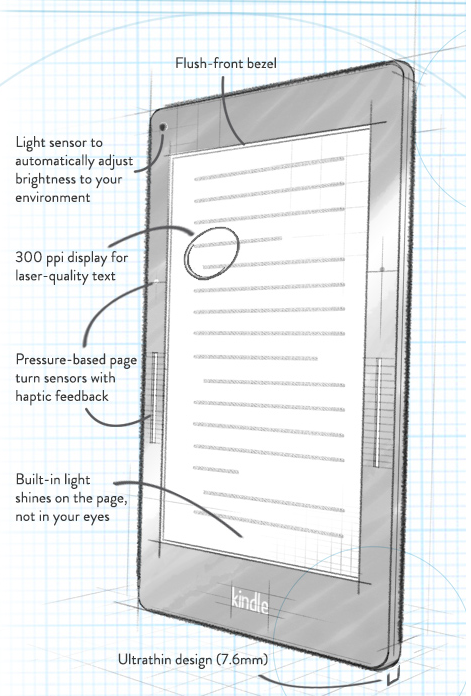 Display – High Resolution 300 ppi display that delivers the content in front of you like a printed paper. Its so crystal clear display with high pixels per inch makes it a lot different than its predecessor.
Reimagined Page Turns – PagePress allows you to turn pages without you even lifting a finger. While holding the tablet, simply apply pressure on the left or right side of the Kindle Voyage eReader to turn pages. It uses silent haptic response for consistent and immediate page turns when you apply pressure.
New Adaptive Front Light – Day or Night, not a problem, you can get ideal brightness level adjustment now in your Kindle Voyage eReader.
WiFi / WiFi + Free 3G – Amazon Kindle Voyage eReader has WiFi or WiFi + Free 3G option to let you download and read books on the go.
Massive Book Library and huge collection of books for you to download. Kindle Voyage starts from $199 for WiFi only version (with ads supported) and $269 for WiFi + Free 3G version (with ads supported). Having all the Kindle eReader features Voyage edition has more hardware and screen resolution for you to experience sharper texts, better quality without compromising the battery lifetime.
Release Date: October 21st, 2014
Pre-Order Now: Amazon Kindle Voyage eReader at Amazon.com
Amazon Kindle eReaders Comparison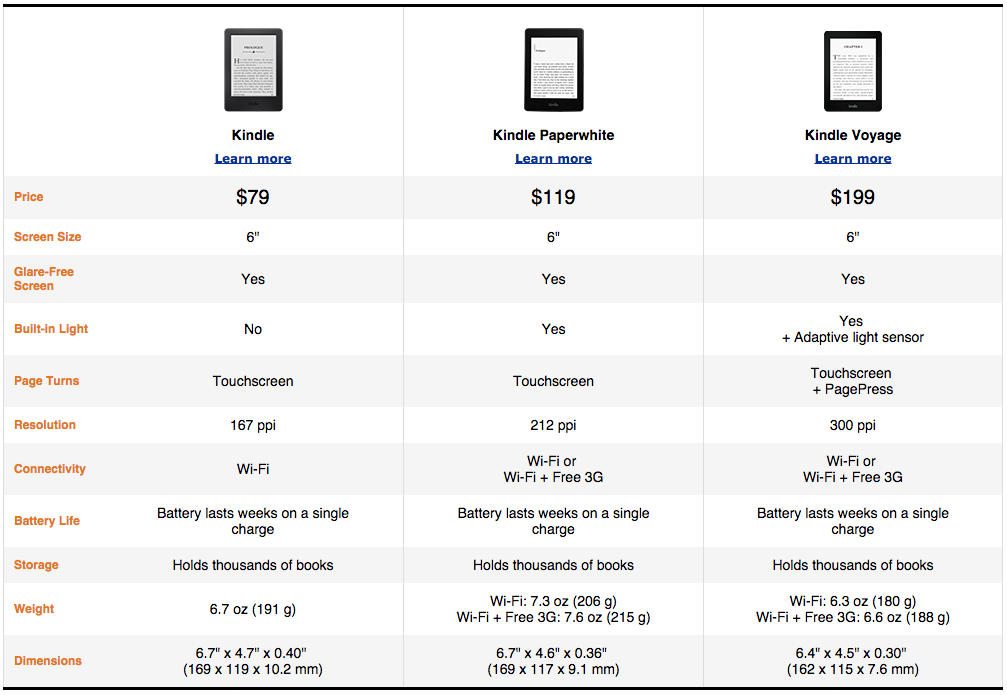 The above Amazon Kindle eReaders comparison chart should help you decide which one you want exactly that meets your requirements and budget. If you are looking for a full multimedia tablet then do read Amazon Kindle Fire HD Tablets. Thanks for reading and dont forget to share this post. Have a wonderful day.