Facebook has recently rolled out one of the most wanted feature that allows bloggers to embed facebook videos on blogs and websites. Facebook always wanted a huge piece of Video Streaming Website shares and facebook users enjoy watching videos shared to their facebook timeline. Youtube the popular video streaming website started to feel the competition since 2014 from facebook.
If you are running a facebook page, then you will notice there is a dedicated tab that displays all the videos you have uploaded and shared to your fans. Facebook Videos have become main stream for the past few months and the Social Networking giant recently made a change that allows any one to embed facebook videos on blogs and websites.
Arballadares, the author at TheVerge wrote about Facebook is Actively Killing Youtube and it is hard to deny that fact. It is easy for anyone to download youtube videos in HD to local hard disk drive and upload video to facebook for sharing it with fans, friends and followers. Facebook Pages looks attractive and becomes more popular when a video is shared.
It gets more attention than regular posts. Shortfilms, Movie Trailers, Inspirational Videos, Fitness Videos and Tips, Music Videos and plenty of videos are uploaded each minute to Facebook.
Also Read, HOW TO: Download Facebook Videos to Computer ?
Embed Facebook Videos
Facebook Videos are definitely a huge nightmare for Youtube, though it is hard for us to migrate completely and i like to say that Youtube is different in many ways. The type of users who watch videos in Youtube are different. It is not mandatory to create youtube account to watch a video, but at facebook, you should have an account to watch videos shared.
Youtube is the place where we find just videos and we go there to enjoy watching Funny Videos, Unboxing Videos, our Favorite TV Shows, Movies, Music Videos, Prank Videos and the list goes on and on. Facebook Videos are great but limited to its platform.
The recent move by facebook allowing anyone to embed facebook videos to blogs and websites may be the first step to start attracting more Video Advertisers. Similar to Youtube, Facebook Ads will be merged with Facebook Videos in coming days.
Also Read, HOW TO: Upload iPhone Photos and Videos To Facebook?
Facebook 360 Degree Videos
During the recent F8 Conference, facebook talked about tons of upcoming features and products. One of the important feature is 360 degree video support to facebook videos section. Youtube recently starts to support 360 degree videos and tech experts believe that this 2015 may be the year of Virtual Reality headsets. So Youtube the popular Video Streaming service from Google is getting ready with the support of 360 degree videos and Facebook will soon support 360 degree videos in its Newsfeed.
This is the sample of 360 degree video hosted in Youtube.
How to Embed Facebook Videos?
Alright, lets see the quick and easy way to embed facebook videos to your blog post or website. Even you use Joomla, Drupal or any CMS, embedding facebook videos made a lot easier. Facebook now provides a quick video embed link at the right bottom corner of every video. Based on the permissions set to the video it allows you to embed facebook videos on other websites.
Method 1:
Step 1: Click on "Embed" on the Facebook Video Page. You can visit the video page by clicking on "Month and Year" of the video if its opened on pop up window.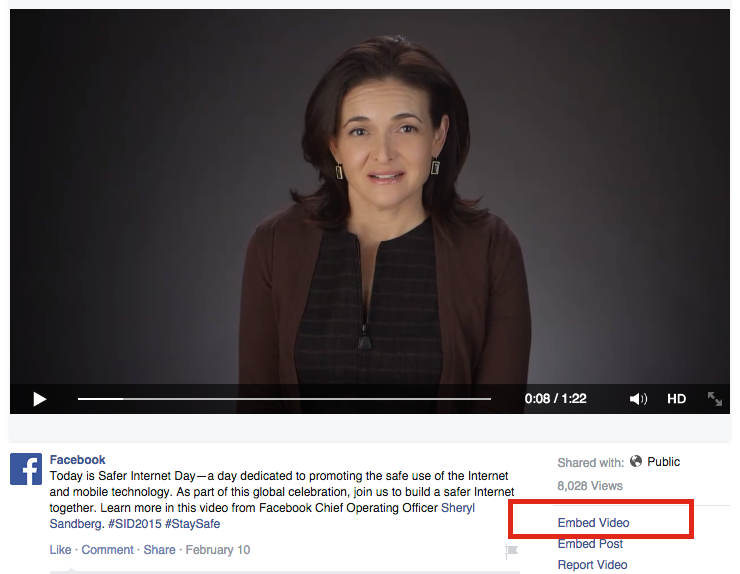 Step 2: You will see the HTML code which allows you to embed it to any web page you want. Copy that and paste it on your Blog Post or Website to display the video using Facebook Video Player.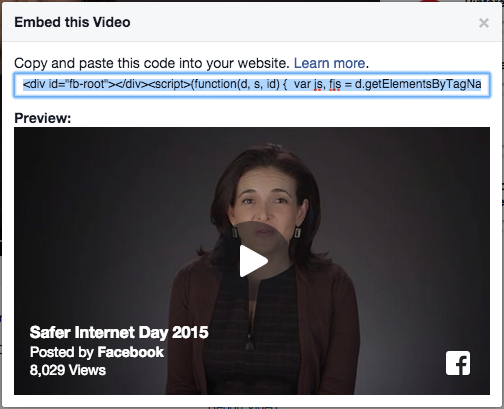 Right now, facebook video player looks with flat UI and goes well with most of the current website designs. Facebook may work on its video player in coming days to make it better and close to Youtube Video Player which is superior and gives plenty of features in embedding. As a newly introduced feature, facebook video player does a decent job.
Method 2:
Step 1: Visit Facebook Embedded Video Player page at Developers Portal.
Step 2: Under "Code Generator" section paste the Facebook Video link which you got from the address bar by visiting the video you want to embed on your blog post or website.
Step 3: Specify the Width of the video you wanted and Click on "Get Code" and it will generate the JavaScript Code to paste it on your website.
Make sure you have followed 2 steps suggested in this final step and you will be able to see the video ready to play on your website.
Example:
How to Embed Facebook Videos on WordPress?
Well, we always have a plugin when it comes to wordpress. I personally recommend the manual method than using a wordpress plugin to embed facebook videos. If you want to go for a plugin then following recommendations should help you.
Facebook Video Embed
This wordpress plugin allows you to embed any facebook videos that has permission settings set to public. Embed Facebook Videos on any Post or Page using this simple to use WP Plugin with a Shortcode.
Example: [fbvideo link="facebook video url" width="560″ height="300″ onlyvideo="0 or 1″]
Developer: Irfan Ansari
Download: Facebook Video Embed
WP Embed Facebook
This plugin goes one step forward than the previous wp plugin and lets you embed Facebook Videos, Facebook Albums, Events, Fan Pages, Community Pages, Profiles and Publications.
Use a simple shortcode and embed facebook videos easily on any Post or Page.
Author: Miguel Sirvent
Download: WP Embed Facebook
You can browse for more similar plugins through WordPress Dashboard – Plugins – Add New section. Choose the one based on existing user ratings and reviews.
Thanks for reading and i hope you have found this post useful to embed facebook videos on your blog post or website. Have a wonderful day.