Are you a frequent Traveler ? Looking for an easy way to plan and organize your traveling ? Its time to make your traveling even more convenient by using some of the browser extensions that i am about to suggest for you Today. Recently i wrote about chrome extensions for Gmail users and Online Shoppers. And here i have a list of Best Five Google Chrome extensions for frequent travelers. These extensions will let you plan your trip in a convenient and simple way. You can book hotels and flight tickets at affordable cost and much more using these extensions.
Kindly use the Search Feature at Google Chrome Webstore to search and download the extensions we have mentioned here.
Wanderfly
Wanderfly is a visual travel discovery. If you are planning for a vacation then Wanderfly is a must have extension in your browser. It is a repository of interesting spots available all over the world. Each and everything was perfectly categorized and user friendly environment. It is like a social network. Other people who are using wanderfly will share the best places they have visited. Also they give the feedback and experience in that particular place. This will help you to easily decide the places you want to visit.
Stopango
Stopango is an another must have application for Travelers. It is available for both desktop and mobile platform. It will let you create personalized timetable for the places you visit. It has timetables of many transport agencies around the world. So if you are new to a place and looking for a bus or tram, this app will help you to get the timings. The data will be automatically refreshed based on the location and timings. The databases are constantly updated so if there is any changes in the timings it will be immediately reflected in the application.
The interface is clean and simple. The interesting part is you can add messages like traffic jam, accidents, etc., to the location wherever you are. Also you can see the messages shared by people in that particular location.
Open Markers
Open Markers will let you vote and find a place nearby. The concept of this application is very similar to FourSquare. If you go to a new place, you will check-in using your GPS, you can search for nearby hotels, gas stations, hostels, etc. Open Markers will let you add your favorite places into a separate list and share them with your friends. The places you add are called Markers, you can share them with the auto-generated short url. Open Markers doesn't use Google maps or any other services to display maps. It has unique system to show the places you search.
Furkot
Furkot is one of the best traveling extensions for chrome. It will let you have a safe traveling without being lost. The maps are very clear so that you won't get confused with the route. If you are planning for a trip then you can see the distance between two places and timings for that. Furkot not only deals with the distance it will let you find the hotels and best site seeing places on the way. Furkot will recommend the best place to stay at night if you are planning to be on that place more than a day. It will help you to compare the price of hotels available in a particular location. This will help you to find a hotel at affordable cost.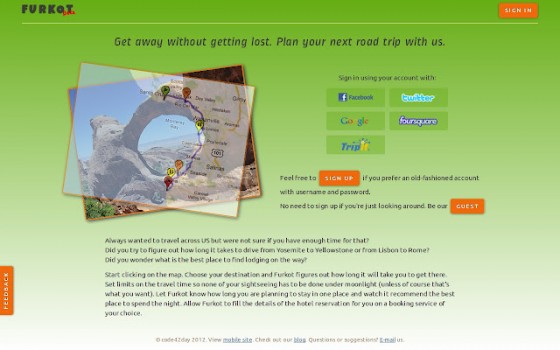 Sky Scanner – Cheap Flights
Literally we can say Sky Scanner is a Cheap Flight search engine. When you look for a flights at lower cost then Sky Scanner is the best one. Because it searches over 600 airlines and 670,000 routes to find you the cheapest air ticket. When you find a price you like, you can book tickets right away. Unlike other search applications you won't be charged for the service provided. It is completely free. You will pay only for your flight tickets.
These are the 5 best extensions for chrome to make your trip more convenient. Use these extensions in your browser and share your travel experience in the comment box after using these extensions.
Thanks for reading and you may now share this post in your favorite social networking sites to tell your friends about these great extensions to make their traveling go easier.