Microsoft's ACT (Application Compatibility Toolkit) is a used to support older version of applications in latest windows OS. It solves the compatibility issues of the newer windows application platforms. For example, the windows 7 OS will not allow IEV6 to get installed in it. But using this tool kit you can install and use the IEV6 in windows 7.
ACT Tools
Application Compatibility Analyzer:
This analyzer tool will collect the information about the applications installed in the computer along with the machine information. It automates the process of creating an catalog of the applications in your corporation.
Application Verifier:
It acts as a testing tool to test the compatibility of the application with the system. It contains the variety of tests on applications stability and good coding practices.
Compatibility Administrator:
It helps the user to turn on and off, any of the internal system fixes, application compatibility issues that prevent older programs to run on non-Administrator accounts. Also helps to resolve compatibility issues.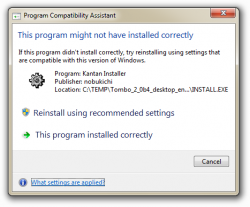 For more information, visit Windows Application Compatibility Resources.