Microsoft Windows 8 is one big move by microsoft that has received mixed reviews from its users. People who have upgraded from Windows 7 got a whole new Windows experience with Windows 8 operating system. Microsoft has collected feedback from its users and brought tons of changes to the new version called Windows 8.1 . It is currently available in Windows App Store for Download, and if you dont see "Windows 8.1 upgrade" tile inside your app store, then do check whether your windows 8 computer is up to date. Microsoft recommends its users to keep their windows machine updated and Windows 8.1 download and upgrade feature automatically appears in Windows app store only for users who keep their computers updated.
Microsoft wanted to bridge the gap between Tablets and PCs. May be thats the reason, many desktop users who like windows 7, didnt like windows 8 when they see an all new Design and UI in their screen. Which is simple, effective and easy to navigate between various Apps. Windows 8 targets one design and interface for all its products. Windows phones, tablets and laptops well synced now than every before.
Microsoft really made a huge innovation with Windows 8 and the all new Windows 8.1 addressed various problems that users have reported and some design changes to improve the user experience a lot better.
Windows 8 users will get a free Windows 8.1 copy, and all you have to do is, visit Windows Store and begin downloading it. If you have a plan to purchase new windows 8.1 license, then you can do it from microsoft website. Microsoft pricing for Windows 8.1 is same as Windows 8. Retail pricing of Windows 8.1 is $119.99 for regular version and $199.99 for Pro version.
Windows 8.1 Preview Direct Download
If you are looking for Windows 8.1 preview direct download links then you can get it from here. We will be updating the Windows 8.1 direct download links once its available.
Windows 8.1 English 64 bit (x64) – Download (3.8GB)
Windows 8.1 English 32 bit (x86) – Download (2.8 GB)
Once you have downloaded the .iso file from the above link, you should burn it into a DVD Disc and then proceed with the installation. Here we have a small comparison of Windows 8.1 and Windows 8.1 Pro from microsoft website.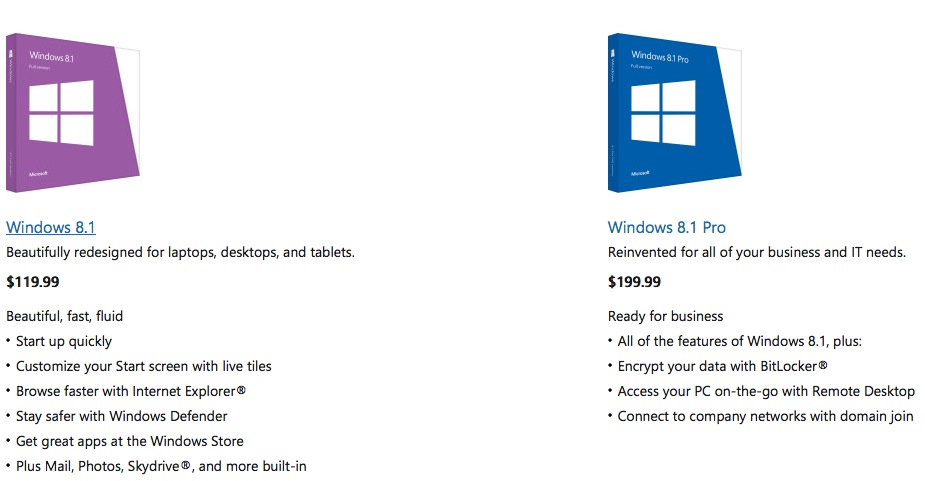 Windows 8.1 Upgrade Instructions
Microsoft has also made some important announcement about upgrading from older versions of Windows. If you are using older version of Windows like Windows XP or Windows Vista, then you will have to do a clean installation of Windows 8.1 in your computer after taking a backup of your OS installed hard drive partition.
If you are running Windows 7 or Windows 8 in your computer, then you can proceed with the upgrade process without any changes made to the files and folders in your hard drive. Windows 8.1 will be available in stores from October 18th 2013 for purchase. Windows 8 users can download the update from October 17th, 2013. Students can avail a huge 60% discount on Windows 8.1 and 8.1 Pro license key purchase with 5 licenses per year limitation under their student id.
Windows 8.1 Preview users can download Windows 8.1 from Windows Store. Just make sure you have installed all the available updates.
Windows 8.1 Minimum System Requirements
Microsoft has also included minimum system requirements for installing Windows 8.1 in Laptop or Desktop.
Processor: 1 GHz or Faster
RAM: 2 GB minimum
Hard Disk Space: 20 GB minimum
Video Graphics Card: 1024 × 768 screen resolution; DirectX 9 graphics processor with WDDM driver
(Optional) Touch Feature: to use the touch feature that Windows 8 offers you may need a PC that supports multitouch
All the latest software additions in one package. Windows 8.1 look and feel will give you a complete new Windows experience. When i upgraded Windows 8 to Windows 8.1, the process went easy and it took few system restarts and all works fine. Very minimum amount users face some trouble due to hardware compatibility issues. Share with us, how the updating process went for you.
Thanks for reading and have a wonderful productive day ! You may now share this post with your friends and followers across social networks.