Update: You can purchase complete box set of Kasperksy Internet Security 2015 – 3 Users License valid for 1 year from Amazon.com now.
There must be no excuse when it comes to security. The increase of sales in smart phones do need to care about security. A mobile with operating system installed on it is so much vulnerable compare to any other firmware based mobiles.
Kaspersky Mobile Security 9 Activation code for free. Its Not a pirated, patched or cracked, but this is a genuine key with 180 days validity. Kaspersky Mobile Security costs 29.95$ and is available for all smartphones with Symbian, Android, and Blackberry. Don't get frustrated googling for keys, just follow these three steps and get your key for free. All You need is an internet connection to get the activation code .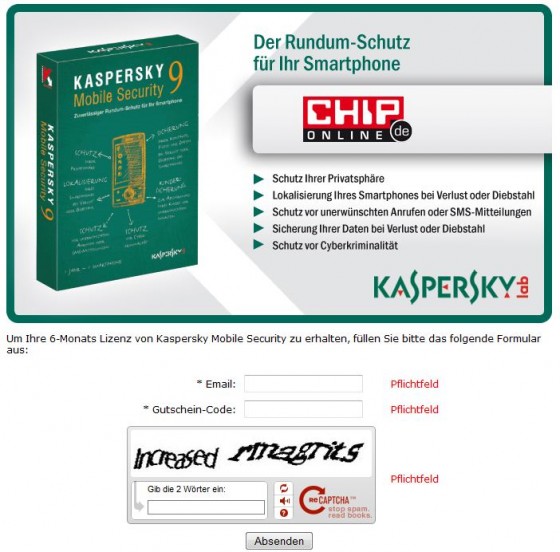 Kaspersky Mobile Security 9.0 Free Activation Code

Download the latest version of Kaspersky Mobile Security 9 here and install it
Now move to this page and enter your email address and the Gutschein-Code as D4N7D-PD625
Then check your inbox and you would have received the activation code for Kaspersky Mobile Security
Activate Kaspersky Mobile Security installed in your mobile with this License code
Now you have a fully activated 180 days valid Kaspersky Mobile Security 9 in your Smartphone.
You may also like to Read:
Thanks for reading and please do share this post on Facebook, Twitter and Google+ to let your friends also know about it.