iPad is a multi-purpose gadget which transforms its usage according to the user and their needs. It doesn't have any limits for its transformation. When we take Gaming it gives stunning graphics and extreme clarity. When you take music you can conduct an orchestra using iPad. If you are an artist, iPad will give you best applications to express your creativity. Whatsoever the field, iPad gives its best to satisfy the user. What's the role of iPad in Traveling ? In which way it will be helpful for your traveling ? We are going to discuss about the applications which makes your traveling even more comfortable.
Traveling doesn't end with the flight tickets and hotel booking. It has lot more things to do. Either it is a business trip or a family vacation you have to plan and organize things correctly. If you are going to a new country where the language and currency differs from your native. In those times iPad will be your best companion. It will take care of all your language barriers, currency conversions, road maps and traffic in that country, etc. Previously we have given few apps for music, rss feeds, remote desktop connection and reading magazines in your iPad. Also we have mentioned the chrome extensions for frequent travelers. Today I'm going to give you a list of apps which makes your traveling convenience and a memorable one.
FlightTrack Pro
FlightTrack Pro is a must have app in your iPad. It is a complete app to book and track flight tickets from your iPad. The interface is very simple to use and you can track flights in seconds. You will get a beautiful, zoomable maps, real-time departure information, flight delay and gate numbers at lightning speed. If the tickets were not available in your desired flight you can get alternatives easily. The app will suggest you the alternate flights for the route you have selected. It covers up to 16,000 flights, 1400 airlines and works with over 1000 travel sites. You can sync this application with TripIt which is a travel organizer app for your iPad. It supports multi-tasking and allows you to share your confirmed flight tickets through email, Facebook and twitter. You can see the weather, delay, cancellations through FlightTrack Pro. The highlight of the application is, it has an offline mode to use maps in planes. It is a best travel app for your iPad.
Booking.com
Booking.com is one of the famous sites for booking hotels all over the world. Now Booking.com app is available for iPad to search and book hotels all over the world. It is a very simple and secured environment. More than 200,000 hotels from different parts of the world were available in this application. Also you can see the reviews about the hotels from real people. Totally you have two types of views, list view and map view. Once you find your favorite hotel from a list you can switch to map view to see the exact location. You have two step booking process in the application. Just add your personal details in the first step and pay for the hotel you have booked. A confirmation message will be sent to your number and mail. Just show any of these messages, no printouts are needed. One more important thing is you don't have any booking fees for the service provided it is completely free.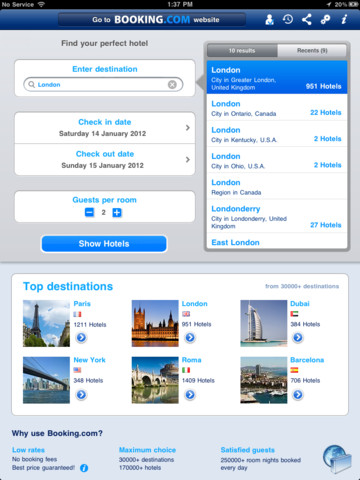 Trip It
TripIt is one of the widely used travel organizer for iPad and iPhone. It gives an easy way to organize your things and event for your travel. TripIt will automatically sync with the calendar in your iPad. It will act as the remainder of your events. TripIt has tied up with nearly 3000+ travel sites, so when you receive a confirmation mail after you book tickets or hotels you can send that to [email protected]. It will automatically recognize your reservations and remind you the dates and time when you reach the place. You can easily share the trip plans with your family and colleagues also to the social networking sites like Facebook, Twitter, etc. It will be a perfect reminder when you are on a trip. As we have seen earlier you can sync this app with FlightTrack Pro which will give you information about the flight delay, cancellations, gateway number, etc. It has both premium and free version. If you are a frequent traveler it is best for you to upgrade to the premium ones.
WiFi Finder
 It is one of the must have application in your iPad when you travel. It will find the free and paid WiFi around your area. It will clearly show you the availability of hotspots in the map. You can download and save the hotspots in this application. So that you can check the area of hotspots even you are in offline. It will use the GPS function of your iPad and show you the route to reach that particular hotspot. If you want to search the hotspots from a particular service provider you can easily find out. Also you can filter the hotspot results based on restaurant, hotel, cafe, etc. When you find a hotspot, you will get the location information and phone number to reach there. WiFi Finder will give you the most accurate and up-to-date results. So you can find the exact hotspot quickly.
XE Currency
XE. Com is one of the best currency conversion sites among the web. It has all the world currency and precious metals. The XE Currency app is available for both iPhone and iPad. The application is completely optimized for the iPhone and iPad. It will show you the live currency rates, change from the previous rates and simple currency calculator. It will show you the live rates and refresh every minute. It has around 30,000+ currency charts, it will show you the graph of currency rate change in date, month and year view. You can simultaneously monitor up to ten currencies. Using this application. When you are in traveling you can check the price with your country's currency easily. To refresh the currency rates just shake your iPad. You can set the frequency of currency rate updates as well as you can fix your base currency at the top of the application. You can store the last updated currency rate and convert currencies when you are in offline.
These are the five must have applications for iPad when you are planning for a trip. It will be a best company to plan and organize your traveling. Also it will give a new way of organizing your plan for a trip. Try these apps in your iPad and share your experience with us in the comment box. Also let us know if we have missed any of your favorite apps related to traveling. Happy Journey.