If you're an iPhone user who loves personalization, you might wonder how to change the notification sound for a specific app in iOS 17. There is a simple answer to this question. If the App Developer allows us to change notification sound or provided default set of notification sounds, it is possible to use them whenever we receive notifications.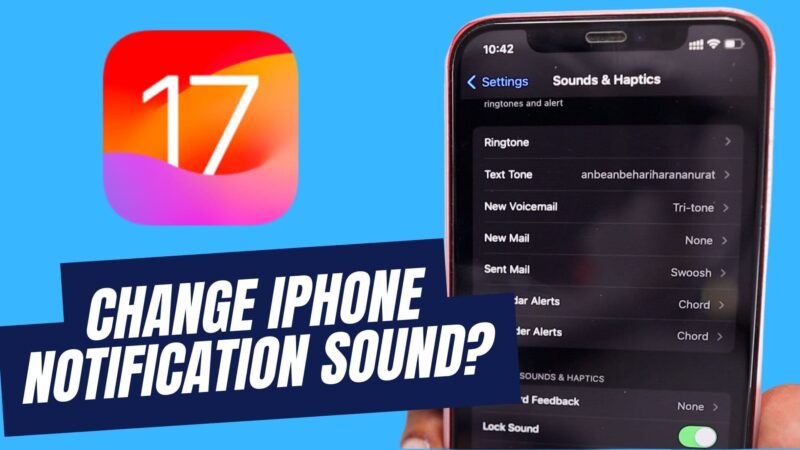 Otherwise, it is not possible to change the iPhone notification sound for a specific app.
Also Read, iOS 17.2 Release Date and any New Features Coming?
Initially, there was a problem with Custom Ringtones and custom Text Tones since the release of iOS 17. Apple addressed this issue by releasing iOS 17.1 with a Fix to text tones not visible under the text tones section.
Explained recently about the same problem in one of our video.
Change iPhone Notification Sound for Specific App in iOS 17?
Generally, If the app provides options to change the notification sound within its settings, you can customize it.
In the following example, you can see that WhatsApp and Telegram messenger apps allow us to change iPhone notification sound specific to the app in iOS 17.
WhatsApp allows us to use the system available default set of notification sounds.
When you navigate inside Sound settings, you can access the available tones.
But in Telegram Messenger, you can upload custom tones and set them as your Telegram messenger notification sounds or alert tones.
This level of custom notification sounds or alert tones feature should be added to the app by developers to let us customize and use it.
Also Read, iPhone 15 Pro OLED Screen Burn In Problems, What to do?
Custom Ringtones on iPhone
Now, let's talk about iPhone custom ringtones. Custom ringtones are a fun way to personalize your phone and make it stand out. You can set a specific ringtone for your best friend, your boss, or your significant other so you know who's calling without even looking at your phone.
Creating custom ringtones can be done using the GarageBand app on your iPhone or by purchasing them directly from the iTunes Store.
If you're feeling creative, GarageBand lets you make a ringtone from any song or sound you like. Just remember that the ringtone should be short, sweet, and not too loud or jarring—after all, you don't want to be startled whenever you get a call!
Here are a few tips and tricks related to iPhone ringtones:
Keep It Short: Ringtones are best for 30 seconds or less. This is the maximum length that iOS allows for a ringtone.
Silent Ringtones for Peace: If you want to have a contact whose calls don't ring but still want to see their notifications, you can create a silent ringtone.
Use Ringtone Maker Apps: There are simple ringtone maker apps available in appstore, that can help you convert your favorite song or sound into a ringtone format. Just upload the audio file, select the best part, and download it in the ringtone format in the Files App. Import and Set the file as a Ringtone using Garageband.
Backup Your Ringtones: If you're updating your iOS or switching phones, back up your custom ringtones. You can use iCloud or your computer to ensure you don't lose them.
Assign Ringtones to Contacts: To assign a custom ringtone to a contact, go to the Contacts app, select the contact, tap Edit, and then tap Ringtone to choose your custom sound.
Remember, while customizing notification sounds for apps might be limited, there's still a lot you can do to make your iPhone sound unique with custom ringtones.
Also Read, iPhone Lock Screen Wallpapers | Peacock and Flowers Theme
Did you find this Change iPhone Notification Sound for specific app in iOS 17 suggestions useful? You may share this post with your friends. Have a wonderful day.