If you are looking for Screenflow 5 Coupon Code, then do check out the link enclosed to get 5% off from the actual price.
Macupdate December 2012 Bundle is now available for purchase and this time you will get 12 awesome mac apps that will increase your productivity, tweak your mac os x performance, speed and some games to entertain whenever you are bored. Macupdate December 2012 Bundle brings 12 mac apps in total which comes around 609$ in price, but you can buy it right now for just 49$. Yes, this will be really a huge savings for people who like to buy this holiday a gift of 12 mac apps to their friends and family members who owns a macbook or imac.
[youtube width="560″ height="344″]http://www.youtube.com/watch?v=WyIGsGH3y1Y[/youtube]
Macupdate bundle can save you huge cash every year and there is no disappointment this time as well. Last year i have purchased couple of important software along with my mac bundle. Which includes Screenflow and Parallels 7 for Mac OS X that really saved a huge money. Each costs around 100$ and 79$ if i had to purchase them separately. But along with the macupdate bundle i got few games and some productivity apps for 49$.
Let me give a quick overview about the 12 mac apps that comes with this macupdate december 2012 winter bundle. If you have recently bought a new mac computer then you may like to read Essential Mac Apps for Macbook and iMac 2014.
Macupdate December 2012 Bundle
Total worth of these 12 mac apps comes around 609$ and you will buy it today for just 49$. Any software that comes with this bundle also has a complete customer support online to solve any queries you may have when you use it in your mac computer. So its like you are purchasing this mac app by paying the full price from their store. so try it today without any worries.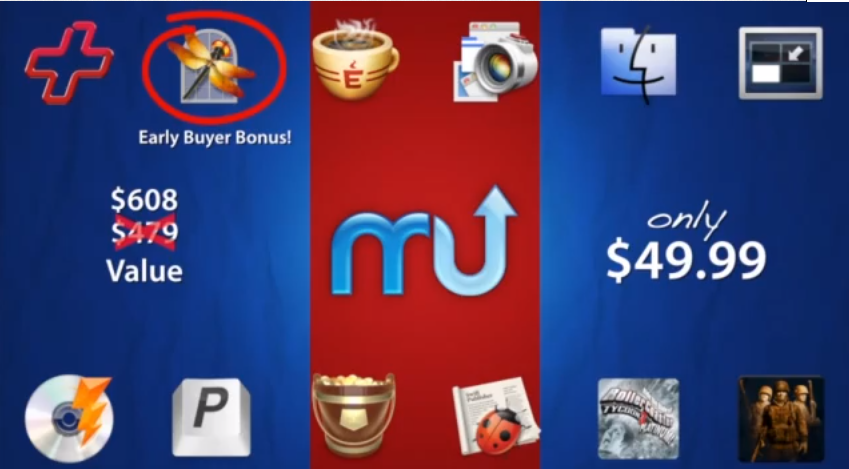 Data Rescue 3 for Mac
It is one of the best digital data recovery software on the market available today. Data Rescue 3 for mac is so effective in recovering files from a problematic hard drive or the files, apps or a folder that previously got deleted. This is one must have file recovery software for mac os x and the actual cost of this app is 99.99$.
LiveInterior 3D Pro
LiveInterior 3D Pro is a professional interior design app which is very easy enough for novices (beginners) to learn. You can design your dream home or revamp your existing space with this amazing software in a complete 3D enabled preview modes. Endless furnitures, chairs and 2D, 3D previews are available. This software comes as a bonus with this macupdate december bundle.
Espresso 2
Espresso 2 is a powerful and beautiful HTML, XML, CSS and JavaScript development tool perfectly suited for projects of any scale.Master web design, Smooth and Simple navigation, Powerful source editor and versatile publishing tools makes the tool really effective and stands as the best for mac os x. This mac app costs at 79.99$
Snapz Pro X
This is a legendary screen capture tool with video support. Snapz Pro X allows you to effortlessly record anything on your screen and save it as a Quicktime movie or a Screenshot that can be emailed to anyone easily. You may also publish it on the web or share it via social media in a click of a  button. This mac app costs at 69$.
Total Finder for mac
It is an universally acclaimed finder enhancement utility. It can also boost your mac experience with features that are so smart and convenient for any mac user. You will add more necessary and essential features to your finder window with this great utility. This tool costs at 18$
Total Spaces
It recpatures the cleaner, simpler virtual desktop options of previous OS X versions. If lion and mountain lions window management options left you out in the cold, total spaces offers an inviting alternative for that. This app costs at 15$.
Mac DVD Ripper Pro
When it comes to DVD Ripper software, we usually recommend some paid apps for mac. They convert dvd discs at best then some freeware apps. Mac DVD Ripper Pro is one of the best tool that many buy to put their dvd collection right where they want it on their Mac. Backup, Copy, Convert DVD Movies, Music videos to iOS friendly video file formats instantly. This app costs at 24.95$.
PopChar X for Mac
PopChar X for Mac helps you to get the most out of your font collection. This is one must have utility for web designers, developers. With its crystal clear interface, it provides a frustration free way to access any fonts that you want with special characters. This app costs at 38$.
Money Well for Mac
One of the best money management app for mac os x. Money Well for mac is a streamlines solution for money management and its an award winning software for its best and easy to use interface. If you have ever felt overwhelmed by the needless complexity of other personal finance applications, money well is a breath of fresh air. This app costs at 49.99$
Swift Publisher 3 for Mac
This app takes the headache out of desktop publishing on your mac os x. Print Colorful flyers, newsletters, brochures, letterheads and much more using the swift publisher app for mac. This app costs at 29.95$
Company of Heroes
Real time strategy game of all time for mac os x. Steeped in historical grandeur, company of heroes: campaign edition is an unmatched gaming experience on your mac computer. This app costs at 29.99$
Roller Coaster Tycoon 3
This fun filled game for all ages on your mac can bring a lot of excitement of roller coasters with the fun of a great strategy simulation. Roller Coaster Tycoon 3 for mac costs at 29.99$
Totally these 12 mac apps including games comes around 609$ and you can purchase it for just 49$ today. This is one of the best Gift for this holiday for mac users.
Thanks for reading and participating. Have a wonderful day.
Giveaway (Expired)
We are giving away TWO macupdate december 2012 winter bundles for TWO lucky winners. This contest starts now and all you have to do is, Participate to Win a macupdate bundle.
Update: Due to very less number of participation we cancelled the Giveaway. We regret the inconvenience caused to you.
Macupdate Bundle contest will end on 10th December 2012 and the winners will be announced by 11th December 2012.