We can name every year with a specific tech rising to its peak and staying here for long time. In that row, i think the year 2016 will be for Virtual Reality. Today, we decided to hand pick few Best Virtual Reality Headsets, VR Kits for Movies, Games and Apps. You will be using your existing Android smartphone or iPhone to experience the Virtual Reality without buying any super expensive virtual reality headsets, VR kits or gadgets.
Developers across the world have been working for the past few years to create games, apps and 360 degree videos to play on Virtual Reality Headsets. Specifically, since the development of Oculus Rift, Virtual Reality started to grow faster.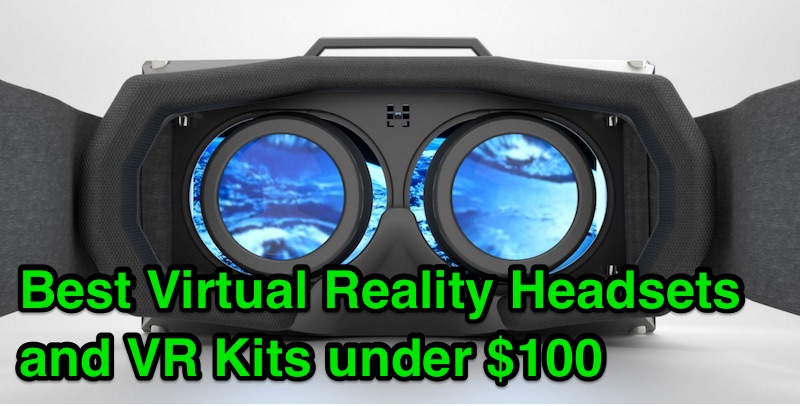 Mark Zuckerberg, CEO of Facebook understood the importance and future of Virtual Reality and acquired Oculus Rift in 2014 March, which added more fuel and power to the platform.
Not just me, there are millions of Virtual Reality fans across the globe waiting eagerly for the official commercial release of Oculus Rift headsets even though it is expensive. Recently they released the first slot and availability of oculus rift in their website (for Pre-Ordering) and the headset with the VR kit priced at $599.
Best Virtual Reality Headsets and VR Kits for Movies
I won't be saying that the list of virtual reality headsets we have here can be best oculus rift alternatives, but definitely the best in class to let you experience Virtual Reality without spending hundreds or thousands of dollars initially. It is a just launched technology which was in development for long time, but these oculus rift alternatives (kind of) headsets we have here are ready to let you experience virtual reality technology right out of the box using your Android smartphone or iPhone.
Oculus Rift Gaming Intro
Remember Google Cardboard launched a year ago which initially was free then google allowed third party suppliers to manufacture and sell Cardboard's officially? We still have that on amazon shopping website for you, if you want to buy one. It starts from $12 and definitely the basic built and cheap virtual reality headsets available and works excellent with your android mobile phone.
Samsung Gear VR – Virtual Reality Headset
If you own an Android smartphone, specifically Samsung Galaxy Note 5, Galaxy S6 Edge+, Galaxy S6 or S6 Edge, then look no further and get Samsung Gear VR – Virtual Reality Headset. It is definitely the best Virtual Reality headset available for Samsung galaxy phones (selected series) made by Samsung and rated positive by existing users.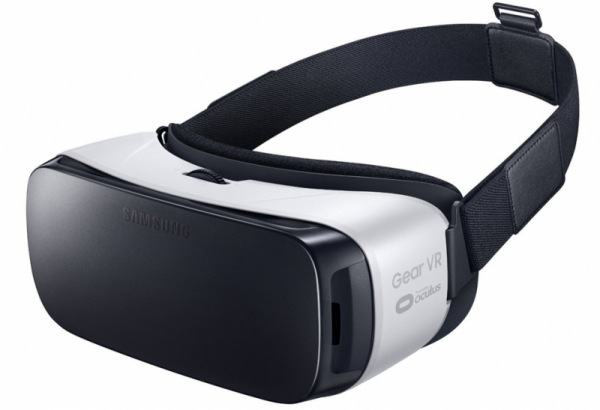 This is a light weight VR headset that fits well and comfortable around your head and you can watch movies for hours. The head band gives good grip and holds the VR headset in front of your eyes very well. You can use this with eye glasses ON, because of its design to work with or without eye glasses.
Store Price: $99.99
Buy Now: Samsung Galaxy VR from Amazon
---
Merge VR Headset for iPhone and Android
Another well built rich quality Virtual Reality headset for iPhone and Android smartphones. Simply place your smartphone inside the front panel and the design construction of this brilliant VR headset allows you to insert your regular headphones, easily flip a switch to change the program menu that you are watching and do more. Adjustable lenses and light weight build material used in Merge VR makes the headset comfortable to wear for long time.
https://www.youtube.com/watch?v=80iATOiR2bk
Merge VR headset comes with an app discovery portal to download best virtual reality apps and games for your iPhone or Android smartphone to experience the VR much better.
Above video shows you how the first time experience was with Merge VR and to virtual reality technology by users. Slide the phone from top and you are ready to experience Virtual Technology in seconds. Definitely worth recommending virtual reality headset that comes under $100 pricing. It has got positive 5 star ratings and reviews on amazon by existing users. Go ahead and buy the best virtual reality headset for movies today.
Store Price: $99
Buy Now: Merge VR for iPhone and Android from Amazon
---
Homido Virtual Reality Headset for iPhone and Android
Homido VR Headset is an expensive choice in the series of VR headset that uses smartphone to let you experience the technology. Still, people who have bought this VR headset are happy with their purchase and i thought to put this into your consideration as well. Homido works with most of the smartphone screen sizes and comes with pupil distance adjustments. It also has three different length lens holders for near, normal and farsighted users.
You can comfortably wear your eye glasses while using Homido to experience Virtual Reality technology using smartphone.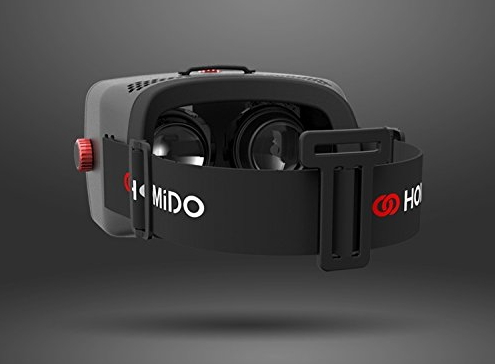 The only negative most of say is its pricing, however it is a well built VR headset that holds your expensive smartphone very well and gives you satisfying experience to the world of VR. So if you are ok with the $100 price tag, then go for Homido VR headset.
Store Price: $104.99
Buy Now: Homido VR Headset from Amazon
---
IncrediSonic M700 VR Headset and Bluetooth Gaming Controller
IncrediSonic Virtual Reality headset lets you experience VR tech and works very well with 300+ iOS and Android VR Apps. You can download these apps from Google Play store or Apple iTunes Store and experience virtual technology instantly. It also comes with VR Controller with controls for playback, use selfie shutter, fast forward, rewind and pause when you want.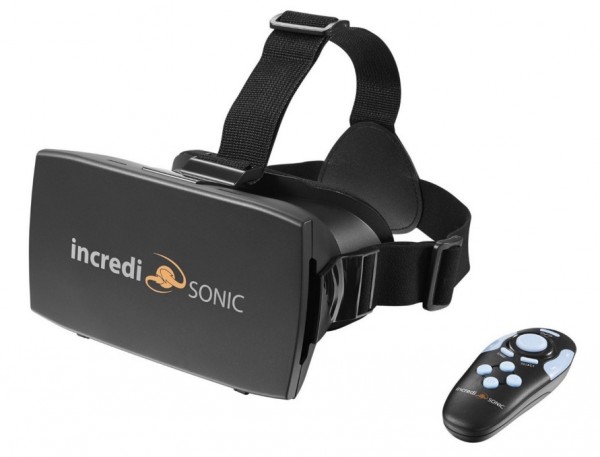 True 3D experience is guaranteed by the manufacturer and the headset has comfortable head strap for ideal weight distribution when you wear it. Foam seal is extra soft and thick for better durability and they also included foam nose pads in the box.
Use your wired headphones easily with the available open ports on both sides of the VR headset. IncrediSonic VR headset has specifically designed lenses that requires no adjustment when you wear eye glasses. Overall, this headset scored really well on ratings and reviews from existing buyers. So if you are looking for an affordable and good quality VR headset then go for IncrediSonic M700 model.
Store Price: $99.95
Offer Price: $44.94
Buy Now: IncrediSonic VR Headset from Amazon
---
DESTEK Virtual Reality Headset for 3D Movies
Another 3D Virtual Reality headset suitable for up to 6 inches smartphones. Delivers best movie watching experience and includes Bluetooth Remote. Simply place your smartphone after opening the front panel and close the panel to start watching movies and play 3D games. Destek VR headset is very well compatible with Android and iPhone. You can place any smartphone with sizes from 4 inch to 6 inches.
Just like Oculus Rift this Destek VR Headset uses FRESNEL lenses to reduce too much sharpness and this helps you not get dizzy when you use it for long time.
Download Virtual Reality Apps compatible to your smartphone from Google Play Store or iPhone App Store. This headset also comes with bluetooth remote controller that has video playback controls and you can use the same remote for TV sets, Laptops and control Powerpoint (PPT) slides as well. Gaming with this wireless bluetooth controller when you use this VR headset will be lot of fun.
Store Price: $79.98
Offer Price: $44.58
Buy Now: Destek Virtual Reality Headset from Amazon
---
Motoraux 3D VR Headset for Android and iPhone
Motoraux VR headset has a classic design and comes with high definition Optical Resin Lenses. The headband design also different than other regular VR headset models. Its three adjustable straps can distract part of pressure from the bridge of nose and the viewing area is covered with super face foam protector for light weight, comfortable wearing.
The manufacturer promises of 3D videos played will deliver IMAX type of experience to users. Adjustable Pupil Distance and Focal Distance allows you to set a comfortable viewing angle.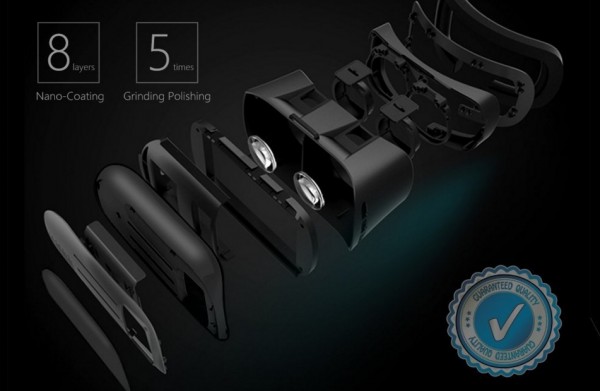 This motoraux VR headset design also focused on ventilation area for phone cooling and connect charger while using the headset for longer usage and proper cut outs for headphone as well. You can charge your smartphone and use the Motoraux Virtual Reality headset at same time. Fits very comfortably when you use your iPhone, Android and Windows Phone.
Store Price: $99.99
Offer Price: $41.99
Buy Now: Motoraux VR Headset from Amazon
---
AFUNTA Adjustable 3D VR Glasses iPhone and Android
You are seconds away from Virtual Reality experience. AFUNTA VR Headset for iPhone and Android will turn your smartphone into ultimate 3D machine for 3D Games and split screen movies in seconds. It works excellent with 300 apps downloadable from Google Play Store and iOS App Store. You can adjust the pupil distance and range up to 20mm for suitable best viewing experience.
This VR headset is very friendly for users with near sight as it comes with adjustable object distance offer. You can comfortably wear your eye glasses and use this VR Headset for Movies and Gaming using your mobile phone.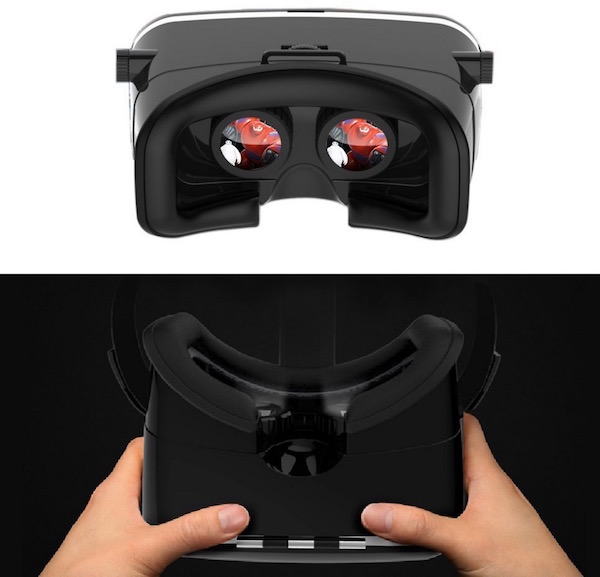 Afunta VR Headset has leather eye cup and high tenacity head strap that provides you comfortable virtual reality experience. Magnet absorb type front panel makes it convenient to put it and take out your smartphone easily.
Store Price: $59.99
Offer Price: $36.99
Buy Now: AFUNTA VR Headset from Amazon
---
ELEGIANT 360 Viewing Virtual Reality Headset
Elegiant 360 degree viewing Virtual Reality headset for iPhone and Android will turn your smartphone into an immersive movie watching device in seconds. Experience 3D VR just like Google Cardboard with this well built VR headset and your smartphone as combo. Watch 3D Movies and play 3D Games after following very easy setup instruction.
Comes with Pupil Distance and Focal Distance adjustable option. You can use it with your eye glasses comfortably by manually adjusting it to suit your viewing experience.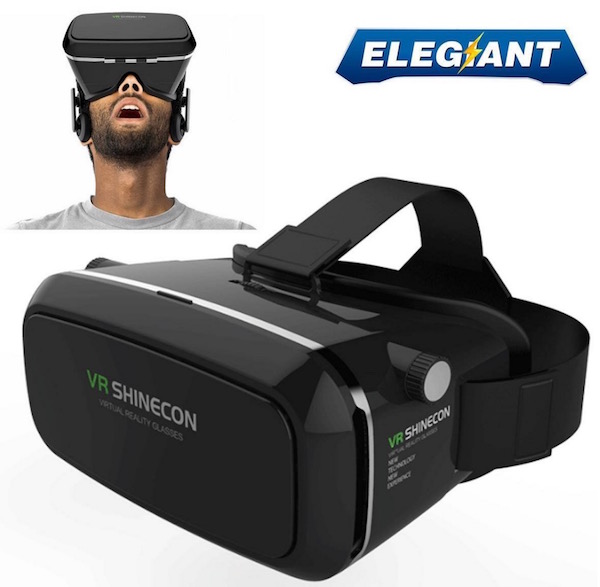 Front Cover of this VR headset is adsorbed by magnet and can be removed easily. It keeps the phone cool while using it for longer duration. Elegiant 360 degree virtual reality headset is cheaper and affordable. it is also compatible with iPhone 5, iPhone 6, iPhone 6 Plus and latest iPhone 6S and 6S Plus smartphones. Most of the android smartphones are compatible with this headset.
Store Price: $56.65
Offer Price: $34.75
Buy Now: ELEGIANT 360 VR Headset from Amazon
---
Akally 3D VR Headset for Android and iPhone
Another cheaper and affordable Virtual Reality headset that does excellent job when it comes to watching movies and playing games. I personally suggest these VR headsets for watching movies than gaming. Definitely delivers the satisfying VR experience as a new user want to try this tech. Akally Virtual Reality headset comes with most of the adjustment options such as Pupil Distance, Focal Distance and suitable for people wearing eye glasses as well.
Download 3D Games and Apps from Google Play Store or iTunes App Store to experience VR tech in seconds. Watch Movies and TV Shows for long times with this brilliant and cheaper virtual reality headset.
As the build quality is decent the surface of this VR Headset is matte finished and uses high definition Optical Resin Lenses for best picture quality. Three adjustable straps can distract of pressure from the nose bridge and feels light weight for longer usage.
Store Price: $45.99
Offer Price: $35.00
Buy Now: Akally 3D VR headset from Amazon
We hope you have found your Virtual Reality Headset under the price range of $100 today. We hand picked these best virtual reality headsets under $100 for you specifically to watch movies. Also, these are rated as best and with positive reviews by existing users.
Thanks for reading and feel free to share this post with your friends and followers if you find it useful. Have a wonderful day.
You may also like to Read,