Apple iPhone 7 and iPhone 7 Plus almost reached the hands of many iPhone fans and new users by now. You may love the super bright display, vivid colors, the all new home button with force touch technology, super sharp camera and the loud speakers. We hand picked few best and must have accessories for iPhone 7 and iPhone 7 Plus to make your shopping a lot easier. If you have recently upgraded from iPhone 6 or earlier model, then you will definitely love the iPhone 7/7 Plus features.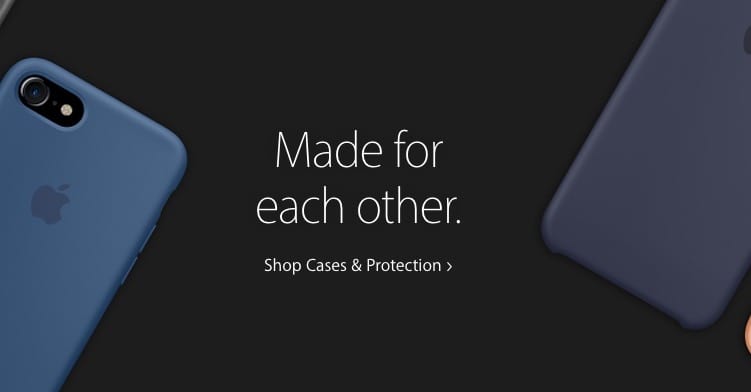 Docks, Stands, Headphones, Cables, Adapters and plenty of accessories are available for iPhone 7 and 7 Plus. There are few accessories available officially from Apple, and the third party manufacturers have huge collection to fit into the categories of Entertainment, Productivity, Business, Fashion and more.
Keep reading and you may save big with some exclusive discounts and offers on few accessories purchase. Apple iPhone 7 is very successful than its previous models when it comes to sales, and many existing and new accessories manufacturers have brought huge collection of items to the market till now.
Accessories for iPhone 7 and iPhone 7 Plus
Apple iPhone 7 is an amazing smartphone available in the market right now. Accessories brings new feature additions that simplify your work tasks by bringing productivity to your work life. Decorate your iPhone 7 with beautiful cases and covers, Charge and Keep your iPhone stand tall on your desk, take stunning pictures with smart lenses and more.
iPhone 7 Dock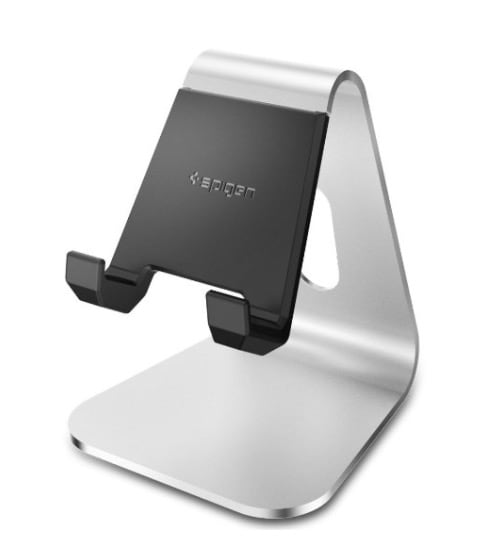 There are plenty of Docks with Chargers available for iPhone 7 and iPhone 7 Plus phones from popular manufacturers. You can check the list of top selling and popular iPhone Docking stations here at amazon.com. Spigen iPhone 7 Dock is made up of aluminum with perfect design for holding your iPhone on the table. Not just iPhone, you can keep any smartphone and even iPad's on this stand. Sturdy and Convenient to keep on your table next to iMac or Macbook Pro. You can easily charge your iPhone or iPad when placed on Spigen Stand.
The design pattern matches very well with most of the computer desk setup and environment as it comes in Aluminum with Black color design.
Price: $21.99
Buy Now: Spigen S310 Stand from Amazon
GorillaPod Stand for Smartphones
Looking for a perfect mini Tripod to Record Videos using your Smartphone? Here we have the best tripod for smartphone, that is not just for iPhone 7 and iPhone 7 Plus, also works with most of the Android Smartphones as well. GorillaPod Stands are popular among Youtubers who record videos using their smartphone and upload them directly to youtube. If you are planning for a video blogging, then you can blindly go for this flexible Tripod that is small, easy to carry and sits sturdy and well on your Desk.
There are hundreds of Tripods available from several third party manufacturers for iPhone and Android Smartphones. GorillaPod is one popular mini tripod for its high quality material used and its super flexible as well. The holder is very well adjustable, where you can fit in your iPhone 7, iPhone 7 Plus and smartphones with bigger sizes as well.
Price: $19.95 and above
Buy Now: GorillaPod Stand from Amazon
iPhone 7 and 7 Plus Cases and Covers
From Thin Desk to Sturdy and Stronger Shockproof and Water Proof, iPhone 7 and iPhone 7 Plus has wide range of choices when it comes to Cases and Covers. You can find all the recently purchased, rated as best iPhone 7 cases and covers on amazon.com by the existing buyers. We have also categorized this section to help you find the best iPhone 7 and iPhone 7 Plus cases a lot easier.
Super Thin Case – If you want to feel the iPhone in your hand and searching for the ultra light and thinnest iPhone case to wear, then consider buypeel iPhone 7 and iPhone 7 Plus case. At $24, little expensive though, but gives premium feel and fits great on your iPhone 7 and iPhone 7 Plus.
Another ultra thin case is from the popular case manufacturer Spigen. Check out Spigen AirSkin for iPhone 7 that maintains the same ultra thin form factor and let you feel the phone without adding too much weight.
There are few more alternatives and similar ultra thin iPhone cases on Amazon which you may consider.
Strong and Protective Case – Spigen and Otterbox both have excellent and high quality cases for iPhone 7 and iPhone 7 Plus models. Maintaining the slim factor and bringing excellent protection to your iPhone from drops, dust and water. Otterbox Defender series offers top level safety to your iPhone. Urban Armon Gear has exclusive thin plus well designed, high quality iPhone 7 cases.
They offer 10 years of warranty with better Drop protection. Check out UAG iPhone 7 and iPhone 7 Plus cases on amazon.com.
Wallet / Book Case or Cover – Complete protection to your iPhone 7 or iPhone 7 Plus comes with this Wallet or Book type of Covers. Just like iPad Covers, you can get Book Case or Wallet Case for iPhone's to avail protection in all corners of the phone. One of the popular premium wallet or book case manufacturer for iPhone is TwelveSouth. Check out their BookBook for iPhone that comes with several compartments inside to hold your Credit/Debit Cards and other ID cards as well. Its a complete wallet feature with a perfect all round protection to your iPhone as well.
Bluetooth Headphones for iPhone 7
If you prefer Apple Brand, then go for the newly released AirPods. Stocks are now available and you can order one at apple website and get it delivered in 6 weeks or less. Otherwise, continue reading to get some of the best alternatives on bluetooth headphones for iPhone 7 and iPhone 7 Plus. Before our precise suggestion, do read Best Apple AirPods Alternatives for iPhone and Mac where we hand picked few best bluetooth headphones for iPhone and Mac computers.
BeatsX – Definitely my favorite and one of the best alternative for apple airpods. If you can compromise the all new Apple AirPods design and marketing effort from Apple, then BeatsX will serve the purpose in every way it meant to be. One of the best In-Ear headphone from Apple + Beats team with 99% of the apple airpods features built right inside. 8 hours battery backup and lightning port for charging makes it my favorite bluetooth headphone for iPhone 7.
Priced $10 less than Apple AirPods at $149 and with quick charging and better noise cancelling due to In-Ear design, makes me say "Go for it". Stocks are still in demand and you may experience longer time than usual to receive the headphone. With some more compromise and extra battery juice, you may check out PowerBeats 3 that has Apple W1 Chip, 12 hours of battery backup and sport design.
Price: $149
Buy Now: BeatsX from Amazon
Battery Pack for iPhone 7
The first accessory that comes to mind when we talk about battery pack is Apple Smart Battery case for iPhone 7 that doubles the battery life. iPhone 7 Plus normally has best battery backup performance and if you are looking for an additional power resource for both models without the need for wearing a weighing case, then consider the following suggestion.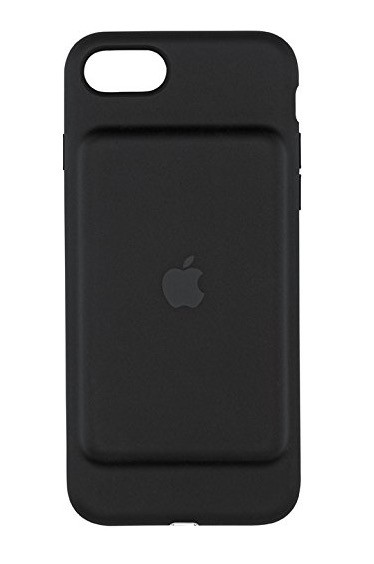 There are several other alternatives available for Apple Smart Battery Case, however an additional battery pack brings more juice for people who use their smartphone for Video editing, Gaming and other high end usage.
Anker Battery Pack for iPhone 7 – The brand anker stands top when it comes to high quality battery packs for iPhone's. Here we have Anker PowerCore 10,000 mAh battery pack for iPhone 7 and iPhone 7 Plus. Ofcourse, with the USB connectivity you can connect any smartphone or tablet to charge and increase the battery life.
Price: $23.99
Buy Now: Anker PowerCore from Amazon
AmazonBasics Power Bank – Another 10,000 mAh from the next popular accessories manufacturer. AmazonBasics product line up have received best ratings from its buyers so far. So you can buy with confidence that this Battery Pack will serve its purpose very well. Bringing 10,000 mAh capacity you can charge the iPhone 7 and iPhone 7 Plus for several times.
Price: $23.99
Buy Now: AmazonBasics Power Bank from Amazon
Square Credit Card Reader for iPhone
One of the popular mobile payment system available in the market. Accept payments instantly from your customers using their Credit/Debit cards. Square Credit Card Reader for iPhone requires an app to function, and Internet Connectivity that you have on your iPhone. This card reader also works well on iPad and Android smartphones as well.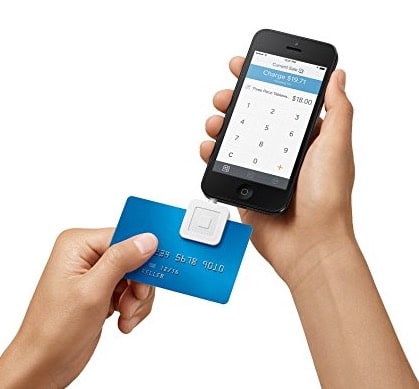 Its small and super easy to carry. Square credit card reader for iPhone is best suited for Small Business owners. You can accept payments anytime, anywhere without carrying heavy equipment.
Price: $14.99 and above
Buy Now: Square Credit Card Reader from Amazon
olloclip Macro Pro Lens for iPhone 7/7 Plus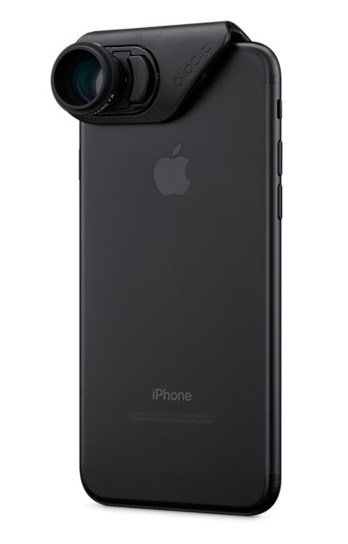 There are tons of Photography accessories for iPhone 7 and iPhone 7 Plus at apple website. Its really tough to pick the best one, and we tried our best and listed olloclip Macro Pro Lens for iPhone. It fits very well and you get better optical experience by transforming your iPhone into a digital microscope. Olloclip Macro Pro lens has advanced six-element optics for taking beautiful macro photography and videography with edge to edge clarity.
Price: $79 and above
Buy Now: olloclip Macro Pro Lens from Amazon
Misfit Shine 2 Fitness Tracker & Sleep Monitor
When we think about Health and Fitness accessory for iPhone, the first one pop up is Apple Watch. It is a perfect choice if you want something premium and has best heart rate monitor with fitness data collection and other apps support. Most of the apps that you have in your iPhone will be synced with your Apple Watch and you get all the notifications as well. However, if you are looking for something simpler and want something just about Fitness accessory, then Misfit Shine 2 must be the best one to consider.
Misfit Shine 2 Fitness Tracker and Sleep Tracker has advanced fitness and sleep tracker that works with the app on your iPhone. Twelve multi-color LEDs with Vibration alerts and capacitive touch delivers information and motivation in meaningful ways. Misfit Shine 2 is Water Proof and the minimal design looks good on your wrist.
Track your Sleep and activity without worrying about charging it frequently. The built-in battery stands for 6 months usage and its easy to change.
Price: $99.99
Buy Now: Misfit Shine 2 Fitness and Sleep Tracker from Amazon
We hope you have found our hand picked list of Best Accessories for iPhone 7 and iPhone 7 Plus useful. Feel free to share this post with your friends and do tell us which accessory you have purchased today in the comment box below. Thanks for reading and have a wonderful healthy day.
You may also Read,