We call the connectivity which is 128 kbps+ as a Broadband. It becomes a basic type of internet connectivity today when a user go for internet packages for home or office. However people in india still use mobile based dial-up connections in many areas due to unavailability of broadband connectivity and ofcourse its a low cost connectivity too.
You may check the speed of your broadband connectivity with any of the following Top 5 Broadband speed test service. Lot many other services are there, every ISP today has this tool to trouble shoot with the users broadband speed issues.
Speed determines the fast accessing of a website. Even though you have a great speed (in mbps) if the site or server which you are accessing suffers in low bandwidth, then the download and upload get hits badly.
Speedtest.Net
A flash based website that takes little time to load its page contents to begin the scanning of your speed. Easy to remember name so it is possible to get in mind frequently whenever we think about speed test. Serves you the result in MBPS.
2Wire
Basically a leading Broadband solutions provider in US. This is a simple test tool and loads faster in 128 and > connections.
SpeakEasy
Gives you variety of servers to begin the test. Seattle, SanFrancisco, Los Angeles, Dallas, and Chicago are some of their speed test points where you can pick your closer one to begin the test. It gives you a report at the end of the test with Download and Upload speed.
Dsl Reports
Are you a GPRS or WAP internet user ? Want to know the speed of your mobile internet connection ? Then this site is for you. Gives 3 different file types, varies from 5k, 50k and 100k files to test the speed.
Broadband.co.uk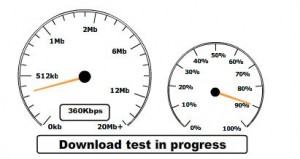 Offers speed test results in Mbps. Clean and simple interface that performs the speed test in a speedometer.
You may always perform tests with your ISP Speed check services. However the websites given above can generate little more info than the ISP Speed Test tools can do.