Acer to Release worlds first Android 4K Video Recording Camera built in Smartphone to Europe Mobile market by this October end. Acer Liquid S2 is going to be the first smartphone that will have a camera to record 4K videos. There are no news about when it will be released in United States, but we can expect it probably after couple of months. Sony also working on a 4K Smartphone called Hanomi, and it is still in the rumor mill basket. There is no official announcement from Sony yet. LG is also working on a Quad High Definition (QHD) Display and recently they released a new 4K panel for smartphones which will have a screen resolution of 2560 x 1440 pixels and the screen size will be 5.5 inch.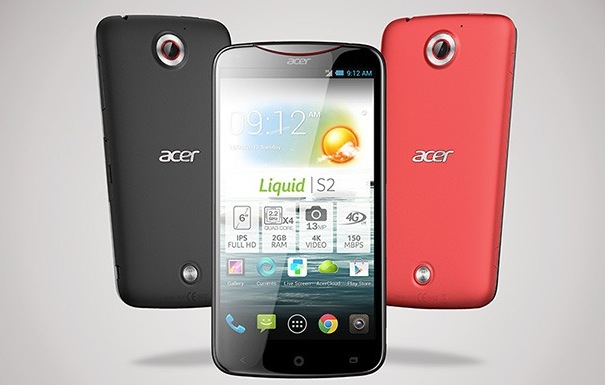 4K display requires more processing power and battery power. Acer's new Liquid S2 has 3,300 mAh battery power, Snapdragon 800 Processor (2.2 GHz) and 2GB RAM. Acer Liquid S2 will have 6 inch display size with a full HD IPS display for best user experience. Samsung's next Galaxy Note will have same hardware with all of Samsung flavor added to it.
Acer Liquid S2
Acer's approach with Liquid S2 will really help the company to move forward in Mobile market as the 4K displays and television yet to hit the market fully. They released this well advanced and let buyers choose the best 4k android smartphone when they like to record some great moments of their life in 4k resolution. Many choose Nokia Lumia phones specially for its excellence in Camera than other Android smartphones or iPhone.
[youtube]http://www.youtube.com/watch?v=2F3wk9_QjlQ[/youtube]
via [cnet]
Sony and Samsung recently slashed some hundreds of dollars with their 4K television sets still, many believe that this is not the right time to buy 4K televisions as many other vendors yet to release their 4K boxes. We may have to wait for another year to see the 4K TV's in our nearest showroom.
Acer Liquid S2 Camera
The phone comes with 16GB in-built storage for storing the recorded videos better, and the front camera is a 2 megapixel one which can record a 1080p video. So if you do a video calling or taking picture of yourself, you will get a better picture quality. Acer Liquid S2 now joins the line for one of the best Phablet device with its ultimate hardware and features. Now its time for Samsung and Sony to come up with competing models to let the buyers choose best android 4k video recording smartphone.
Acer Liquid S2 is meant for 4K TV Owners, and if you dont have a 4K TV still you can buy it for its excellent picture quality when you view the same video in your 1080p display monitor or television. This phone also comes with 4G LTE, to let you experience fast web browsing on the go. There is no news about pricing yet, but we will update this page once they are available.
So what do you think about this all new Acer Liquid S2 4k Smartphone ? Will you get one ? Share your views in the comment box below. You may now share this post in Facebook, Twitter and Google Plus. Have a wonderful day !