Update: Xiaomi Redmi 1S is now up for Pre-Registration at Flipkart.
Xiaomi Mi3 is now available for Pre-Order in India. It was a huge hit in China and has some excellent hardware specification and software tweaks as well. Xiaomi hosted an event today and announced Mi3 and couple more new models to make a great entry to India's Smartphone market. The pricing is very competing with fast moving handsets like Moto G, Moto E and Micromax models in India. Xiaomi also announced couple more new models in India to take direct hit on Motorola handsets that sold 1 million units in the last few months after launch.
Xiaomi Mi 3 is available only through Flipkart.com and you have to register with your Flipkart id if you are interested in ordering Mi 3 for you. Registration will be open from July 15th 2014 till July 21st 2014. Snapdragon 800 2.3GHz processor, 5 Inch IPS Display, 13 MP Camera, 16GB in-built Memory and better battery makes it stand out from the crowd. Xiaomi Mi series handsets will give very tough competition to Micromax, Samsung and other mid range android, cheap android smartphone models in India.
Xiaomi Mi3 Review
[youtube]https://www.youtube.com/watch?v=a0jhqTShpTo[/youtube]
Another reason to go for Xiaomi handset is its UI which they call it as MIUI. By bringing all the necessary features to front and following clean design makes Android optimized MIUI powerful and cuts the necessary of its user to root android mobile phone. From the image itself you can say that it is very much looking like iOS. The development and design team really perfected it in many areas to make it look very friendly and attractive. Xiaomi Mi3 built with Aluminum Magnesium Alloy Fram and 3 layers of Thermal Graphite to make it look sturdy and give premium look and feel overall.
At the Price of 13,999 ($230) this phone is a great steal for its hardware and software. Goahead and register yourself in the queue at Flipkart after logging into your account.
Pre-Order: Xiaomi Mi3
If you are living in USA and want to order Xiaomi Mi 3 you can get it right now from Amazon with Free Shipping.
Price: $319
Buy Now: Xiaomi Mi3
Xiaomi Redmi 1S at Rs 6,999 ($120)
Xiaomi has also announced Redmi 1S which looks like a direct take on Moto E. Bigger Display, Better Processor and more Memory makes it say Yes by any new buyers who is looking for budget android smartphone under the price range of Rs 10,000 ($170). Lets take a look at the hardware specification of Xiaomi Redmi 1S.
Xiaomi Redmi 1S Hardware
Processor: Qualcomm Snapdragon 400 1.6GHz Quad Core
RAM: 1GB
Flash Memory: 8GB
Memory Card Slot: Yes, 64GB expandable
Battery: 2000 mAh
Display: 4.7 Inch IPS, 1280 x 720 resolution
Camera: 8 MP Rear, 1.6 MP Front (1080p recording)
OS: Android (Custom) Xiaomi MIUI V5 (latest)
Sensors: Gyroscope, Light, Accelerometer, Proximity and Electronic Compass
Price: Rs 6,999 ($120 approx)
Xiaomi Redmi 1S will also be available in dozens of colors that you can choose while ordering. Pre-Order for Xiaomi Redmi 1S hasn't open yet. We will update this page once its up for Pre-Ordering.
Xiaomi Redmi Note
Why letting the phablet users go ? Xiaomi came up with Redmi Note which focuses on Phablet Smartphone users who want to taste MIUI v5 in the same better hardware choices. Redmi Note has 5.5 inch screen size and better hardware specification for Reading, Gaming and Internet Surfing. People choose bigger display smartphones or phablet smartphones specially to be more productive and enjoy contents in their mobile phone with quick and easy access. Lets have a look at hardware specification of Redmi Note phablet smartphone.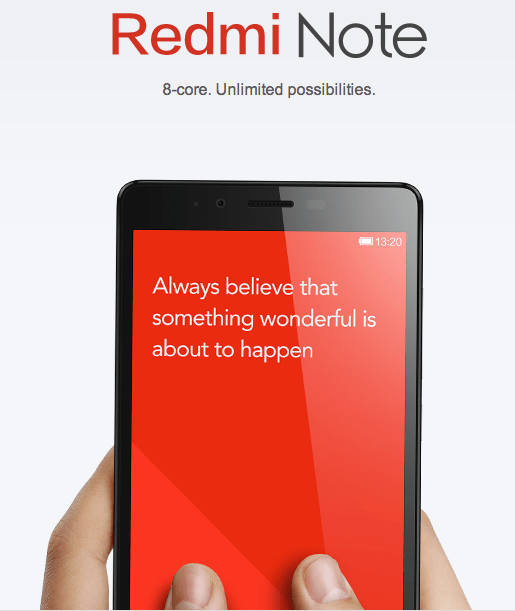 Xiaomi Redmi Note Hardware
Processor: 8 Core 1.7 GHz MTK MT6592 CPU
RAM: 2GB
Flash Memory: 8GB
Memory Card Slot: Yes, expandable upto 32GB
OS: Android OS optimized with MIUI V5 (latest from xiaomi)
Display: 5.5 Inch IPS, 1280 x 720p resolution
Camera: 5 MP Front, 13 MP Rear with Af/2.2 aperture
Battery: 3100 mAh
Sensors: Gyroscope, Light, Accelerometer, Proximity and Electronic Compass
Price: Rs 9,999 ($170 approx)
Plastic Body makes it loose the premium feel, still a very good competitor for many phablet smartphones in terms of pricing. Another set back i personally feel is its speaker location at the back of the phone. I always prefer the speaker to be on the bottom or at front side to get better audio while watching videos and better sound for incoming calls as well.
Anyway, its a good show today by Xiaomi entering Indian Smartphone market with its army. Stunning hardware specification with very competing price is one successful move to get a good root in Indian market. Partnering with Flipkart, is another great choice to sell more units in coming months. Dont delay, and register yourself right now if you been waiting for Xiaomi Mi3 to order once its available before this month end. We will update you about Pre-Ordering Xiaomi Redmi 1S and Xiaomi Redmi Note once its available.
Thanks for reading and have a wonderful day. Also dont forget to share this post with your friends and followers across social networking websites like Facebook, Google+ and Twitter.