Google plus is now a Rock-star in the tinsel town right now. For their beta version of the test site itself carrying more than 30 million users how it will be if they release the project officially. It would take another hour to dream about that thing. So lets stop dreaming about the future and start exploring the present. When i say the word exploring i used to think about the beta version of the Google plus project carries some news in it. Before launching something new lets make sure will this thing would make some popularity among people as well as giving them time to explore the entire features in the system.
If you need Google+ Invite, Get one here
In that way Google plus beta project itself filled with loads of things to understand and apply to enjoy those features. In that order we are making post regularly on Google plus to keep your feed updated all the time.
You may also like to read:
1) HOW TO: Update Google+ using SMS.
2) How Google +1 Button Works on Google Plus.
3) HOW TO: Get Google Plus Live Feeds Widget ?
4) HOW TO: Backup Google Plus Data ?
Sending personal message in Google plus
Everyone thinks about sharing globally in social media. Even though they have such intention most of the people think about sharing personally to a group even more to a single individual as a personal message. It will be  weird to form circles for individual too. So a personal message should be handy enough to operate through and share.
Step 1: Login to your Google plus account here.
Step 2: On your stream Type some texts that you wish to share to one person.
Step 3: Below that you can see who to share. Basically you can share with your customized circles.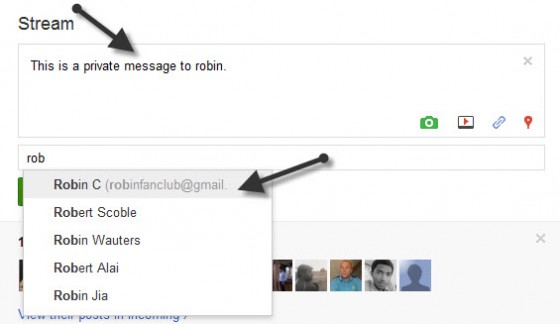 Step4: Unlike with circle you can type individual names here and share as personal message which the person alone could read.
Step5: You can verify for who its been shared to on your profile.

That is all. Its so simple isnt it ? Whatever you use in internet it is must to know the privacy settings of the apps. Enjoy sharing with your new Google+ account and do share this article with your friends in Facebook, Twitter and Google+ to let them also aware about it.