Hacking means Innovating and in Computers, Hacking always misunderstood as stealing other people passwords, facebook accounts and gmail passwords. Breaking into some one's computer is not hacking, and it falls under the category Cracking and Crime. When you learn hacking, you will be able to protect yourself from Spying, Identity Theft and get better Privacy on Internet.
Most of us understand the importance of security and learning about hacking, only after being victimized for Data Theft, Identity Theft, Email Hacking or some hacker's spy on all activity without our knowledge.
Learn Hacking and know how Hackers compromise Computers, Networks and Websites. When you learn hacking, it will help you protect yourself, your family and your environment by following correct set of practices and security measures.
We are connected to Internet for most of the time in a day through Computers, Mobiles and Tablets. Internet is becoming our primary mode of communication personally and for business purposes as well. Learning how to stay safe online and what are the possible problems that could happen to anyone via Internet, how hackers operate, what are the countermeasures if you are hacked will definitely be helpful in this Era.
Websites to Learn Ethical Hacking
It's not just the Antivirus or Internet Security Software that will help you to protect from Online Threats and Hacker attacks. You should learn the tactics and some basic security techniques to learn the defense of protecting yourself in the Internet Jungle. Before starting with the resources i like to give you a quick overview about ethical hacking.
Also Read, Best Resources to Learn Swift Programming Language.
Who should Learn Ethical Hacking?
Anyone who uses computers and smartphones these days should give some time to learn ethical hacking through web or consider a training, if any quality training centers available in your city. You may use Windows, Linux or Mac OS X, it is still good to learn security practices that any computer user should follow to prevent being hacked. Let me highlight types of users who need security training.
People who use computers for Trading purposes, as they use their Banking accounts, Credit Cards and all their Personal Information Online.
People who love Movies and enjoy downloading it from Websites and Torrents.
Software Engineers / Programmers – to understand the security areas of Programming and create applications that goes well and good through Security Testing phase.
Software Testers – This category requires advanced level of hacking and security certification to Audit and perform quality software testing.
Website Developers – If you are good at website design and development, then you should also take ethical hacking training to create websites that is strong and secure against Website Hacking Attacks.
Network Administrators / Engineers – Following default security measures that you have learned from your Network Certification are not sufficient. Hackers use sophisticated attacks and tools these days once they targeted a Network. It is the responsibility of Network Administrators and Engineers to build a strong and secure network.
Well, to be honest, anyone using computers and connected to Internet requires a pinch of security training to make sure the system and network they are connected to are secure and strong against hack attacks.
Alright, without any further delay, lets move on to all the Best Websites and Resources available to Learn Ethical Hacking.
Udemy Online Courses
One of my favorite online courses portal that offers thousands of online courses under various categories and the best part is, these courses are created by Authors, Trainers, Faculties and Experts from around the globe. Udemy is an open portal that allows any one with advanced level of skill set on any specific topic to become an Author or Mentor and Create Courses with Rich Texts, Media, Video Tutorials, Photos and other Powerpoint Presentations.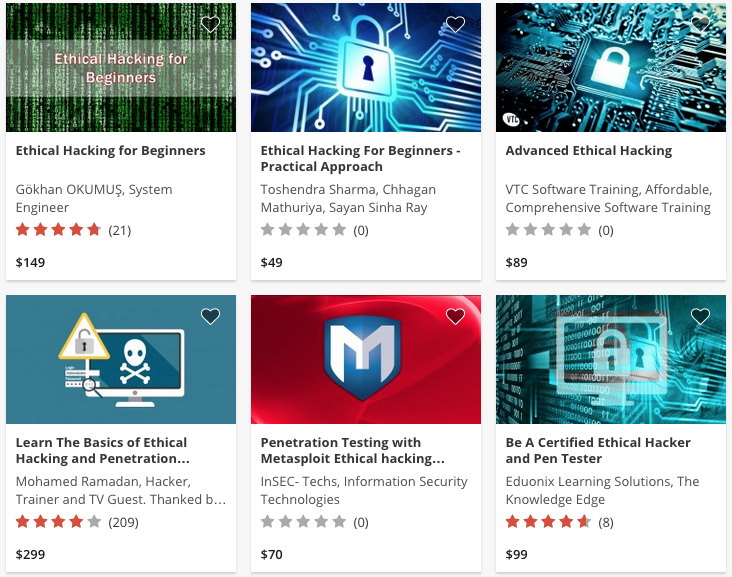 Students can subscribe or purchase the course with Lifetime Validity and learn anytime, anywhere at their own convenience. Udemy iPhone App, iPad App and Android Application allows students to pickup the lessons on the go.
If you want to learn Yoga Lessons, Udemy has it.
If you want to take Guitar Lessons, Udemy has it.
If you want to learn PHP or Complete Website Development, Udemy has it.
Udemy Ethical Hacking Courses are created by Security Experts from various countries and delivers excellent clarity about Security concepts and gives excellent Hacking practices. You can learn all the terms and techniques with this ultimate online courses platform from your smartphone or computer at your convenient timings.
Some of the Courses do offer Certification on Course completion, which you can mention on your Resume. This value added course will be a great Career Booster if you are trying jobs in future on most of the IT sectors.
Tips: Make sure you read the existing student reviews and ratings before purchasing any courses on Udemy.
GET IT: Browse Ethical Hacking Courses on Udemy
VTC – Advanced Ethical Hacking Training Course
Virtual Training Company is familiar for many and popular for their Software Training videos for Windows and Networking. They have the best Video Tutorials and Training programs at their store. Download VTC Video Tutorials to your Laptop, Desktop Computer hard drive and watch it at your own convenient timings. They also provide their complete course content via USB Pendrive. VTC Certification issued on completion of the course helps anyone to use it in their Resume.
Also Read, Learn HTML5 Online For Free with Examples and Exercises.

They have two ethical hacking courses in their store and you can pickup the first one or second one after exploring the table of contents. Both the courses offer great overview and insight into each topics. Starting with an introduction you can learn about Nmap & Nessus Scanning Techniques, Metasploit Framework Training, Web Application Testing, SQL Injection Attacks, Social Engineering Attacks and much more.
Choose any one after exploring the syllabus and start learning. You can also take Certification courses from popular vendors and software manufacturers at VTC website. Such as Microsoft Certification, CISCO Certification and so on.
CompTIA Security+ Certification
CompTIA is a very popular and one of the leading certification provider across the world. Most of the MNC Companies recognize CompTIA certifications and their Security+ certification is an entry level certification to the world of security. If you have no idea about Computer Security at all, then you can take CompTIA Security+ certification which gives you better insight into basics of security crisp and clear.
Also, i like to mention that this certification alone wont get you a job most of the time. Security+ Training and Certification is a basic and entry level certification, which means you have to obtain one more certificate on any specific field you choose.
Certifications show that you have undergone a skill improvement training on specific field. Security+ being a basic certification i personally recommend you to go for CCNA, CISSP and other Server related certification courses and training.
GET IT: CompTIA Security+
Learning Tree Certified Ethical Hacker Course
Learning Tree International offers Training and Certification mainly on IT & Management sectors. Many Institutions, Enterprises and Governments have joined as a member for learning tree and helping their employees get Trained and Certified.
CEH – Certified Ethical Hacker Training program from Learning Tree focuses on delivering all the basics and intermediate level training to any student join. This Instructor led Ethical Hacking course by Learning Tree can be attended In-Class or Online Live lecture mode to learn from your convenient time pace at home or work. They offer Anyware Center platform to create such e-learning opportunity for students globally to take their Training and Certification.
Also Read, How to Create iPhone Apps without Coding?
This 5 days Ethical Hacking Course will start from reviewing the elements of Information Security, Functionality, Usability, Scanning Remote Computers or Networks, Reconnaissance, Gaining and Maintaining access, System Hacking, Detecting and Cleaning up Viruses, Using Sniffers, Social Engineering Tactics, Denial of Service attacks, Hacking Web Applications, Hacking Wireless Networks, Hijacking Sessions, Buffer Overflow, Firewalls and much more.
As it is an Instructor based Training, i feel their course fee is bit expensive for individual attendees, where it comes around $3,000. There are discounts if you are Government employee or Returning Student.
GET IT: Ethical Hacking Course by Learning Tree
CBTNuggets Ethical Hacker Course
CBTNuggets are in the E-learning Business for the past 10+ years and they need no introduction at all. They are currently offering EC Council's Certified Ethical Hacker certification with training materials. EC Council is recognized by most of the Enterprises and Organizations when it comes to Ethical Hacking Certification. They are expensive, but if you are looking for CBTNuggets quality training, then go through this course and it prepares you for EC Council Certification which you can decide by the end of the training program.
It starts with Introduction to Hacking, Overview about Linux, Reconnaissance, Footprinting, Scanning, Malware, System Hacking, Sniffing, Denial of Service Attacks, Hijacking, Web Server Hacking and so on. Totally you will get 15 hours of training with 31 videos plus Practice Exams, Virtual Laboratory and Accountability Coaching.
Similar to Udemy, you can watch and practice your courses on your iPad, iPhone and Android Smartphones, Tablets on the go.
GET IT: CBTNuggets Ethical Hacker Course
Cybrary Ethical Hacking and Penetration Testing
The faculties and experts handle this ethical hacking course have many years of corporate experiences. Founded by Ralph P. Sita Jr., CPA and Ryan J. Corey who were in the Cyber Security Training industry since 2001. Their Penetration Testing Course introduction can be watched below and it looks very promising to me.
You will learn all the terms and techniques through out the course program that has 19 modules and covers the duration of 13 hours, 26 minutes in total. Simply Register by creating an account at Cybrary and start watching the videos. Their course platform is backed by Kickstarter Project funding platform and it is one of the best ethical hacking course available for free.
For any questions and doubts you can use their Support Forum to get clarification.
Cybrary also provides Training for various popular Certification courses such as Network+ by CompTIA, CISCO CCNA, CISSP and much more. Do check their course catalog for more information.
GET IT: Ethical Hacking and Penetration Testing by Cybrary
Alright, we believe this list of websites and resources to learn ethical hacking helped you to decide and start getting trained from today in Security. It is very essential these days to learn security and these courses are designed by Ethical Hackers and Security professionals who have wide and many years of experience in the field.
So consider picking up any one and give a boost to your career as well. Thanks for reading and if you find this post useful, feel free to share it with your friends and followers. Have a wonderful day.