You can download and integrate literally hundreds of add-ons into Mozilla Firefox. These add-ons add a lot of functionality to an already great browser. Although a good number of add-ons are aimed at developers, many add-ons are marketed at general users. These add-ons aim to increase your productivity. Below are the top 10 Firefox add-ons that will increase your productivity.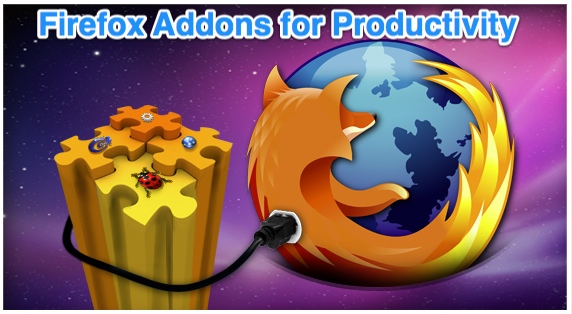 There is no doubt that Firefox is a total Rockstar in the world of web browser. Though there are many competitors, it still stands out from the crowd and serves the needs to the users its best.
Tab Mix Plus
Tab Mix Plus is a great add-on that makes tabs more efficient than ever before. The add-on automatically recognizes your tabs and categorizes them together. If you have 3 music tabs and 4 picture tabs open, the add-on will combine the specific tabs into two tabs, one for music and the other for pictures.
Print Edit
Print Edit is yet another great add-on that allows you to edit your web page before you print it. You can literally remove web page elements straight off the pages. This lets you take great screenshots and/or prints. When you click on an element, its CSS properties will be highlighted, allowing you to remove the ones you don't want.
ReminderFox
ReminderFox is a great add-on that reminds you about the tasks you set on your calendar and/or to-do list. These lists are connected directly to your browser. Although it may not be a new idea, it certainly is a nifty add-on that will ensure you never miss anything again. Though you will need an internet connection to keep it connected.
PriceBlink
PriceBlink is an amazing add-on that will not only save you time but money as well. The add-on automatically trawls through literally thousands of eCommerce pages and searches for the cheapest price for you. You can even set a specific price. When the add-on finds a cheaper item elsewhere, it will notify you. This add-on truly lets you get bang for buck deals.
Yoono
Yoono is an interesting add-on. It synchronizes itself with all your favorite social media sites like LinkedIn, Facebook, YouTube and Twitter. Once synchronized, it alerts you to any update. Although it may not be a genuine idea that will revolutionize the industry, it is great. It is light, small and offers a great interface; everything you would want from such add-ons.
SessionManager
Session manager is a really handy add-on, especially if your computer is prone to crashes, hangs and random restarts. Session manager archives your browsing sessions and restores them after your computer comes back online.
TabScope
Tab browsing can be a time-consuming task. Switching between tabs to see whether something has loaded can become irritating. Fortunately, TabScope circumvents this problem. When you hover over a tab, the add-on shows you a preview of the web page. It even lets you scroll through the preview. I would highly recommend every Firefox user to download this add-on. It gives life to your tabs!
FlashGot
FlashGot is a nice little lightweight add-on that lets you do extraordinary things. It lets you simultaneously download any and all link on a single web page. Furthermore, it is capable of maximizing your download speed based on your preference. You can choose how much bandwidth you want to allocate to the add-on.
SkipScreen
I don't know about you people but I am honestly tired of having to click the "click here to continue to xyz.com" pages. It slows me down every time I visit a website. Fortunately, SkipScreen allows you to circumvent any web pages you wish.
If there are 2 loading screens and a "click here to continue to xyz.com" page, SkipScreen can automatically skip them for you. Now you never have to worry about unnecessarily clicking again.
ImTranslator
ImTranslator is an amazing and powerful add-on. It allows you to translate instant messages in real-time. This is made even better by the fact that there is a voice that can read out the words for you. Not only does this voice sound human-like, it has a great accent! You will never have to open a separate translator to translate your instant messages.
These add-ons may be small in numbers but they add a ton of functionality to your browser. For more information on internet deals, visit BroadbandExpert.
About the Author: The above article is written and edited by Roxanne, who is a freelance writer for various blogs and communities related to technology.