There are several Remote Desktop Apps available for Mac OS X, but very few works super fast and helps us to get the job done. Remote Desktop applications are very useful in connecting with remote mac computers, windows computers, linux computer, mobile devices, tablets to troubleshoot any problems, share and collaborate with colleagues and team mates, also to do a presentation. It is used for various reasons, and it is all about sharing the desktop to one or multiple persons remotely via Internet or even in Intranet.
Corporates and Organizations use Remote Desktop Apps to effectively solve computer, software and any configuration problems.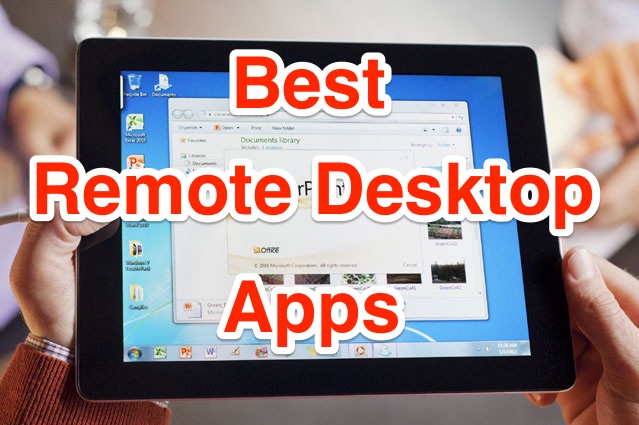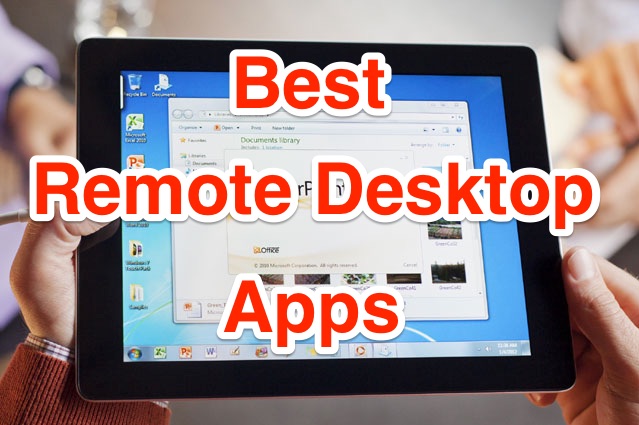 We hand picked few best remote desktop apps for mac, that will help you connect with remote computers to get or give assistance and do a lot more. Some are free remote desktop apps and some are paid and premium remote desktop apps for mac, windows, linux and mobile devices that we have on this list here. Download their trial versions and see how it works and meet your needs. Also don't forget to check our list of essential apps for new macbook, imac if you have bought a mac recently and some mac productivity apps to make your work life easier.
Best Remote Desktop Apps for Mac OS X
All these remote desktop apps we have here requires a Broadband Internet Connection to work very well. Otherwise, you may encounter poor video quality of the remote screen, slow mouse cursor, delay in applications to open, even connection may get dropped frequently. It is recommended to make sure both the computers to have minimum of 1 mbps connection. Lets start with the first remote desktop app, which is from apple.
Apple Remote Desktop
This tools is very flexible and comes with native support to Mac OS X as it is from Apple. You can easily manage the mac computer within your network with this remote desktop utility. It is an $80 application from Apple that you can purchase it from Mac App Store. Copy and Install any mac applications remotely to another mac computers. Encrypt network data when copying packages and files. Configure a Task Server to assist with package installations on offline computers. Take other mac computers for remote assistance and get full control of mac remotely. Simply drag and drop files between remotely connected mac from your mac. Curtain-mode allows you to get some privacy by preventing the remote users from seeing what actions you are performing in their computer.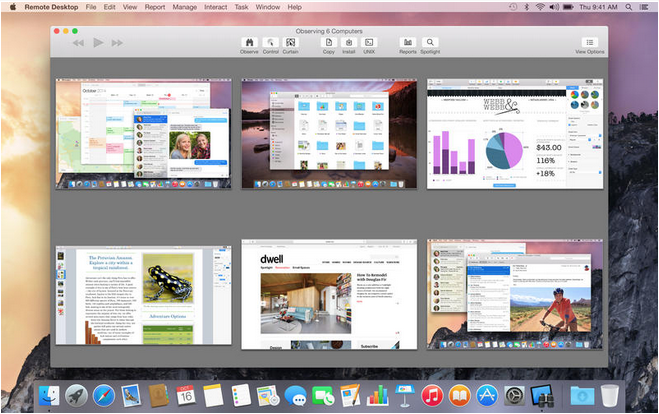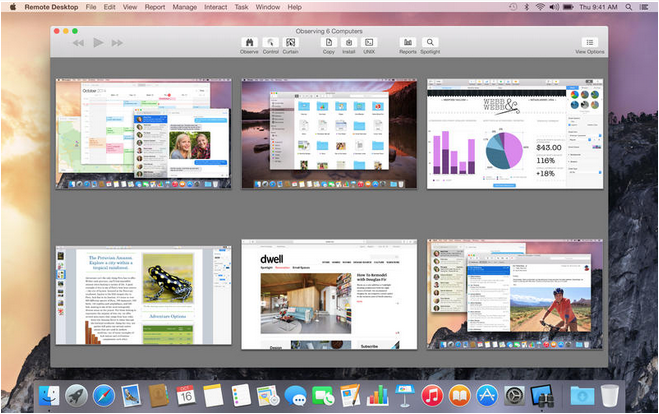 Apple Remote Desktop utility also allows you to connect and control Virtual Network Computing (VNC) enabled computers, such as Windows, Linux and Unix systems. Most of the linux distributions get VNC app by default, and if its not available, you can always download it from VNC website.
Remotely Administer the computer by performing various commands, remotely lock the screens, sleep, wake, restart and shutdown mac computers. You can also execute UNIX Shell Scripts remotely while connected using this remote desktop utility. Spotlight Search is very well accessible, that allows you to search the remote computer in seconds. Gather all software, hardware reports about the remote mac to analyze and identify problem better. You can also use the Automator App built-in OS X with this powerful tool. Create workflows and do a powerful system administration.
Price: $79.99
Download: Apple Remote Desktop from Mac App Store
TeamViewer Mac App
Brilliant, third party app that is favorite for most of the users, who use remote desktop on Windows, Linux and Mac. It has excellent platform compatibility, so that you can connect remotely with computers without worrying about the Operating System Installed. Just make sure the remote computer has the same version of TeamViewer that your computer has got. You can use TeamViewer Mac App for instant remote support and the client don't need to install the app on remote system. Simply downloading the team viewer client app and it opens without installation for accepting remote connection. If required, you can ask the client to delete the app if it is an one time support and the client don't want to install any app in their computer.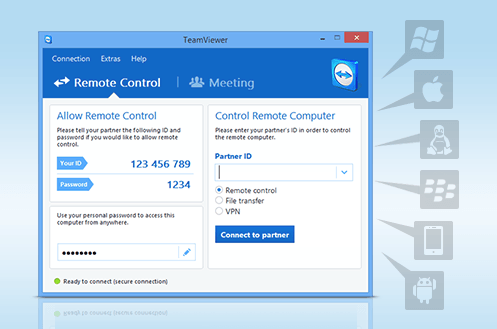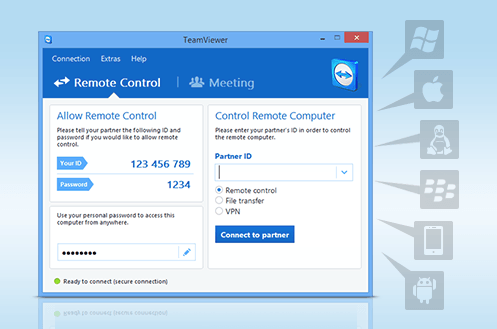 Teamviewer is a very easy to use remote desktop app and requires no advanced computer skills to operate. It is loaded with various tools that allows you to text, audio chat and do more during the remote support. Anyone with basic computer knowledge can use Teamviewer and thats the beauty of it to be very popular than most of the built-in Remote Desktop clients that come with Operating systems.
Above all, Teamviewer is a free remote desktop app to download from its official website. It is free for individual use, but if you wanted to use it regularly for providing tech support and if you are business or organization then you can purchase a license only from teamviewer website licensing page.
Compatibility: Windows, Mac, Linux, iOS, Android, Windows Phone 8 and Blackberry
Download: Teamviewer Mac App
RealVNC for Mac
It is like IRC client for Chat Applications. RealVNC is the first name that comes to most of the technicians working in Enterprises whenever they hear about remote support or remote desktop support. The name is very old and offers reliable, wide platform compatible support. RealVNC comes as a default remote desktop app in many linux distributions, but in Mac and Windows you can download realvnc and install it in seconds.
RealVNC Viewer comes to iOS, Android, Chrome platforms as well. You can easily take control of the remote computer using your iPhone, iPad, Android Smartphone or Tablet with the RealVNC Viewer app installed on your mobile devices. You can download it from the respective App Store. RealVNC offers Remote Control, Intuitive Controls, Easy mouse emulation, Function Keys, Simple Text Entry, High Screen Resolutions and File Transfer features by default. For added security, you will be prompted for a password authentication to get access and offer remote desktop support.
RealVNC is free for individual use, but for enterprises you can always purchase license copies from the official website.
Compatibility: Windows, Mac, Linux, iOS, Android and Google Chrome (Extension)
Download: RealVNC for Mac
LogMeIn Mac App
Another popular remote desktop software that is here for very long time. LogMeIn Remote Access and Remote Desktop Software works slightly different than other remote apps but guarantees fast, high quality and added features remote connectivity compared to other tools. This is a premium software which has three different versions meant for different purposes.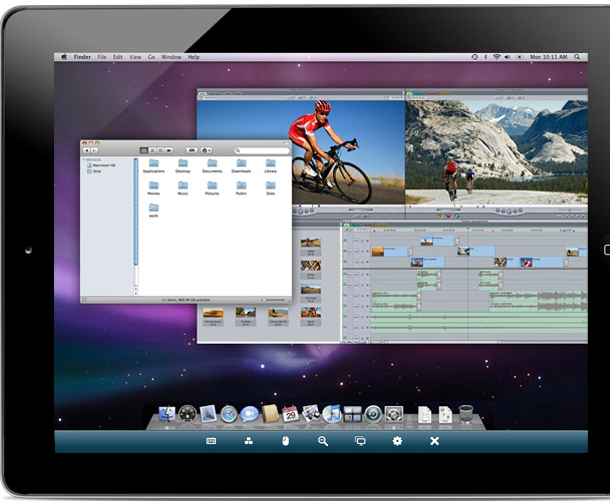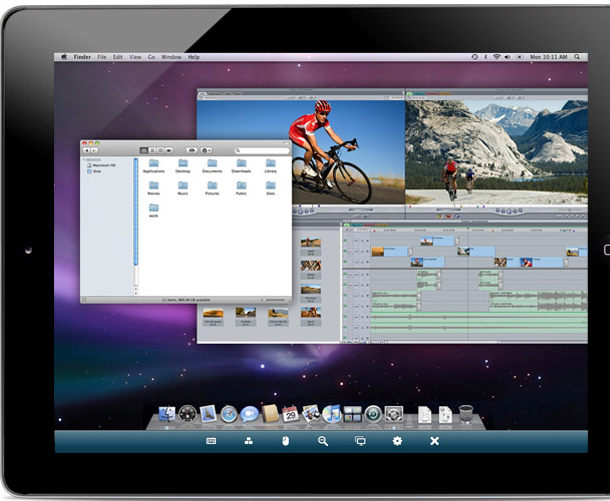 LogMeIn PRO is suitable for users securely access, transfer files and install softwares and apps to computers added to their logmein account.
LogMeIn Central is suitable for task automation process. Where you can manage more computers remotely from your account.
LogMeIn Rescue, from the name you can see that it is meant for Enterprises and Tech Support people who want to offer remote desktop support to users using different operating systems (Windows, Mac) and Mobile Devices.
There are more services offered by LogMeIn for dedicated purposes, like "Hamachi" VPN service mostly meant for Gamers. "Backup" service that allows you to remotely backup any computer hard disk drive data over the web through secure connection. This is suitable for Remote Backup, Remote Application Deployment, Storage Device Control, and Scheduled Backup services offering companies. You can checkout all the logmein products at their official website.
Compatibility: Windows, Mac OS X, Android, iPhone and iPad
Download: LogMeIn for Mac
Chrome Remote Desktop
Love Google Chrome? Then try this remote desktop app from google officially. It is a super easy to use remote desktop app that works anywhere Google Chrome with Extensions are supported. Chrome Remote Desktop allows you to access other computers or allow other people to get access to your computer securely over the Internet. If you bought a Google Chromebook, then this is the best remote desktop app for chromebook and sadly you don't have much alternatives. But for Windows and Mac users Chrome Remote Desktop App is one of the best remote desktop app alternative available that works right from their web browser.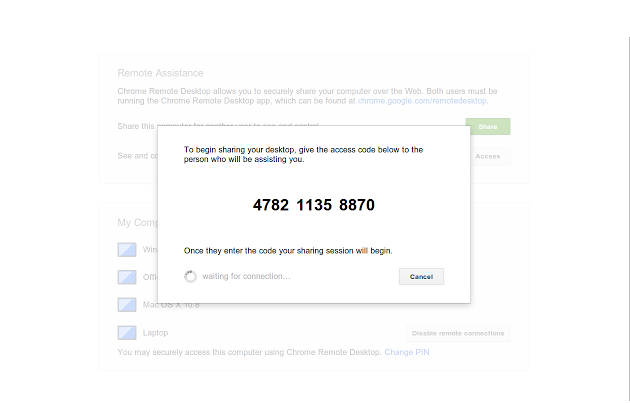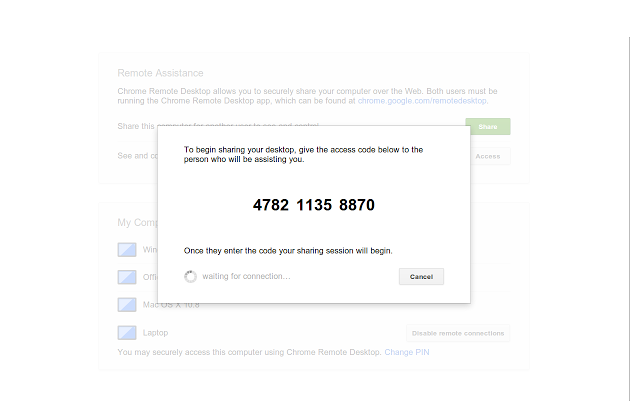 You can instantly provide remote assistance to your friend who is connected to Internet and have Google Chrome installed in their Computer or Android mobile device, tablets. Secure Connection, Less than 500KB to download and install as a Chrome Extension and received thousands of positive reviews from existing users.
Compatibility: Windows, Mac OS X, Linux, Chromebook and Android
Download: Chrome Remote Desktop
Mikogo Mac App
This is another interesting remote desktop app that works without installing any software on your Mac, PC and iOS, Android Devices. Mainly used by Corporates for Business Presentations and Collaboration purposes. Its simple, easy to use, super fast and secure as well. Mikogo has plenty of Productivity Apps built right into its HTML based Remote Desktop App, that makes the job of both Presenter and Attendees a lot easier. No Software or Plugin Installation, No Complex steps to follow, but offers all the tools necessary for Business People, Training Companies and Institutions.
Free version of Mikogo allows you to invite up to 3 participants and if you are going to premium plan, then you can invite up to 25 participants. Mikogo Remote Desktop App is also available in 30 languages and used by 180 countries across the globe. You can also try out their 14 days trial software before purchasing the premium version. You can customize the logo and names for branding purposes to suit your business. Lets see the feature highlights of mikogo quickly.
Cross Platform supported and allows 25 participants
Switch Presenter anytime during the Presentation
Remote Control feature to take control of Keyboard and Mouse
Voice Conferencing feature adds VoIP based free teleconference for attendees to join from 28 countries (check the list in their website)
Scheduler allows you to schedule multiple meetings and you can send invitations to participants
Record the remote sessions and download the video for later use
Whiteboard feature allows classroom type environment for Training sessions
Application Sharing allows sharing selected applications to your participants and hide the other apps open in your system
Create Custom Profiles and configure settings and features for Mikogo participants
File Transfer allows you to send Clipboard data or Files up to 200MB to your participants
Chat Instantly with your Participants or disable chat feature for selected participants.
Compatibility: Windows, Mac OS X, Linux, Android and iOS
Download: Mikogo for Mac
Found your suitable Remote Desktop App for Mac, Windows and Linux? Don't forget to share this with your friends and followers across Twitter, Facebook and Google+. This may help more people to use the remote desktop apps for different purposes. If you know any other remote desktop apps for mac, windows and linux that we have missed to include in the above list, feel free to add them via comment below.
Thanks for reading and have a wonderful productive day.