A photo editing software is much needed by photographers and photo editors. Because of this software, images can become more interesting with the variety of effects that can become easily applicable. There are various software programs of this type that has also become available.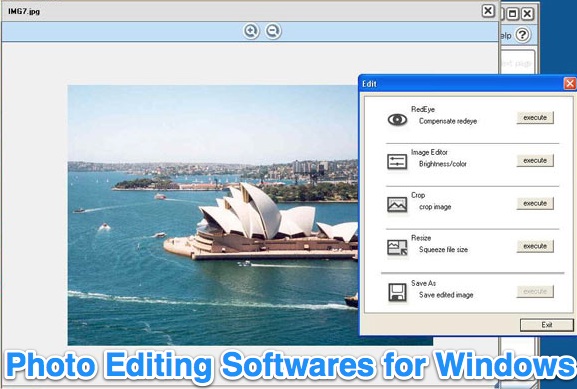 Among the top photo editing software around are Adobe and Corel. The availability of graphics editing program known as Desktop Publishing Program by Adobe makes it one of the best and indeed, a topnotch choice among photo editors and regular users alike. As a matter of fact, Adobe is probably the most sued editing software for photos and graphics alike. Corel is another example of editing software that has been receiving a lot of attention.
The COREL DRAW in particular, is built with vector graphics editor. The only downside to these products is that they are not offered for free.
People who are looking for more affordable options have no reason to fret. As a matter of fact, there are free options for photo editing software that allows excellent outcome. Listed below are some of the best editing software programs available to Windows.
PICASA which is owned by Google is just one example. And it has a good reputation too. Picasa certainly has become a topnotch editing program. It is built with clean interface as well as cool tools including a great sharing support, geo-tagging, name tags and web albums to name a few. It is fantastic in features and it is also a great and easy way to edit as well as organize images. And because Picasa now supports Google+, sharing and tagging photos has become much easier.
Url: http://picasaweb.google.com
FATPAINT is another free option for photo editing. It is available online and is absolutely free. It is basically graphic design software and a photo editing program at the same time. It allows users to come up with page layouts, create vector images for illustrations and logos. It also makes it easier for users to paint.
Url: http://www.fatpaint.com/
GIMP is an image editor that is based on an open source. It is considered a high end photo editing software that can be utilized for free. It is pretty powerful however, its interface is rather complex. It is best for advanced users. But those who have become familiar with Adobe Photoshop's interface would like that some functions are available in this software too.
Url: http://www.gimp.org/windows/
While Gimp can be positioned for advanced users, FOTOFLEXER is more apt for the novice and casual users. One of the best online photo editor software available for windows as well. It is a web-based photo editing program that allows users to log in and perform simple editing functions. This is not to say advanced users will not enjoy this tool. As a matter of fact, the tool can allow users to blur, do animations, turn images to comic and retro, perform distortions and provide layer support.
Url: http://fotoflexer.com/
An absolutely free and user friendly photo editing software with a great variety of full effects is Paint.net. This makes this program a great bet as well. These great options and free solutions give individuals the freedom of choice.
Author's Bio : This article is written by Peter. Peter is a good person with high knowledge about Windows. Peter has been living in the UK since last 18 years and is falling in love with his Samsung Galaxy Note N7000.