Kaspersky Total Security 2015 brings complete peace of mind from Viruses, Spywares and Hackers. Additional to Internet Security software, Kaspersky Total Security 2015 version comes with Free Password Manager, File Manager and few other handy tools. There is no big difference compared to Internet Security, however if you don't want to use any third party password managers and stick to one software to take care of all your security needs, then Total Security 2015 is for you. Also, at the end of this article, we have a promotional offer for you to save up to 50% Kaspersky Coupon Codes to save money license key purchase.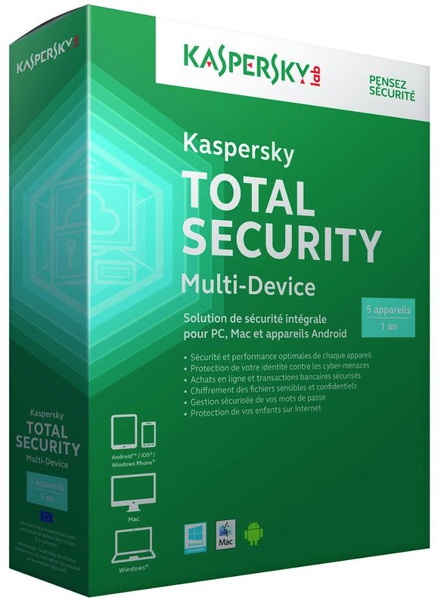 I recently wrote about the Reasons, why you should get Kaspersky Antivirus 2015 software to protect your Windows 7 and Windows 8 PCs from all types of threats and attacks. Also, the new feature additions and anti-theft mechanisms to protect your expensive windows laptop explained well in my Kaspersky Internet Security 2015 Review.
Alright, lets talk about feature highlights of Kaspersky Total Security 2015 Multi-Device license key and their benefits.
Kaspersky Total Security 2015 Review
Looking for an all-in-one antivirus software for your Windows Desktop or Laptop? Then Kaspersky has got your back with its Total Security license. This software has all the features of Antivirus 2015 and Internet Security 2015, additionally the following security feature highlights.
Kaspersky Password Manager: This is a premium software available from Kaspersky Labs as a standalone application to store all your website logins, passwords, credit card information and other details that you regularly use in the web. KPM Syncs and allows you to access the passwords in multiple devices securely. You can install KPM in Android devices, iPhone, Mac OS and Windows PC. There are several free password manager apps available for multiple platforms, but it is better to go for premium to receive proper technical support and security.
Storage and Synchronization: The passwords you store in your Total Security 2015 KPM will be available for you on other devices such as Android Mobiles, Macbook's, iMac's and on your iPhone as well. So you dont have to remember the passwords every time you see a prompt.
Backup and Encryption: Schedule automatic files, documents, photos and other media files backup and store them safely for accessing it later. Also, the encryption service offered by Kaspersky Total Security 2015 lets you convert confidential files into a form that is unreadable to unauthorized users. So only you and people who have access to the data will be able to see and copy the data.
File Shredder: We all know that deleted data can be recovered in some way. There are intelligent and advanced windows file recovery softwares available today that can retrieve deleted files in minutes. So it is better to delete any sensitive data permanently without leaving any traces. The regular Shift + Delete or Recycle Bin Emptying isn't helpful most of the time. File Shredder performs a permanently deleting operation of any file that you drag and drop in the application.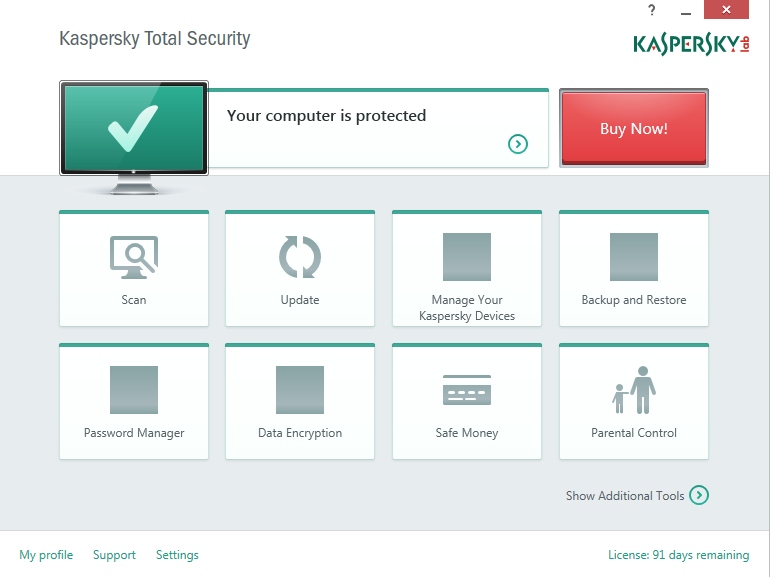 What is Kaspersky Multi Device License?
Kaspersky multi device license support makes the customers job easier with installing and using one software on multiple devices. Buy single license, but make sure you select multiple devices when you purchase, so that you can use it on your Android Mobile, Mac OS X powered Mac computers and Windows PCs at Office and Home. Kaspersky Multi Device Licenses are not limited to Total Security 2015, they are also available for Internet Security 2015 titles.
Ready to buy kaspersky total security 2015 license keys for your computer? Here we have listed the popular two license options for your convenience. At the check out page you can select number of devices, number of years you want before completing the payment.
Price: $89.95 USD
Discount Price: $69.95 USD
License Details: 3 Devices / 1 Year
Download Kaspersky Total Security 2015 License
Price: $179.99 USD
Discount Price: $104.95 USD
License Details: 3 Devices / 2 Years
Download Kaspersky Total Security 2015 License
At the product page, by default 3 Devices license selected, and you have to select the year and proceed with the payment options.
Thanks for purchasing one of our premium antivirus software for your windows system. Feel free to write to us at [email protected] or leave your comments below if you have any questions. Thanks again and have a wonderful productive day.