There are plenty of apps available in Google Play for synchronizing Android Phone or Tablet's Clipboard with Windows. Very few applications work properly and have enough features to satisfy the needs of the user. ClipSync is one such app for Android, which helps to Sync Android's clipboard with Windows machine remotely. It's not just copies from Android to Windows also from Windows to Android as well as Android to Android. So it is easy to copy and paste texts between your Android devices and the Windows machine.
ClipSync is a Reliable and Light weighted application for Android, which syncs the clipboard between different Android and Windows machines in the same network. So wherever you copy the text in the same network it will be updated in the common clipboard automatically. It is moreover like a single clipboard available for multiple devices on your network. This ClipSync app has a server and a client. You need to install the server application in your Windows machine and the client app that you can download from Google Play. Let's see how to use ClipSync to use sync your clipboard between multiple devices.
How to Sync Clipboard in Android with Windows ?
As I said before there will be two different applications you need to download. Follow this link to download Clip Sync from Google Play or use the Google Play app in your Smartphone to download the application. The one you downloaded from Google Play is the client application which needs to be installed in your Android device. Go to this link to download the server application, which needs to be installed in your Windows machine. Once you install both the applications, open ClipSync from your Android device.
Make sure you have connected your Android device to your WiFi network. As soon as you open the application, it will automatically detect the Windows machines and other Android devices connected in that network. If your device is not shown in the list, you can add the server IP address manually in your Android device. Tap the "Connect to Server Manually" option on the home screen and enter the IP address of your Windows computer.
After connecting your Windows machine with ClipSync, go to the server application installed on your PC. The server application will not have any options, it will be just running on the background of your system. Once you start the application it will go to your PC's system tray and it will just show whether ClipSync is running or not. Also you can find the IP address of that particular windows pc by clicking on the ClipSync icon on the System tray.
Now the clipboard application of your Windows PC and Android is Interconnected. All the text you copy on your PC can be pasted in your Android device also you can paste the text copied from Android. So you can connect any number of Windows machines to a single Android device and sync clipboard between each other. Even the concept looks very simple, it will be very helpful in most of the cases. While you're surfing in your Android device, suddenly if you need to open a link in your PC, ClipSync makes it possible with just a tap. Otherwise you need to sit and type the entire link on your PC. It will act as a bridge between your Android and Windows PC.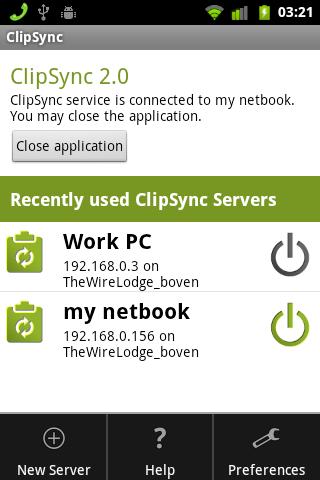 You can easily add new servers to connect with your Android device also if you don't want to use particular machine as a server just disconnect it with a tap. The interface and the concept of the application is very simple to use and easy to understand. If you are a Windows user, it is a must have application in your Android phone. Thanks for reading and do share your experience with us in the comment box. Have a great day !