Apple silently upgrades 12 Inch Macbook hardware specifications to beef up the slim beauty with more Processing power, RAM memory, Graphics memory and now with extra battery juice as well. Good news is, no price hike and the bad news is, 12 inch macbook still has that $1299 pricing ;). There is no Discounts or Price Slash in 2016 Macbook model. Let's quickly explore the internal upgrades that 12 inch Macbook has got this 19th, April 2016.
Also Read, Apple Macbook Air gets 8GB RAM Upgrade.
Macbook Processor Upgrade
Macbook will now come with three different processor choices, 6th Generation Intel Core m3, m5 and m7 Skylake processor. You can configure the starting model from Intel Core m3 – 1.1GHz to 1.3 GHz dual core Intel Core m7 processor that can turbo boost up to 3.1 GHz. All the intel core m processor has 4MB L3 cache memory.
512GB Macbook 2016 model comes with 1.2GHz Intel Core m5 processor that can turbo boost up to 2.7 GHz and you can configure it to 1.3 GHz Intel Core m7 processor that can turbo boost up to 3.1GHz.
Also Read, Apple Macbook Pro 2016 models Design by Martin Hajek
Macbook RAM Upgrade
Macbook 2015 model has 1600 MHz DDR3 onboard memory and now with 12 inch macbook 2016 model, this April you can get 8GB of 1866MHz onboard memory. This should definitely make good speed boost across the apps usage and multi tasking.
Macbook Graphics Upgrade
Apple has upgraded Graphics memory to Intel HD Graphics 515 for better image, video editing tasks. Video mirroring and dual display setup can now go full native resolution up to 3840 x 2160 pixels at 30Hz.
Macbook 2016 Battery Performance
Making all the above mentioned changes, the 12 inch Macbook 2016 model will now give you 10 hours of battery life, which is an hour addition compared to its previous 2015 model, when you use wireless web browsing.
Macbook Rose Gold Color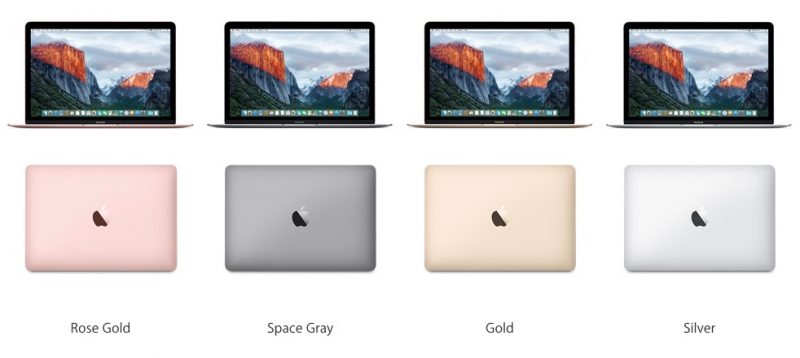 Macbook 2016 model now gets Rose Gold color choice. People who want to match with their iPhone 6S and iPad Pro can now pick Rose Gold Macbook 12 Inch Retina Display upgraded with more power and memory.
Conclusion:
There is no addition of extra USB-C ports or other hardware changes you will find in Macbook 2016 model upgraded this April. However, for the same expensive pricing, you can get better hardware specification to match with Macbook Air level of performance in a gorgeous Retina Display. After so much comparisons with Macbook Air
and Macbook Pro
models, Apple atlast upgraded the internals to make 12 inch Macbook a decent computer to match with the expensive pricing. If you are in a confusion to select between Macbook Air vs 12 Inch Macbook just like me, then do visit your nearest Apple Store, and check hands on with the all new upgraded Macbook 12 inch Retina model
and decide.
Video Credit: The Verge
Thanks for reading and feel free to comment below if you have any queries. Have a wonderful day.
You may also like to Read,